SEOUL, South Korea — North Korea on Sunday claimed to have successfully tested a hydrogen bomb designed to be placed on a intercontinental ballistic missile — prompting a barrage of responses from President Donald Trump and for his defense secretary to say they're not looking to the "total annihilation" of the country.
In response, South Korea conducted a live-fire exercise targeting the North's nuclear test site that included surface-to-surface and long-range air-to-ground missiles, a South Korean military official told NBC News.
This is the sixth time that North Korea has conducted a nuclear test, and the underground explosion seems likely to ratchet up already high tensions between the country's leader, Kim Jong Un, and President Donald Trump.
"North Korea tested a hydrogen bomb at noon on Sept. 3rd and succeeded totally," a newscaster announced on state television. "The H-bomb test was carried out to examine and confirm the accuracy and credibility ... of [an] H-bomb to be placed in the payload of the [intercontinental ballistic missile]."
A senior U.S. official said Sunday that experts were reviewing the data but "we are highly confident this was a test of an advanced nuclear device and what we've seen so far is not inconsistent with North Korea's claims."
Trump responded to news of the test by calling North Korea "hostile and dangerous to the United States." He went on to criticize China for not doing enough to put a stop to Pyongyang's nuclear ambitions.
"North Korea is a rogue nation which has become a great threat and embarrassment to China, which is trying to help but with little success," he tweeted.
He then added that South Korea was finding "that their talk of appeasement with North Korea will not work, they only understand one thing!"
Later Sunday, as he was leaving St. John's Episcopal Church, the president was asked point blank whether he would attack North Korea.
His response: "We'll see."
Trump followed that with a tweet saying he would be meeting with White House Chief of Staff John Kelly, Secretary of Defense James Mattis, and "many other military leaders at the White House to discuss North Korea."
After that meeting, which included the vice president, Mattis said in remarks to reporters that "we have many military options and the president wanted to be briefed on each one of them.
"We made clear that we have the ability to defend ourselves and our allies South Korea and Japan from any attack and our commitment among the allies are ironclad," he said.
"Any threat to the United States or its territories including Guam or our allies will be met with a massive military response — a response both effective and overwhelming," he added.
Mattis called on Kim to listen to the United Nations Security Council.
"All members unanimously agreed on the threat North Korea poses and they remain unanimous in their commitment to the denuclearization of the Korean peninsula," he said. "Because we are not looking to the total annihilation of a country, namely North Korea, but as I said we have many options to do so."
And the U.S. was considering "stopping all trade with any country doing business with North Korea," he added.
The White House later released a statement describing a phone call between Trump and Japanese Prime Minister Shinzo Abe — their second of the day — in which the two leaders condemned the "destabilizing and provocative actions" of North Korea and confirmed their "ironclad mutual defense commitments."
Earlier, White House Press Secretary Sarah Huckabee Sanders said Trump's national security team was monitoring the situation closely.
"The president and his national security team will have a meeting to discuss further later today," she said in the statement.
"We've already started with sanctions against North Korea, but I'm going to draft a sanctions package to send to the president for his strong consideration," Mnuchin said.
And Treasury Secretary Steve Mnuchin said on "Fox News Sunday" that North Korea's behavior was "completely unacceptable" and called for additional sanctions against them.
"We've already started with sanctions against North Korea, but I'm going to draft a sanctions package to send to the president for his strong consideration that anybody that wants to do trade or business with them would be prevented from doing trade or business with us," he said.
"We are going to work with our allies, we'll work with China, but people need to cut off North Korea economically — this is unacceptable behavior," he added.
While neighboring China has long been North Korea's patron and ally, the relationship has become more tense after Pyongyang began going it alone on its nuclear program.
NATO General Secretary Jens Stoltenberg said he "strongly condemned" the nuclear test.
"This is yet another flagrant violation of multiple UN Security Council Resolutions," he said.
Stoltenberg added that NATO was concerned by "Pyongyang's destabilizing pattern of behavior, which poses a threat to regional and international security."
And the director general of the International Atomic Energy Agency, Yukiya Amano, called the test "an extremely regrettable act" and was in"complete disregard of the repeated demands of the international community."
Meanwhile, officials in Guam said there "has been no change to the threat level."
Gov. Eddie Calvo and Lt. Governor Ray Tenorio remained in contact with federal and military partners in Guam, according to a statement from Calvo's spokeswoman.
"As always, they encourage Guamanians to create/update their emergency plans and prepare emergency kits for their families and work places in the event of any emergency," the statement added.
A hydrogen bomb, also called a thermonuclear weapon, produces a much more powerful blast than atomic weapons like the bombs dropped on Hiroshima and Nagasaki during World War II. H-bombs are much more difficult to make than atomic bombs.
North Korea in July conducted two intercontinental ballistic missile tests, which experts said indicated the missiles could reach parts of the United States. In August, the United Nations imposed tough new sanctions on North Korea that included a ban on coal and other exports worth over $1 billion.
WATCH: Sanctions 'Send a Strong Message' to North Korea, UN Ambassador Haley Says
Officials in South Korea, a U.S. ally that is still technically at war with the North after a conflict that ended in an armistice in 1953, reacted swiftly to the North's test.
President Moon Jae In had requested the country's foreign and defense ministries to "to seek all diplomatic ways to make North Korea abandon its nuclear and missile development through complete, verifiable and irrevocable ways."
In addition, "our military must thoroughly prepare aggressive response," he said according to a statement issued at the start of a National Security Council meeting. "Our government will never allow North Korea to make further advancement in the nuclear and missile development."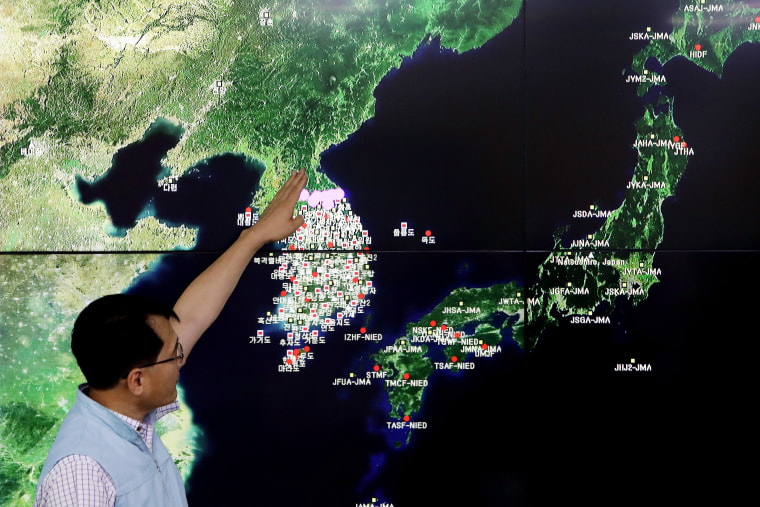 "We will establish a firm defense posture based on the South Korea-U.S. alliance to suppress North Korea's additional provocation and consistently pursue building permanent peace on the Korean peninsula," Moon added.
Earlier, the head of South Korea's National Security Office, Chung Eui-Yong, told reporters in Seoul that Moon would "never tolerate North Korea's advancement in its nuclear capabilities and will deploy U.S. assets."
It was not immediately clear what Chung was referring to when he said South Korea would deploy U.S. assets.
Meanwhile, Japan's Foreign Minister Taro Kono said that "by way of the embassy in Beijing, we made it clear in the strongest words, that if this was a nuclear test, this is unforgivable, and a violation of the U.N. Security Council resolution."
China also condemned the test in a statement on the foreign ministry website.
"China will work with the international community to comprehensively and completely implement the relevant resolutions of U.N. Security Council, firmly push forward the denuclearization of the peninsula, and maintain the peace and stability of the peninsula."
North Korea's announcement about the claimed H-bomb test followed a magnitude-6.3 seismic event recorded in North Korea, which South Korean and Japanese officials said was suspected to be a result of the test.
The U.S. Geological Survey had said the magnitude-6.3 seismic event was a "possible explosion, located near the site where North Korea has detonated nuclear explosions in the past."
The event was recorded around 13 miles northeast of Sungjibaegam just after 12:30 p.m. Seoul time (11:30 p.m. Saturday ET), the USGS said.
North Korea conducted its first nuclear test in 2006. It carried out two nuclear tests last year, which produced seismic events recorded as 5.1 and 5.3 in magnitude, according to USGS reports.
After a January 2016 test, North Korea said it had detonated a hydrogen bomb — a claim met with skepticism by experts. And in July, North Korea conducted two intercontinental ballistic missile tests.
Earlier Sunday, North Korea's state news agency KCNA claimed that country has developed a "more developed" hydrogen bomb.
Stella Kim reported from Seoul. Phil Helsel reported from Los Angeles. Daniella Silva and Kurt Chirbas reported from New York. F. Brinley Bruton and Carolin Fiehm reported from London.