WASHINGTON — After a brief lull due to the COVID-19 pandemic, North Korea is carrying out large-scale smuggling operations off the coast of China in violation of U.N. sanctions, importing oil and selling coal and sand to keep its economy afloat, according to experts and current and former Western officials.
Much of the sanctions-busting operations rely on front companies registered in China and take place within China's heavily patrolled territorial waters, where Chinese radar and coast guard vessels closely track commercial shipping traffic, experts said.
China has made major investments in its navy and coast guard in recent years, and it seems improbable that Beijing is not able to detect or prevent the North Korean shipments that often employ large barges, said Neil Watts, who served on a U.N. panel investigating North Korea's sanctions violations.
"It's hard to imagine they are not capable of putting a stop to this illicit activity by the North Koreans," said Watts, a former South African naval officer who is now a sanctions expert at the non-profit Compliance and Capacity Skills International.
The latest accounts of sanctions-busting come despite the Trump administration's "maximum pressure" campaign against North Korea, which is supposed to persuade the regime to give up its nuclear weapons and ballistic missile program. But three years later, North Korean leader Kim Jong Un has refused to give ground on his arsenal and the country's economy shows no sign of an imminent collapse.
"We continue to call on all UN Member States to abide by their obligations under multiple UN Security Council resolutions and fully implement and enforce UN sanctions," a State Department spokesperson said.
China's embassy in Washington did not respond to a request for comment.
In a letter Friday to the U.N. Security Council, 43 countries — including the U.S. and its European allies — accused North Korea of breaching a cap on imports of refined petroleum, and demanded a halt to any further imports. Reuters first reported on the letter Friday.
In the first five months of 2020, North Korea imported more than 1.6 million barrels of refined petroleum in dozens of illicit deliveries, mainly through ship-to-ship transfers of oil at sea, according to two Western diplomats who shared details of the letter with NBC News.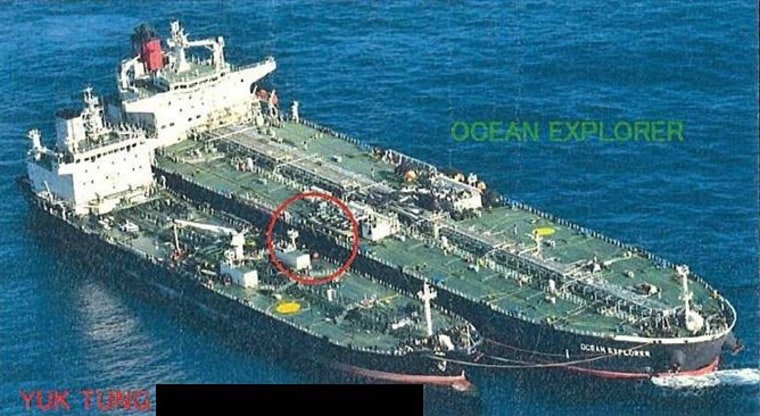 As part of an effort to choke off fuel supplies for North Korea's nuclear and ballistic missile programs, the U.N. Security Council in 2017 imposed an annual limit of 500,000 barrels of imported oil for Pyongyang. But since 2017, U.N. monitors and Western governments have accused North Korea of dramatically breaching the cap.
Sanctions vs. a pandemic
Unlike U.N. sanctions, the COVID-19 pandemic has had more of an impact on North Korea's illicit trade, albeit temporarily.
The coronavirus outbreak prompted both China and North Korea to shut their borders and introduce screening measures at ports. The lockdown affected illicit trade for two to three months this year, according to analysts, who cited satellite images of idle ships. But smuggling activity has picked up again with North Korean ships apparently ferrying coal to Chinese ports despite U.N. sanctions, said James Byrne, a senior research fellow at the Royal United Services Institute (RUSI), a British security think tank.
A recent report by NK Pro, a news and analysis firm, and Royal United Services Institute showed at least 17 ships linked to North Korea using a known coal-trading route between North Korea and Zhoushan, China, based on satellite photos and radio signals emitted by vessels.
In one instance, a satellite photo captured a Chinese government vessel — resembling a coast guard ship — passing near a North Korean bulk carrier, the Tae Pyong, in May near Zhoushan, according to the report.
The coal shipments are "largely in view of Chinese authorities," Byrne said. "There's plenty of coastal radar, early warning radar, coast guard vessels and law enforcement vessels in the area. You couldn't sail big vessels into Chinese territorial waters without them knowing."
Despite a U.S.-led effort to clamp down on North Korea's coal exports, the regime has succeeded in shipping large amounts of coal out of the country over the past year. Coal is a crucial lifeline for North Korea, allowing it to earn hundreds of millions of dollars which it then uses to finance the purchase of imports. According to a recent report by the U.N. panel of experts, North Korea exported 3.7 million tons of coal between January and August 2019, with an estimated value of $370 million.
The coal is often delivered via unregistered large barges or with foreign-flagged vessels that transfer cargo to another ship at sea, using cranes on barges, according to previous reports by a U.N. panel of experts tasked with monitoring the sanctions.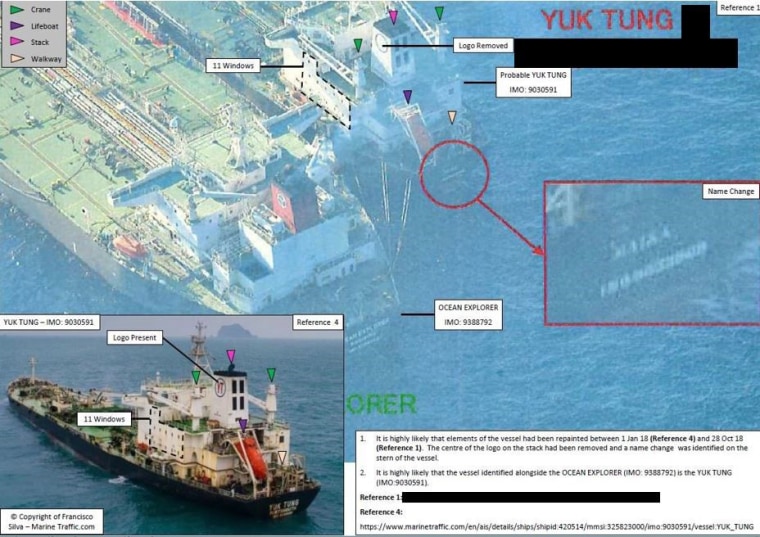 Commercial satellite images have captured these transfers in sheltered Chinese territorial waters, making it difficult for foreign governments and the United Nations to track. The off-shore transfers also bypass official import/export record-keeping, Watts said.
"That's why they do it in Chinese waters, because it's relatively close by and they can't be seen," said Watts, who boarded North Korean vessels as part of his work with the United Nations.
For the import of refined oil and the export of coal, North Korea has adopted an increasingly bold stance, taking fewer precautions to hide their operations and using larger ships.
According to recent U.N. reports, some foreign-flagged tankers have made direct deliveries of oil to the North Korean port of Nampo, instead of transferring the fuel with another vessel at sea under cover of darkness. "It's so brazen it's unbelievable," Watts said.
When the U.S. Coast Guard issues advisories identifying where illicit transfers are taking place, and the results of U.N. investigations are reported, North Korea adapts its tactics accordingly, he added.
North Korea also has relied on individuals and ships based in Taiwan for its oil smuggling operations, according to Lucas Kuo of C4ADS, a non-profit that analyzes data on international security issues. Last year, the Treasury Department blacklisted a network of three Taiwanese companies, a Taiwan-based oil tanker and two Taiwanese nationals for allegedly breaching U.N. Security Council sanctions.
Apart from coal smuggling, North Korea has taken advantage of the rising demand for sand to generate hard currency, particularly after Cambodia, Indonesia, and Vietnam restricted the export of its sand due to environmental concerns.
According to satellite images and ship tracking data over the past year, North Korea has carried out a large-scale and sophisticated operation involving hundreds of ships, with dredgers digging up sand in Haeju Bay which is then transported on barges to China, Kuo said.
The sand is in high demand in China for construction, glass and silicon chips, Kuo said.
U.N. sanctions prohibit North Korea from exporting sand.
"They've pulled out all the stops to export as much sand as possible. It's quite lucrative given the huge demand," Watts said.
Money generated from coal, sand and other illicit trade, including hacking foreign banks, has helped finance North Korea's nuclear and missile programs, according to U.N. reports. Despite the Trump administration's "maximum pressure" campaign and attempts at diplomacy — including a failed summit in Hanoi — North Korea has continued to build up its nuclear facilities, expand its fissile material for nuclear weapons, conduct missile tests, and develop infrastructure for the missile program, according to U.N. and U.S. officials.
"North Korea continues to quantitatively and qualitatively improve its nuclear program," said Frank Aum, a former senior adviser on the North at the Defense Department.
Critics on the right have urged the Trump administration to exert more pressure on both North Korea and China, including by imposing sanctions against Chinese companies tied to sanctions violations. And on the left, lawmakers and former officials have argued for more diplomacy and more cooperation with allies to present a united front to Pyongyang.
"The bottom line is we are in a worse situation today and in a more dangerous situation," said Aum, now at the U.S. Institute for Peace, which is funded by Congress.
"There are no restraints on North Korea's nuclear and missile program. At this point, maximum pressure has achieved nothing."