The Pentagon has prepared a specific plan for a preemptive strike on North Korea's missile sites should President Trump order such an attack.
Two senior military officials — and two senior retired officers — told NBC News that key to the plan would be a B-1B heavy bomber attack originating from Andersen Air Force Base in Guam.
Pairs of B-1s have conducted 11 practice runs of a similar mission since the end of May, the last taking place on Monday. The training has accelerated since May, according to officials. In an actual mission, the non-nuclear bombers would be supported by satellites and drones and surrounded by fighter jets as well as aerial refueling and electronic warfare planes.
"Of all the military options … [President Trump] could consider, this would be one of the two or three that would at least have the possibility of not escalating the situation," said retired Adm. James Stavridis, NATO's former Supreme Allied Commander Europe and now dean of the Fletcher School at Tufts University and an NBC News analyst.
Six B-1B "Lancer" bombers are currently positioned in Guam, 2,100 miles by air to North Korea. Military sources point out that the battle tested B-1, a workhorse for the past 16 years in both Afghanistan and Iraq, has been modernized and updated — "doubled in capability," according to the Air Force.
Related: U.S. May Launch Strike If North Korea Reaches for Nuclear Trigger
The target set, multiple sources say, would be approximately two dozen North Korean missile-launch sites, testing grounds and support facilities. The sources told NBC News they feel confident they have accurately identified a set of relevant targets. They say that the months-long standoff between North Korea and the Trump administration, together with North Korean activity and testing of a wide variety of missiles since January, has helped them to refine their understanding of North Korea's web of missile facilities.
On Wednesday, the Pentagon released a written statement from Secretary of Defense James Mattis reiterating American military readiness for both offense and defense.
"While our State Department is making every effort to resolve this global threat through diplomatic means," the statement said, "it must be noted that the combined allied militaries now possess the most precise, rehearsed and robust defensive and offensive capabilities on Earth."
"Diplomacy remains the lead," said Gen. Terrence J. O'Shaughnessy, the U.S. Pacific Air Forces commander, after the B-1 bombers' late May training run. "However, we have a responsibility to our allies and our nation to showcase our unwavering commitment while planning for the worst-case scenario. If called upon, we are ready to respond with rapid, lethal, and overwhelming force at a time and place of our choosing."
Related: Trump's Options for North Korea Include Placing Nukes in South Korea
Asked about the B-1 bomber plan, two U.S. officials told NBC News that the bombers were among the options under consideration but not the only option. These officials insist that action would come from air, land and sea — and cyber.
"There is no good option," a senior intelligence official involved in North Korean planning told NBC News, but a unilateral American bomber strike not supported by any assets in the South constitutes "the best of a lot of bad options."
Risk of Escalation
Striking North Korea, however, risks a response that could involve targets as near as Seoul, just 40 miles from the border, or as far away as Andersen AFB, according to Adm. Stavridis.
"The use of the B-1 bombers to actually drop bombs and destroy Korean infrastructure and kill North Koreans would cause an escalation," said Stavridis. "Kim Jong Un would be compelled to respond. He would lash out militarily, at a minimum against South Korea, and potentially at long-range targets, perhaps including Guam. … That's a bad set of outcomes from where we sit now."
Military sources told NBC News that the internal justification for centering a strike on the B-1 is both practical and intricate. The B-1 has the largest internal payload of any current bomber in the U.S. arsenal. A pair of bombers can carry a mix of weapons in three separate bomb bays — as many as 168 500-pound bombs — or more likely, according to military sources, the new Joint Air-to-Surface Standoff Missile — Extended Range (JASSM-ER), a highly accurate missile with a range of 500 nautical miles, allowing the missile to be fired from well outside North Korean territory.
Related: North Korea Can Fit Nuclear Weapon on a Missile Now, Officials Believe
One senior military officer, who has been involved in discussion of the strike and the possible North Korean response, says the B-1 has also been selected because it has the added benefit of not being able to carry nuclear weapons. Military planners think that will signal China, Russia, and Pyongyang that the U.S. is not trying to escalate an already bad situation any further.
Military planners also argue that because the bombers and their supporting aircraft will originate from outside the Korean Peninsula, such an attack might draw any North Korean retaliation away from South Korea.
Adm. Stavridis is skeptical of such geopolitical reasoning. "I'm not sure that our primary interest is signaling the Chinese or the Russians," he said. "When you start flying live bombers, which are going to drop bombs, or launch cruise missiles into North Korea, the subtlety of a nuclear platform and a non-nuclear platform is likely to be lost on Kim Jong Un."
Stavridis' point was driven home at the end of May, when the Korean Central News Agency loudly condemned the B-1 operations, saying the United States was mounting "a nuclear bomb-dropping drill."
Of the 11 B-1 practice runs since the end of May, four have also involved practice bombing at military ranges in South Korea and Australia.
Related: Trump Vows North Korea Threat Will Be Met with 'Fire and Fury'
In August 2016, B-1B bombers, B-2s, and B-52s deployed to the same base together for the first time in history, at Andersen AFB. It was also the first deployment of the B-1B bomber to Guam in over a decade. Since then, there have been three rotations of B-1Bs from the United States, the latest coming on July 26 when six bombers and 350 airmen and women with the 37th Expeditionary Bomb Squadron arrived in Guam. The squadron relieved the 9th Expeditionary Bomb Squadron, which deployed from Dyess AFB in Texas in February.
The first practice run of the current series took place on May 29-30, when two B-1Bs flew from Guam into Japanese airspace and then over the Korean Peninsula. South Korea and Japanese fighter jets escorted the bombers over international waters and then four South Korean F-15 fighters flew with the B-1Bs as they crossed the Korean Peninsula before returning to Guam. Air Force KC-135 aerial refueling planes kept the B-1s aloft for the 10-hour round trip.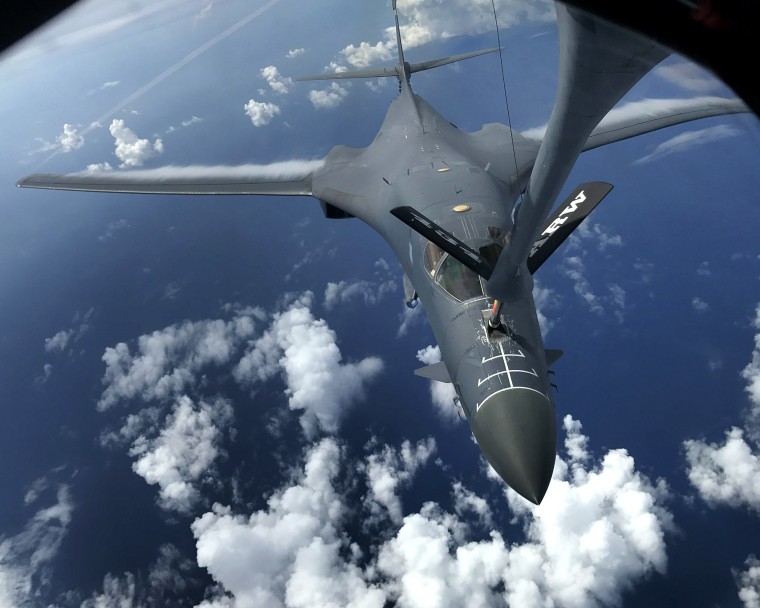 There were two more practice runs on June 8 and June 20. Then, on July 6-7, a pair of B-1Bs undertook their first night training run, dropping inert weapons at the Pilsung Range in South Korea. Another practice bombing took place at Pilsung on July 8-9.
North Korea's state-run Rodong newspaper said Washington was ratcheting up tensions with the drill. "The U.S., with its dangerous military provocation, is pushing the risk of a nuclear war on the peninsula to a tipping point," it said, describing the peninsula as the "world's biggest tinderbox."
"A small misjudgment or error can immediately lead to the beginning of a nuclear war, which will inevitably lead to another world war," the North Korean newspaper said.
Two more practice runs then took place on July 17 and 19, this time with pairs of B-1B flying 12.5 hours to northern Australia as part of the joint U.S.-Australian exercise called Talisman Saber.
Again on July 28-29, two B-1Bs were back above the Korean Peninsula, conducting a "low flyover."
On Monday, the B-1Bs flew practice run number 11. "How we train is how we fight and the more we interface with our allies, the better prepared we are to fight tonight," said a B-1 pilot who took part in the mission.
President Trump publicly threatened North Korea the next day, saying that any threat from the North Korean regime would be met with "fire and fury." A spokesman for the Korean People's Army, in a statement carried by KCNA responded by saying that the North was going over "military options to form attack positions" around the U.S. territory in order to "send a stern warning" to the United States.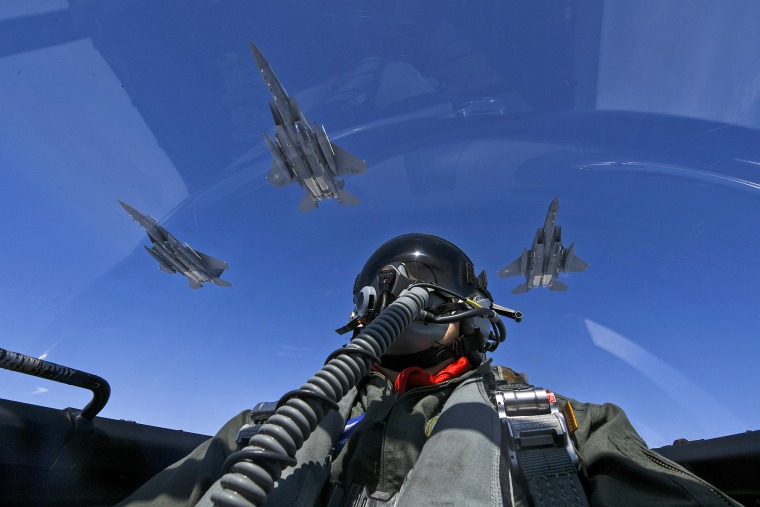 On Wednesday, North Korea responded by saying it was considering striking Andersen AFB on Guam with missiles.
Adm. Stavridis said that the North's threat to hit Guam is "a bit of an admission that he doesn't really have the capability to strike the mainland of the United States."
Still, Stavridis warns that the North Korea threats ought to "worry us deeply."