The chorus of condemnation over North Korea's nuclear test carried calls for strong action from China — but Beijing continues to back its reclusive neighbor.
Despite the provocative display of force just 50 miles from its border, Beijing's response to the nuclear test was relatively muted: China's foreign ministry denounced the move and Pyongyang's disregard for international objections.
But the nuclear test has ratcheted up tensions in the region that could directly impact China. Given Beijing's unique relationship with the rogue nation, why hasn't China taken steps to rein in North Korean leader Kim Jong Un?
It's complicated.
Whose responsibility?
Defense Secretary Ash Carter left nothing to the imagination when he said China shares an "important responsibility" for North Korea's nuclear provocations — and should "use" its influence to defuse the situation.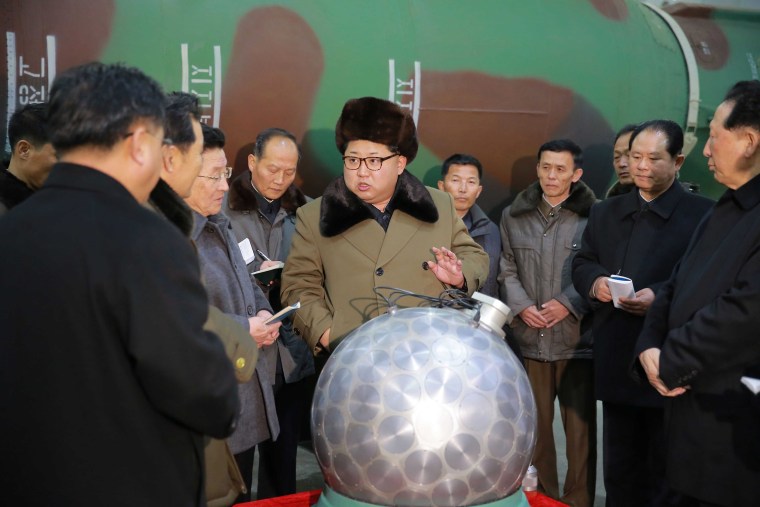 Beijing is the isolated nation's lifeline — in terms of diplomacy and trade — as well as its most important ally.
China may have rebuked North Korea's for the Sept. 9 nuclear test, but it hasn't explicitly said whether it will support tougher sanctions against Pyongyang.
That's what the U.S., Japan and South Korea, are pushing for — while also raising the stakes.
Two American B-1B bombers flew over the Korean peninsula this week in a show of force intended to demonstrate U.S. resolve against North Korean aggression.
One major problem standing in the way of any potential action from Beijing? Many in China view the North Korea issue as a dispute exclusively between Pyongyang and the U.S., according to Zhang Liangui, a regional expert at China's Central Party School.
Related: What You Need to Know About North Korea's Nuclear Test
"For China to exert too much pressure on North Korea is tantamount to helping the U.S.," Zhang explained. "But after the recent fifth nuke test, this point of view is losing ground."
Who's provoking who?
It doesn't help matters that Beijing views U.S. and South Korean actions — like joint military exercises — as exacerbating the issue by ramping up North Korea's fears of attack.
"Washington and Seoul take the view that the North's provocations require more military exercises, whereas Beijng is of the view that it's the military exercises that are encouraging [North Korea] to accelerate its nuclear program," explained Timothy Stafford, a research fellow at PacificForum-CSIS.
That was reflected in a recent editorial in China's official People's Daily newspaper, which called the U.S. a troublemaker with no right to lecture about taking responsibility for keeping North Korea in check.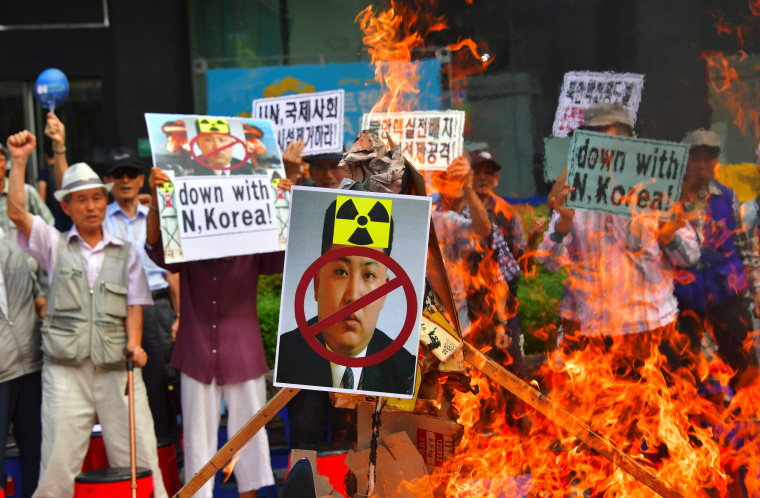 The United States is doing less and less for the public good in international affairs, "but its vigor for trouble-making has not diminished an iota," the newspaper said in the commentary.
It said the U.S. "needs to seriously look back at how things have developed with the nuclear issue on the Korean peninsula, and really think about an effective resolution method and assume its responsibilities."
Further complicating matters?
Many in Beijing see American steps to neutralize the North Korea nuclear issue as a "cover" for pushing ahead with another another objective: containing China. The planned deployment of an American missile-defense shield — THAAD — to South Korea has served to fan those fears.
What are the options?
Personality conflicts and paranoia aside, all sides have expressed concern over the escalating North Korea nuclear situation — though for different reasons.
Academics and the Chinese general public appear split over what comes next, largely because there are two competing views when it comes to the risks.
"One view is that destabilization and regime collapse in North Korea and chaos along the border with China is the main danger to China's security, the other view is that the escalating nuclear program of North Korea and the prospect of nuclear war is an even bigger danger to China," Zhang explained.
If not purely for proximity's stake, it might seem in Beijing's best interest to diffuse the situation by taking aggressive steps aimed at containing the 32-year-old Kim, who took power upon the death of his father in 2011.
"China doesn't believe sanctions work"
So why not adopt its own measures against North Korea? There are a few reasons, experts say.
"Beijing's calculation is that time is on its side," Stafford said in an email. "With every day that passes, South Korea's economy grows more reliant on China's due to increased trade and investment. This makes it more likely that a government will emerge in Seoul that is more focused on maintaining good relations with Beijing than with Washington."
According to Stafford, what Beijing really wants to avoid is the collapse of Kim's regime and reunification with the South — resulting in a unified Korea with a pro-U.S. foreign policy and American troop presence.
"Its assessment is that that its ability to block that outcome is strengthening as time goes by," Stafford added.
So now what?
Calling for more sanctions isn't expected to have a large impact on the calculus, according to John DeLury, associate professor of East Asian Studies at Yonsei University's Graduate School of International Studies.
"China has never budged in its view that you don't get progress on denuclearization through sanctions," he said. "Based on its national interests and based on its own estimates on how you influence North Korea, China doesn't believe sanctions work."
That may be partially due to the risk or knock-on effects China might face if sanctions actually have an impact. Beijing wants to ensure its economic concessions to North Korea are safeguarded. It also wants to avoid a potential humanitarian crisis on its borders spurred by a collapse of the Kim regime.
That could help explain contradictions between Beijing's words and actions on the issue.
On the one hand, Beijing publicly supports the United Nations-led economic sanctions and expresses resolute opposition to a nuclearized North Korea. On the other, Beijing loosely enforces those sanctions and allows critical supplies of food and oil to cross the border.
The ties between North Korea and China run deep, with the relationship characterized by some former Chinese leaders as "close as lips and teeth."
Risking that relationship over the nuclear issue could be a short-term solution that leads to more problems in its wake, warned Yang Xiyu, a senior research fellow at the China Institute of International Studies.
"Some Americans like [Secretary of Defense] Ash Carter say China should cut all economic connections with North Korea, but what will happen after this?" Yang said. "America doesn't care about those consequences."
He added: "If China did cut all economic ties and United Nations assistance, will Kim Jong Un truly stop nuclear testing? Nobody in China believes that for a second. "We can't create new troubles just because we want to singularly solve one specific problem like North Korea's nuclear weapons — the U.S. has given us many recent lessons on this."