North Korean ruler Kim Jong Un's nephew has spoken out for the first time since his father's assassination in a busy airport, appearing in a video released by a group that says it is protecting the exiled family.
A short clip featuring 21-year-old Kim Han Sol was published by an organization claiming to help North Korean defectors. The family's location was not disclosed. South Korean officials believe the video is genuine.
"My name is Kim Han Sol, from North Korea, part of the Kim family," the man in the video says. He shows his passport as proof of his identity but those details were redacted.
"My father has been killed a few days ago. I'm currently with my mother and my sister. We are very grateful to ...," he says, before the audio is cut short.
He signs off by saying: "We hope this gets better soon."
A senior South Korean government official told NBC News that the country's "National Intelligence Service confirmed that the person on the YouTube [video] is Kim Han Sol."
The official gave no information about the whereabouts of the family, which has been in exile since falling out of favor with the North Korean regime in 2001.
Kim Jong Nam was killed at Kuala Lumpur International Airport in Malaysia on Feb. 13 by a highly toxic nerve agent in what U.S. and South Korean officials have described as an assassination organized by North Korean agents.
The video was published by a group, calling itself Cheollima Civil Defense, which said it responded last month to an emergency request by Kim Jong Nam's family for "extraction and protection."
The governments of Netherlands, China, the United States, and a fourth unnamed country provided emergency humanitarian assistance to protect the family, the group said in a statement released with the video.
Little is known about the organization and South Korean officials declined to comment on it.
PHOTOS: The Tangled History of North Korea's Kim Jong Un
The group contacted media in South Korea and Malaysia to distribute the video and statement.
"We regret that several nations refused assistance to this family in this particular apolitical, humanitarian emergency. We, and those we aid, recognize with gratitude all who stand with us on the right side of history," it said in its statement.
Kim Jong Nam and his family had been living in exile in Macau, although Kim Han Sol traveled to Europe to attend college. He enrolled in the Institut d'Etudes Politiques de Paris, commonly known as Sciences Po, in 2013 having previously graduated from the United World College (UWC) in Mostar, Bosnia and Herzegovina.
In 2012, he gave an interview in English to former United Nations Under-Secretary General Elisabeth Rehn, then president of the UWC.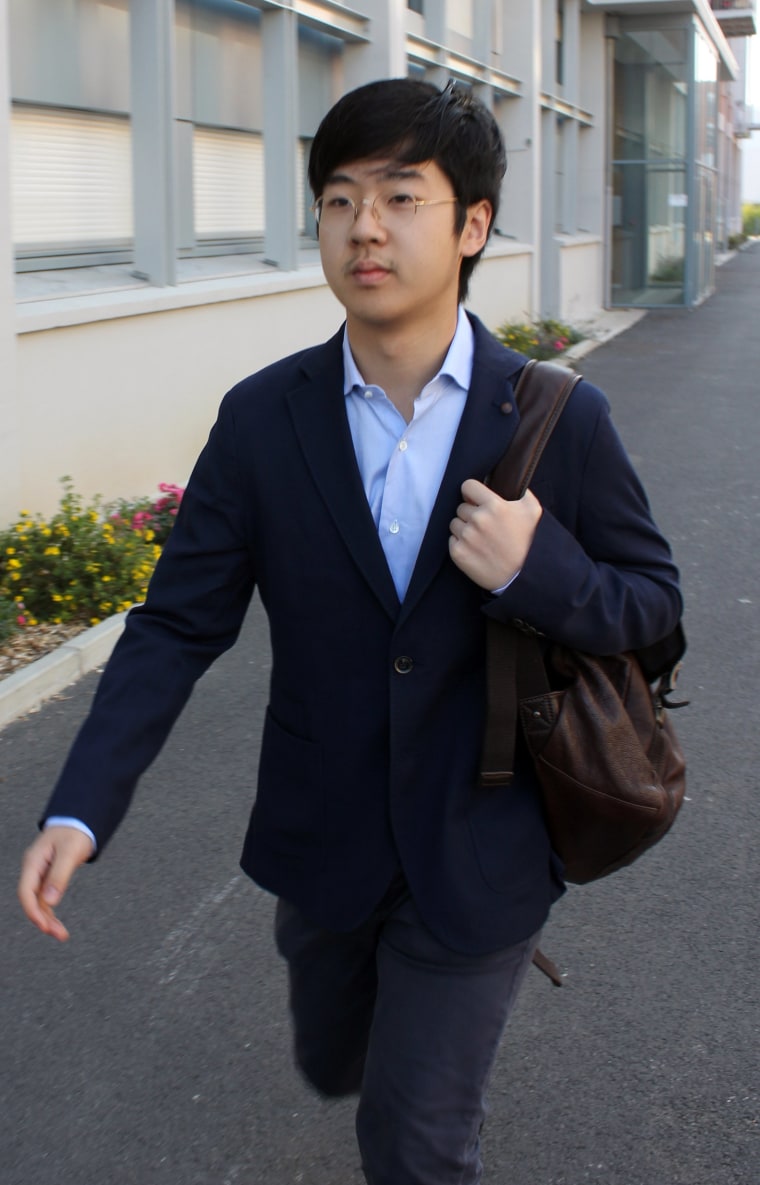 Police in Malaysia have identified eight North Koreans wanted for questioning overt the assassination, but the only people charged with the murder so far are an Indonesian woman and a Vietnamese woman who police say wiped the VX nerve agent on Kim Jong Nam's face.
Malaysia is still waiting for DNA samples from his next of kin to formally verify the dead man's identity, but say no family member has made contact yet.
The video comes after China warned of a "head-on collision" unless North Korea stops launching banned missiles and the United States and South Korea halt their joint military exercises.