North Korea has disclosed a series of images of the Earth it says were taken by a camera carried aboard a ballistic missile during the country's latest test.
The state-run KCNA news agency said Monday that Kim Jong Un had expressed his "great satisfaction" over Sunday's test and suggested that the weapons should be "rapidly mass produced in a serial way to arm" his military.
South Korea's Yonhap news agency reported the North's state-run Rodong Sinmun published 58 images that were allegedly taken by a camera aboard the missile, describing them as "an apparent bid to show off its missile atmospheric re-entry technology."
KCNA added: "Viewing the images of the Earth being sent real-time from the camera mounted on the ballistic missile, Supreme Leader Kim Jong Un said it feels grand to look at the Earth from the rocket we launched and the entire world looks so beautiful."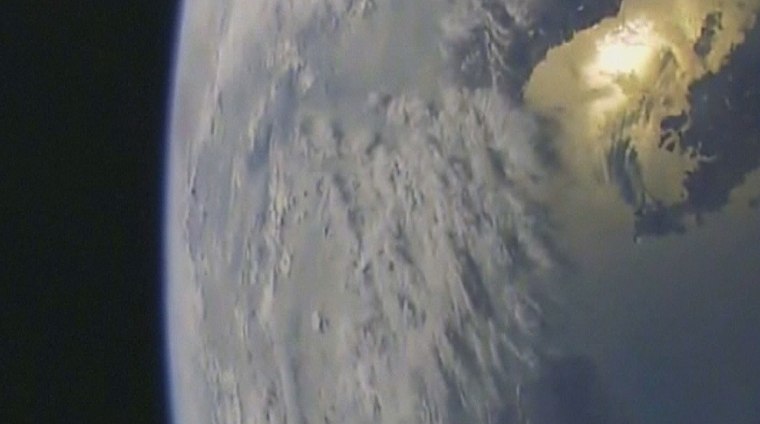 The solid-fuel Pukguksong-2 missile flew about 310 miles and reached a height of 350 miles Sunday before plunging into the Pacific Ocean, the Associated Press reported.
A White House official told NBC News that the missile was of a type that was last tested in February and that it had a shorter range than tge missiles North Korea launched more recently.
South Korea held a National Security Council meeting Sunday to discuss the latest launch, which came hours after new President Moon Jae-in named his new foreign minister nominee and top advisers for security and foreign policy.
South Korea's Joint Chiefs of Staff said Monday that Seoul and Washington believe Sunday's test provided North Korea with unspecified "meaningful data" on its push to improve the credibility of missile technology.
"We have to take everything they say with a grain of salt"
But spokesman Roh Jae-cheon said the allies believe more analysis is required to verify whether the test showed the North had achieved a breakthrough in re-entry technology.
There is skepticism about North Korea's claims about its re-entry technology, which is needed to return a warhead to the atmosphere from space so it can hit its intended target.
Michael Elleman, senior fellow for missile defense at the International Institute for Strategic Studies, told NBC News it remained hard to assess how far along North Korea is in terms of that endeavor but it appeared clear that progress was being made.
Elleman added that the North Koreans were likely showing that they had transmitted data from the missile by releasing the pictures taken during flight.
"They're showing they're getting telemetry data," Elleman said. "If they are able to communicate the pictures down to the ground then they are communicating the necessary flight data that's recorded."
That is not a "huge leap in technology," Elleman added.
He also questioned claims that the missile tested Sunday would be ready for production. "We have to take everything they say with a grain of salt but they do tend to deploy things before they're really ready. They have a history of that."
North Korea has rejected all calls to curtail its nuclear and missile programs in recent years, calling them legitimate self-defense.
It has been working to develop a nuclear-tipped missile capable of striking the U.S. mainland.
Sunday's missile test follows the launch of the Hwasong-12 missile last week which North Korea claims can carry a heavy nuclear warhead.
North Korea regularly threatens to destroy the United States which it accuses of preparing for invasion. South Korea hosts 28,500 U.S. troops to counter the threat from the North, a legacy of the 1950-53 Korean War.