BEIJING — North Korean leader Kim Jong Un is making a two-day visit to Beijing starting Tuesday and is expected to discuss with Chinese leaders his next steps after last week's nuclear summit with President Donald Trump.
Kim's visit to Beijing is one way for China to highlight its crucial role in U.S. efforts to get North Korea to abandon its nuclear program. The U.S. has long looked to China to use its influence with North Korea to bring it to negotiations, but the visit comes as ties between Beijing and Washington are being tested by a major trade dispute.
Chinese President Xi Jinping "is exerting a lot of influence from behind the scenes," said Bonnie Glaser, senior adviser for Asia at the Center for Strategic and International Studies in Washington. Glaser said it was predictable Xi would want to be briefed by Kim directly about the North Korean leader's talks with Trump.
"I expect they will talk about the path going forward and where priorities should lie," Glaser said. Those priorities, from China's perspective, would be to ensure that Beijing is included in any in peace treaty talks and for creating an environment on the Korean Peninsula that will make it unnecessary for U.S. troops to remain.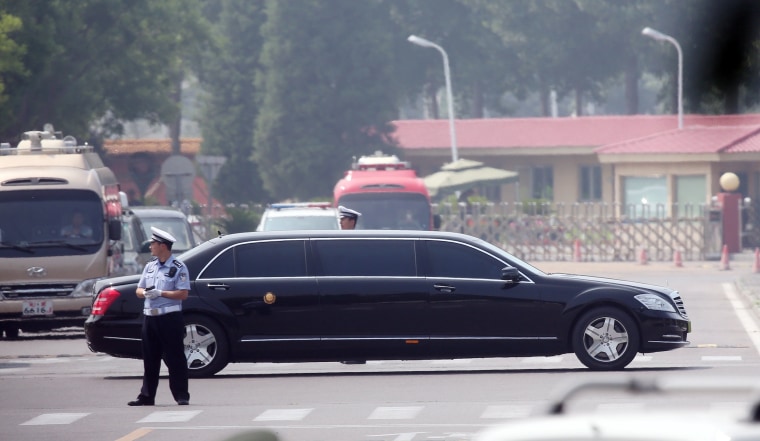 Kim was diplomatically isolated for years before making his first foreign trip as leader in March to meet with Xi in Beijing. This would be his third visit to China, North Korea's main ally and key source of trade and economic assistance. Following his summit with Trump, Kim was expected to meet with Chinese leaders to discuss progress in halting his country's missile and nuclear weapons programs in exchange for economic incentives.
The Singapore meeting resulted in a surprise announcement of a U.S. suspension of military drills with its South Korean ally, a goal long pursued by Beijing and Pyongyang. That move is seen as potentially weakening defenses and diplomacy among America's Asian allies, while bolstering China and Russia.
The U.S. has stationed combat troops in South Korea since the Korean War, in which China fought on North Korea's side and which ended in 1953 with an armistice and no peace treaty.
The state media treatment of Kim's visit departed from past practice of not announcing his travels until Kim returned home. Analysts said Beijing appeared to be trying to normalize such visits.