SEOUL, South Korea — The surprise announcement of a planned meeting between President Donald Trump and Kim Jong Un inspired both hope and trepidation among North Korea's neighbors on Friday.
Officials in South Korea, Japan, China and Russia greeted the news with measured optimism and promises of cooperation. Meanwhile, those on the streets of Seoul, just 35 miles from the border with North Korea, expressed elation mixed with caution.
South Korean President Moon Jae-in called the decision to move ahead with a face-to-face meeting on the North's nuclear program a "historic milestone" and "miraculous opportunity" to resolve a dangerous impasse.
"I would like to express my profound gratitude to the two leaders who made a difficult decision reflecting their courage and wisdom," Moon said.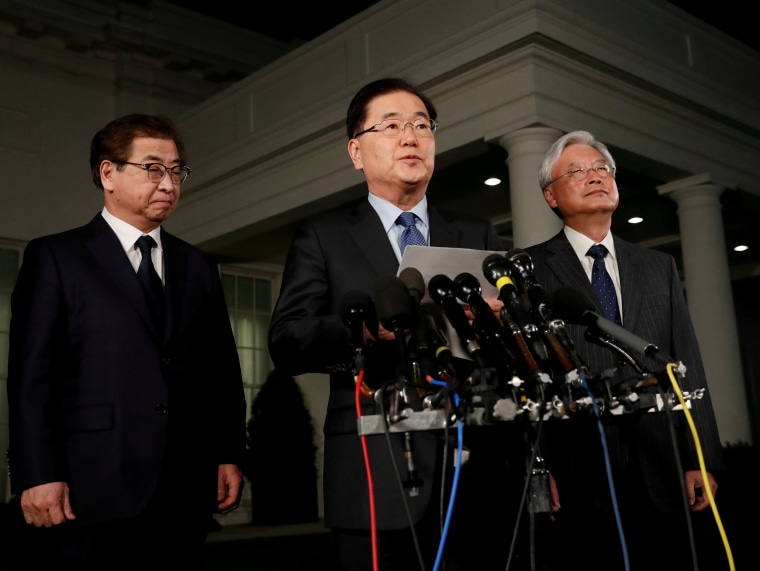 In Seoul, Park Si-hyun, 30, a doctor, was both wary and optimistic about the proposed meeting.
"I was very positive when I heard they planned to meet," Park said as he waited at a bus stop. "It's a good thing, really. But there were times like this when North Korea stabbed us in the back. So I am a little worried as well."
The announcement appeared to be a step toward a deescalation in the relations between the U.S. and North Korea, characterized recently by a bitter war of words between Trump and Kim.
Since becoming president, Trump has hurled numerous threats and insults at Kim — often via Twitter. The North Korean dictator has reciprocated, calling Trump "a mentally deranged U.S. dotard" who has to be tamed with fire and hinted at the presence of "a nuclear button on his desk."
Kim's government, meanwhile, has pressed ahead with its nuclear weapons and ballistic missile program.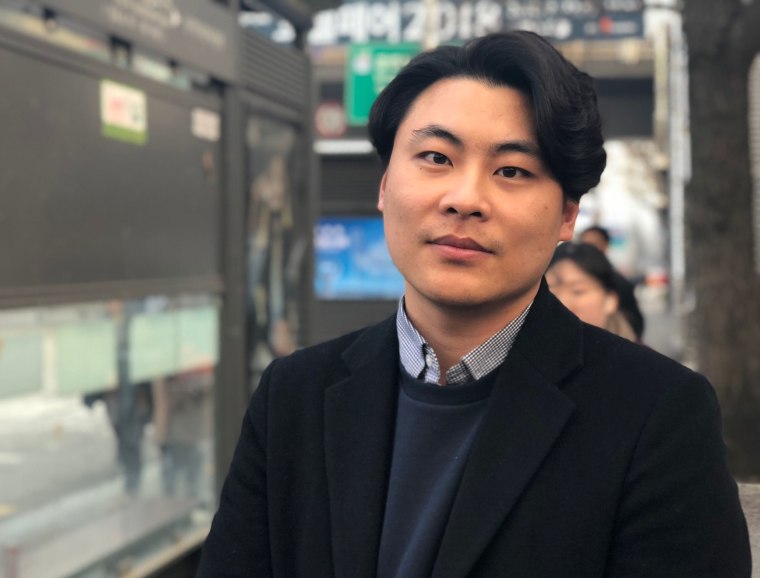 Japanese Prime Minister Shinzo Abe told reporters Friday that he had spoken with Trump by phone, and they had agreed to continue putting maximum pressure on North Korea. Thursday's announcement was the result of strong U.S.-Japanese coordination, he said.
"There were times like this when North Korea stabbed us in the back"
Abe also issued a clear note of caution: "Until North Korea takes actual steps towards a complete inspection of their nuclear weapons and missiles, and their irreversible abandonment, this will not sway the absolute position of Japan and the United States that we will continue to apply the greatest amount of pressure."
Aside from South Korea Japan is most vulnerable to North Korea's nuclear program, with a number of test-fired missiles landing in the country's waters over the past few years.
China, North Korea's most important ally, welcomed what it called the "positive message" conveyed by the proposed meeting.
"We ... support the alleviation of the peninsula situation, and the positive inter-Korean and U.S.-North Korea interactions," said China's Ministry of Foreign Affairs spokesperson Geng Shuang.
He added that China will continue to play a positive and constructive role in a political resolution to the nuclear issue, after being asked if China is willing to host the meeting.
Russian Foreign Minister Sergei Lavrov — whose government is also one of Pyongyang's few allies — told the TASS news agency that he was glad to see "a dialogue based on mutual respect" as opposed to "threats, ultimatums and unilateral sanctions."
Kwang Nam, a 75-year-old Seoul resident, called it "good news — now everything is heading the right way." She added, "We cannot afford a war."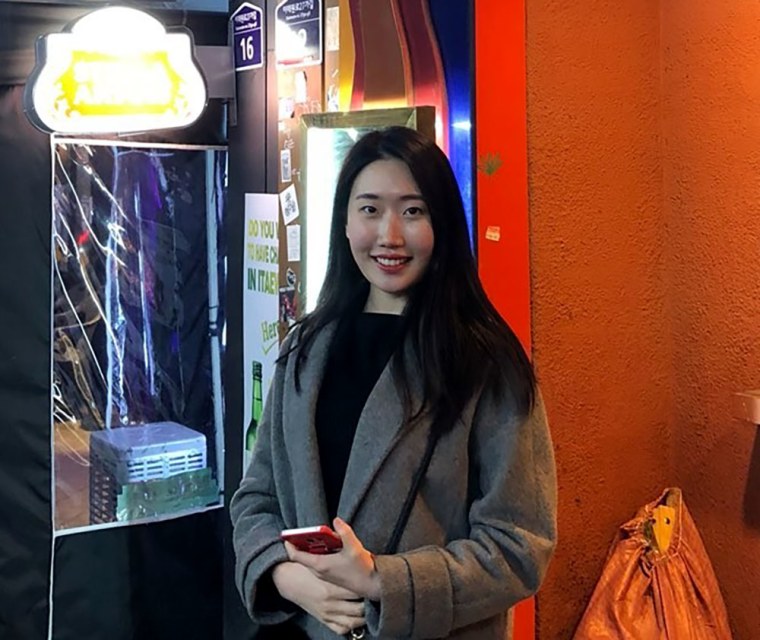 Jeon Yoo-jin, 24, a college student, said she expects the U.S. to flex its political muscle should the meeting between Trump and Kim lead to further cooperation.
"I believe that the U.S. has nothing to lose from these talks," she said. "So they will lay down the law and ask them to denuclearize."
Thursday's announcement was made outside the White House by South Korean National Security Advisor Chung Eui-yong, who said North Korea's Kim was committed to denuclearization. The North Korean leader also had pledged to refrain from any further nuclear or missile tests and expressed his eagerness to meet Trump as soon as possible, he said.
While Chung set a May deadline for the meeting, a senior U.S. administration official was more vague — telling reporters the time and place had "yet to be worked out," but that the meeting will come "in a matter of a couple months."
White House Press Secretary Sarah Huckabee Sanders confirmed that Trump had accepted the invitation to meet with Kim, but that all sanctions and maximum pressure on North Korea must remain in the meantime.
Trump took office vowing to stop North Korea from attaining a nuclear-tipped missile that could reach the U.S. mainland, a goal that Pyongyang appears on the cusp of reaching. The Defense Intelligence Agency reported to Congress this week that Kim now has three intercontinental ballistic missiles, two of which can hit the U.S. mainland.
Bruce Harrison reported from Seoul, and Yuliya Talmazan reported from London.