North Korean military officers have been trained to trigger a devastating counterstrike if their country is attacked by the United States, according to a high-profile defector.
Former North Korean diplomat Thae Yong Ho's comments to U.S. lawmakers suggest that military action on the Korean peninsula — a course of action repeatedly raised by President Donald Trump — would almost certainly result in a catastrophic number of civilian casualties.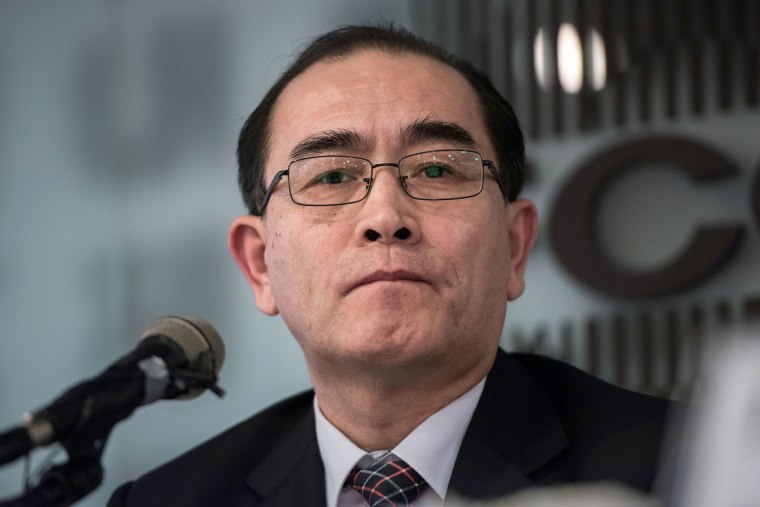 "North Korean officers are trained to press the button without any further instructions from the general command if something happens on their side," Thae said Wednesday. "So if there is any sound of fire or bombs or strikes from Americans, the [North Korean] artillery and short-range missiles will fire against South Korea."
A key U.S. ally, South Korea is home to more than 50 million people. Some 28,000 American troops are stationed in the country. Seoul, its capital, is just 30 miles from the North Korean border and in range of thousands of artillery pieces that are trained on the city.
Thae fled his post as deputy North Korean ambassador in London last year and has spent his time since publicly criticizing the regime from his new home in the South.
In an exclusive interview to NBC News in April, Thae warned that Kim Jong Un was prepared to use nuclear weapons against the U.S. The North Korean dictator has not yet displayed such a capability.
However, North Korea has conducted several ballistic missile tests this year in defiance of U.N. resolutions, including two intercontinental ballistic missile tests that experts said suggest that a missile could reach parts of the United States.
The U.S. and South Korea are technically still at war with North Korea because the 1950-53 Korean conflict ended with a truce and not a peace treaty.
On Wednesday, Thae told House Foreign Affairs Committee that the human rights abuses committed by his homeland, which is governed by one of the most repressive states on the planet, were "tantamount to the crimes committed by the Nazis."
Related: Bomb Shelters Are Everywhere in Seoul
Tensions have risen between Kim and the Trump administration, with Washington matching the warlike language of Pyongyang and Kim continuing to ramp up his burgeoning nuclear and missile programs.
Trump has threatened to "totally destroy" North Korea and rain "fire" and "fury" on the country of 25 million if its regime continued to threaten the U.S.
"The domestic system of control is weakening as the days go by"
While Thae said that the U.S. should always preserve the threat of war as a last resort, he questioned whether the White House had done enough to solve the crisis by other means.
"We cannot change the policy of terror of the Kim Jong Un regime," he said. "But we can educate North Korean population to stand up by disseminating outside information."
Activists currently smuggle USB sticks and float balloons across the border, with the illicit packages containing everything from anti-North Korea leaflets to Hollywood movies. This gives a glimpse of the outside world to ordinary North Koreans, who are not able to access the internet or foreign media.
"Is the United States really doing enough in this regard?" Thae said of these subversive tactics. "The U.S. is spending billions of dollars to cope with the military threat. Yet how much does the U.S. spend each year on information activities involving North Korea in a year? Unfortunately, it may be tiny fraction."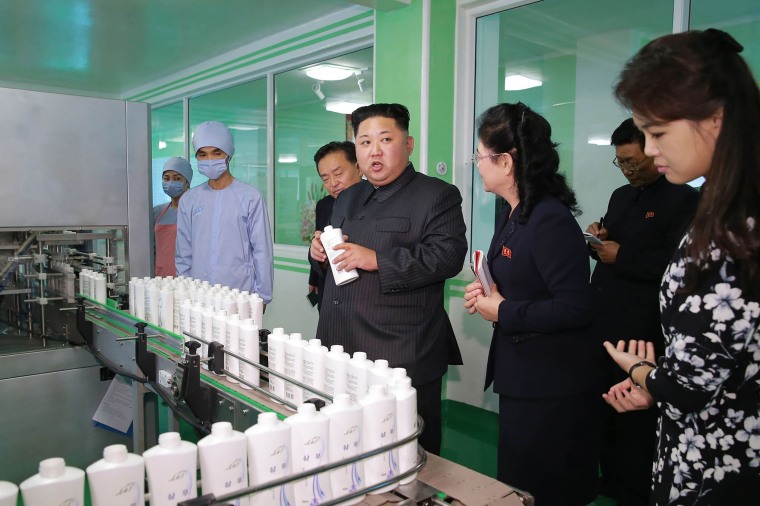 He said these tactics were already having an effect, helping foment a "flourishing" black market economy and greater knowledge of Western culture.
"The domestic system of control is weakening as the days go by," he said. "These changes ... make it increasingly possible to think about civilian uprising in North Korea."
The U.S. should push Russia and China to impose greater sanctions, Thae said, as well as urging Beijing to stop its policy of repatriating North Korean escapees.
He also suggested that the U.S. should meet the North Korean leader to assess his thinking.
"Some people do not believe in soft power, but only in military options. But it is necessary to reconsider whether we have tried all non-military options before we decide that military action against North Korea is all that is left," he said.
"Before any military action is taken," he added. "I think it is necessary to meet Kim Jong Un at least once to understand his thinking and to try to convince him that he would be destroyed if he continues his current direction."
North Korea has said in public statements that it wants an official end to the Korean War. It also wants nothing short of full normalization of relations with the U.S. and to be treated with respect and as an equal in the global arena.