North Korea is paying for its continued missile tests with "widespread and increasingly sophisticated" cyberattacks on banks and cryptocurrency exchanges, according to a new report to the U.N. Security Council, two diplomatic sources said.
Reuters first detailed the report.
The sources told NBC News on Monday that the Security Council has been told Pyongyang may have generated what is estimated to be up to 2 billion dollars for its illegal weapons of mass destruction program, although they caution it is impossible to completely quantify the total amount because of North Korea's ability to evade detection by using cyberspace "to launch increasingly sophisticated attacks to steal funds from financial institutions and cryptocurrency exchanges," using cyberspace to launder the transactions.
The U.N. report, according to the diplomats, say these attacks permit the North "to generate income in ways that are harder to trace and subject to less government oversight and regulation than the traditional banking sector."
Since 2016, private cyber-security firms have pointed to North Korea's advancing from traditional cyber targets, such as South Korean governmental and military institutions, to more diverse targets that cannot as easily be traced to Pyongyang, the sources said.
In 2018, NBC News first reported that North Korea had stolen 81 million dollars by hacking into the Central Bank of Bangladesh, the equivalent of that country's Federal Reserve. That theft is mentioned in the new U.N. report as part of its estimated up to $2 billion total. The report also cites other violations of U.N. sanctions, including "illicit ship-to-ship transfers and procurement of WMD-related items and luxury goods."
The significance of the illegal transactions is enormous, experts say, and has helped North Korea evade a plethora of U.N. economic sanctions voted unanimously since 2006 and continue financing its missile program.
Since President Donald Trump's impromptu meeting with Kim Jong Un at the DMZ at the end of May, North Korea has conducted a series of short-range missile tests in violation of U.N. sanctions, an apparent effort to pressure the U.S.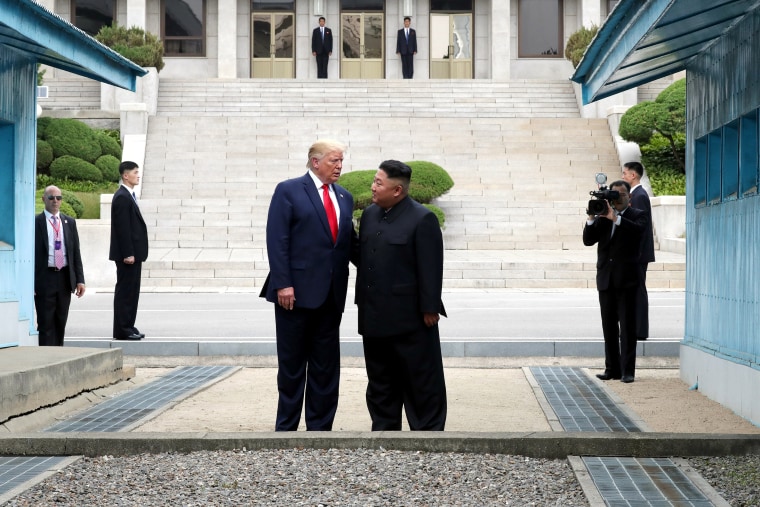 Nonetheless, Trump has repeatedly said he is not bothered by the tests because those missiles cannot reach U.S. territory. However these tests — three in late July and early August and two more Monday — threaten U.S. allies, South Korea and Japan, as well as U.S. military bases in the region. The tests are also important, nuclear weapons experts say, because North Korea gains valuable knowledge from each launch.
Meanwhile, working-level denuclearization talks between the U.S. and North Korea have not been held since the failed Hanoi summit between Trump and Kim in February. In Bangkok last week, U.S. Secretary of State Mike Pompeo said he was hoping North Korea's foreign minister would meet him, but no such meeting took place.