President Donald Trump and Secretary of State Rex Tillerson both cited February's assassination of Kim Jong-nam, the half-brother of North Korean strongman Kim Jong Un, as among their reasons for re-designating North Korea as a terrorist state on Monday.
The dictator's brother was murdered at the international airport in Kuala Lumpur, Malaysia, by two women armed with poison. They allegedly swabbed his skin with a deadly nerve agent as he waited for a plane to Macao. Kim Jong-nam, who had been traveling under a pseudonym, died en route to a local hospital.
The hit garnered sensational international coverage. But there have been other political murders and attempted murders directed by the North Korean regime — those other "assassinations on foreign soil" that Tillerson and Trump referenced Monday.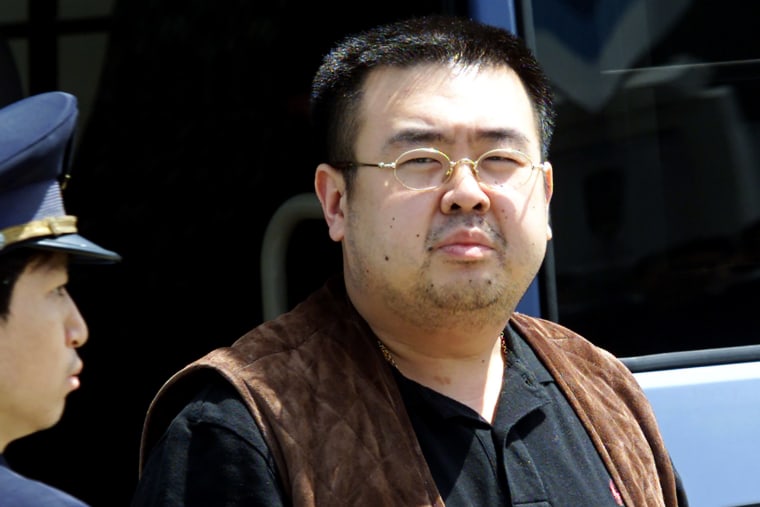 The president and the secretary of state didn't use names, which an administration official later said was due to concerns about national security. An NBC News review of open source material, however, shows that North Korea has been linked to at least five assassination attempts since 2008, when President George W. Bush removed North Korea from the list of terrorist nations. Only one succeeded.
In April 2012, North Korean agent An Hak-young was sentenced to four years imprisonment by a South Korean court for plotting to assassinate outspoken anti-Pyongyang activist Park Sang-hak with a poison-tipped needle.
In August 2011, a South Korean evangelical Christian pastor, Patrick Kim died after collapsing in the Chinese border city of Dandong. South Korea said Kim was likely attacked by a North Korean agent using a poisoned needle. Kim had helped North Korean defectors escape to China.
Two days later, in another Chinese city, a pastor who had helped defectors, Gahng Ho-bin, was stabbed in the neck with what was believed to be a poisoned knife. South Korean authorities accused the North in this attack as well. Gahng survived.
In July 2010, two agents of the North Korean General Reconnaissance Bureau, the regime's spy agency, were arrested and pleaded guilty before a South Korean court to attempting to assassinate high-level defector Hwang Jang-Yop, who was residing in South Korea. Kim Myung-ho and Do Myung-kwan were sentenced to 10 years in jail.
In October 2008, a North Korean woman was convicted by a South Korean court for plotting to kill South Korean intelligence agents with poisoned needles.
Moreover, South Korean intelligence officials found evidence of a failed attempt on Kim Jong-nam in 2012, according to reports in the South Korean press.
U.S. intelligence officials declined to confirm that these attempts were part of the reasoning behind the re-designation. Nor did they cite any other attempts or successes, though a senior administration official did say that there were other attacks in addition to the Kim Jong-nam hit.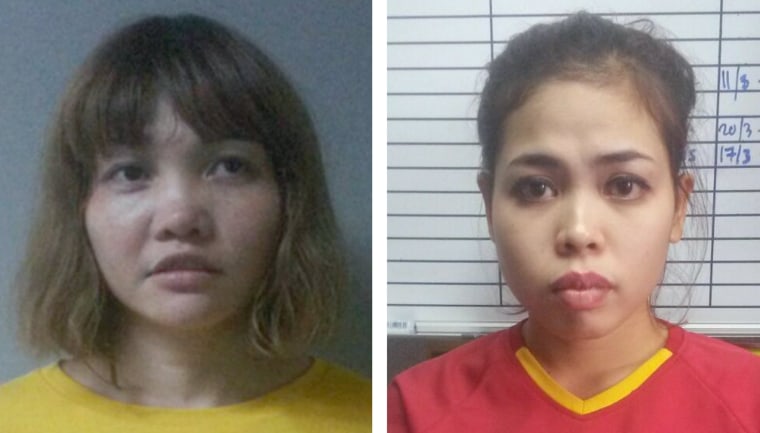 In explaining the decision to put Pyongyang back on the list, a senior State Department official said, "DPRK has repeatedly provided support for acts of international terrorism."
Related: Family of Girl Abducted by North Korea Hopes Trump Can Win Her Freedom
Sue Mi Terry, a former CIA analyst and North Korea expert, told NBC News that North Korea has also engaged in other operations that could qualify as terrorist attacks, including assassination attempts against regime critics and defectors, cyberattacks including the one against SONY pictures, weapon sales to terror groups like Hamas and Hezbollah, and threats to carry out attacks around the world.
Related: North Korean Defector Tells Lester Holt "World Should Be Ready"
For example, the SONY hackers threatened to carry out a series of attacks against U.S. movie theaters that showed SONY's "The Interview," a depiction of an assassination attempt on Kim Jong Un. U.S. intelligence officials said at the time they had determined that North Korea was "centrally involved" in the hack.
Terry called Trump and Tillerson's designation of North Korea as a terrorist state "a political decision [that adds] an extra measure of pressure not only to North Korea but to China … It adds another layer of making it difficult to anybody else to do any kind of interaction."
President Obama considered re-listing North Korea after the Sony hack in November 2014 but ultimately decided against it, she said.