North Korean leader Kim Jong Un ordered his military on standby for nuclear strikes at any time, state media reported Friday, but U.S. officials said there was no evidence that it had prepared to deploy any such weapons.
The threat is part of the regime's ramped-up propaganda push in the face of what it portrays as an effort by South Korea and the U.S. to overthrow its leadership.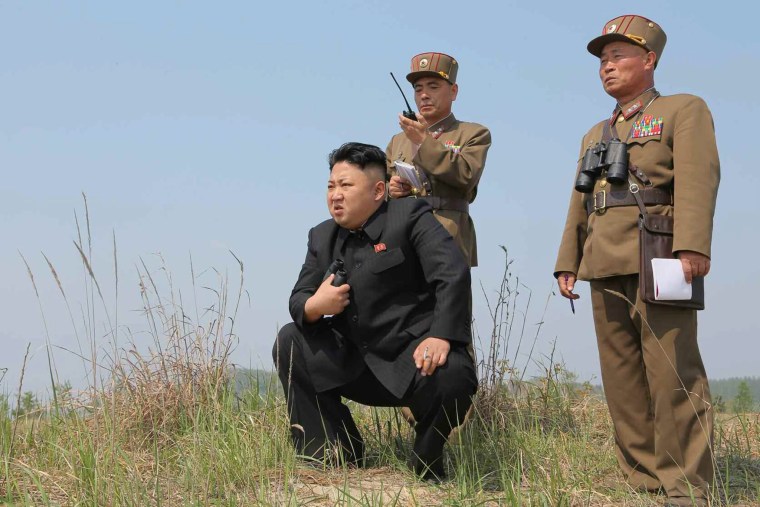 In a show of anger over the recent adoption of harsh U.N. sanctions, the North fired off short-range projectiles into the sea Thursday. However, its nuclear-ready rhetoric may not yet reflect the country's actual nuclear capacity.
"The only way for defending the sovereignty of our nation and its right to existence under the present extreme situation is to bolster up nuclear force both in quality and quantity," a dispatch from the North's official Korean Central News Agency (KCNA) said, paraphrasing Kim. It said Kim stressed "the need to get the nuclear warheads deployed for national defense always on standby so as to be fired any moment."
However, senior defense officials told NBC News there were no indications the North had put any nuclear weapons on alert.
"They've made these claims before," one official said.
The U.S., which maintains constant surveillance over North Korea, estimates Kim may have as many as 10 to 16 nuclear weapons. China puts the estimate at 20.
U.S. defense officials say it is possible North Korea could mount a nuclear warhead on a short-range missile, which could hit targets including Japan, but Kim does not have the capability to strike the United States.
Kim made the most recent warning while guiding the test-firing of a new large-caliber multiple launch rocket system, the KCNA report said.
The North's report didn't say when the test-firing happened, but many in South Korea believe it likely refers to the six short-range projectiles that Seoul said North Korea fired into the sea Thursday.
South Korea's Defense Ministry said the North Korean projectiles, fired from the eastern coastal town of Wonsan, flew about 60 to 90 miles.
The new U.N. sanctions include mandatory inspections of cargo leaving and entering North Korea by land, sea or air; a ban on all sales or transfers of small arms and light weapons to the North; and the expulsion of North Korean diplomats who engage in "illicit activities."