SEOUL, South Korea — North Korea on Monday boasted of a successful weekend launch of a new type of "medium long-range" ballistic rocket that can carry a heavy nuclear warhead.
Amid condemnation in Seoul, Tokyo and Washington, a jubilant North Korean leader Kim Jong Un promised more nuclear and missile tests and warned that his country's weapons could strike the U.S. mainland and Pacific holdings.
North Korean propaganda must be considered with wariness — Pyongyang has threatened for decades to reduce Seoul to a "sea of fire," for instance. Kim's regime says it aims to field a nuclear-tipped intercontinental ballistic missile (ICBM) capable of reaching the U.S. mainland.
The North Korea leader accused the United States of "browbeating" countries that "have no nukes" and warned Washington not to misjudge the reality that its mainland is in the North's "sighting range for strike," the state-run KCNA news agency reported.
KCNA called the missile a "new ground-to-ground medium long-range strategic ballistic rocket," and said the "Hwasong-12" was "capable of carrying a large, heavy nuclear warhead."
Related: N. Korea Missile Test 'Not the Way to Sit Down With Trump'
However, the Pentagon's Pacific Command said on Sunday the type of missile that was fired was "not consistent" with an ICBM. South Korea's military also played down the North's claim of technical progress on atmospheric re-entry.
"We believe the possibility of that is low," said Roh Jae-cheon, a spokesman for South Korea's Office of the Joint Chiefs of Staff.
Two U.S. military officials told NBC News on Monday that preliminary assessments suggested the launch involved a KN-17, a liquid fuel single-stage missile. North Korea also launched one of those in mid-April, but it exploded seconds later.
The missile landed in the sea near Russia on Sunday in a launch that Washington called a message to South Korea, days after its new president took office pledging to engage Pyongyang in dialogue.
Related: N. Korea's 'Hostage Diplomacy' Has a New Aim
Kim witnessed the test and "hugged officials in the field of rocket research, saying that they worked hard to achieve a great thing," according to KCNA.
The rocket, "newly designed in a Korean-style," flew 490 miles and reached a maximum altitude of 1,310 miles, the North said, and "verified the homing feature of the warhead under the worst re-entry situation and accurate performance of detonation system."
North Korea's official Rodong Sinmun devoted half of its six-page edition on Monday to coverage of the missile test, including vivid photographs of the launch and a jubilant Kim celebrating with military officers.
The photographs showed a long nose-coned projectile similar to missiles put on display in an April 15 military parade marking the birth anniversary of state founder Kim Il Sung.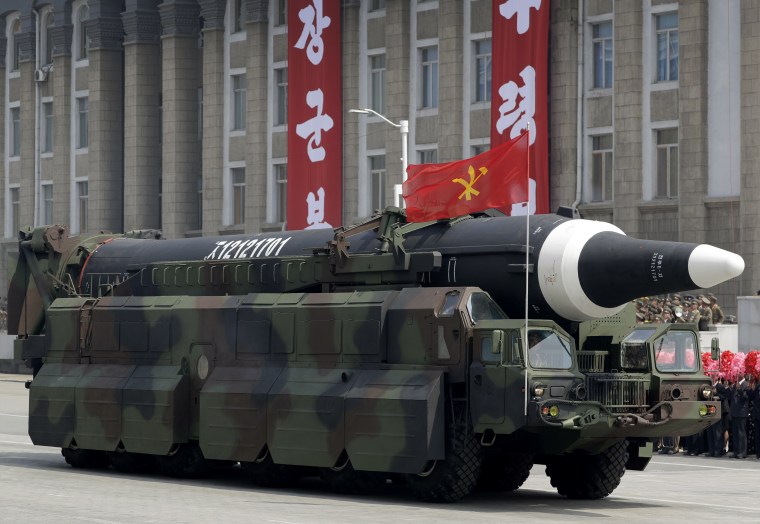 South Korea's Defense Ministry said more analysis was needed to verify the North's claim on the rocket's technological features. Spokesman Moon Sang Gyun said it's still unlikely that North Korea has re-entry technology, which would return a warhead safely back into the atmosphere.
Japanese officials said Sunday that the missile flew for half an hour and reached an unusually high altitude before landing in the Sea of Japan.
Several South Korean analysts, including Lee Illwoo, a Seoul-based commentator on military issues, said the missile flew higher and for a longer period than any other the North has ever test-fired. North Korea has also launched satellites into orbit on long-range rockets that share some of the same technology as missiles.
Related: N. Korea Has Accused China of a 'Betrayal.' Is a Breakup Next?
North Korea is banned under United Nations resolutions from engaging in nuclear and missile development, but has conducted its fifth nuclear test and a string of missile launches since the start of last year.
North Korea is not thought to be able yet to make a nuclear warhead small enough to mount on a long-range missile, though some outside analysts think it can arm shorter-range missiles with warheads. Each new nuclear and longer-range missile test is part of the North's attempt to build a nuclear-tipped intercontinental ballistic missile.
The launch came as troops from the U.S., Japan and two European nations gather near Guam for drills that are partly a message to North Korea. The USS Carl Vinson, an aircraft supercarrier, is also engaging with South Korean navy ships in waters off the Korean Peninsula, according to Seoul's Defense Ministry.