North Korea's latest attempt to test-fire a missile was a failure, with the rocket exploding seconds after launch, according to American officials monitoring the nation.
But experts have warned against reading too much into the misfire.
Scant information has been released about Wednesday's incident and it was not the first time North Korean missiles have crashed and burned.
Analysts said it may be a mere bump in the road, and do little to dissuade North Korean dictator Kim Jong Un from his ultimate objective of building a nuclear weapons capable of hitting the United States.
"These failures are usually hidden from [North Korea's] population and are unlikely to deter Kim from pursuing his nuclear ambitions," according to Fraser Cameron, director of the EU-Asia Center, a think tank based in Belgium.
"Placing large emphasis on single tests is probably unwise," agreed Karl Dewey, a proliferation editor at Jane's Intelligence Review, a U.K.-based publication. "Until we know more about the missile type and design objectives, it's probably too soon to start speculating on how this failure informs this picture."
Since he came to power five years ago, Kim has defied United Nations sanctions and greatly increased testing of missiles and nuclear weapons.
His latest show of strength came Sunday with a broadcast from a state run KRT news reader warning of a preemptive strike against the U.S. The report said: "Our military declares our stand to mercilessly smash all of our enemy's moves with our own preemptive special operation and attack, as the wicked plan for the U.S. and South Korean war maniacs' special operations aiming at our supreme leader is becoming apparent."
It went on to warn the U.S. over its involvement in South Korea, saying that if troops remain in the country "they should keep in mind that our military will carry out annihilating attack at anytime without any prior warning."
The warnings come just a week after the failed missile incident, which was the latest in an array of tests by Kim.
"He has had more missile tests in the past four years than all of the previous years combined," said Thomas Karako, director of the Missile Defense Project at the Center for Strategic and International Studies, a research organization based in Washington, D.C.
Kim's government limits freedom of speech and information broadcast to the outside world is strictly controlled. This means relatively little is known about his weapons program and how much of a threat it is to the U.S. and its allies.
"The North does have a habit of surprising us."
A senior U.S. intelligence official told NBC News this week that North Korea is estimated to have between eight and 10 nuclear weapons. Other analysts say the number is likely between 10 and 20.
Getting these weapons to their target, however, is a different matter.
First, the North Koreans would have to make the nuke small enough to attach to a rocket, then they would have to fly it halfway across the globe.
North Korea claims to have built a miniaturized nuclear warhead capable of being delivered on an intercontinental ballistic missile, or ICMB. In January, a senior North Korean told NBC News the country was ready to test-fire an ICBM "at any time, at any place."
In reality, the country has provided no concrete evidence of this.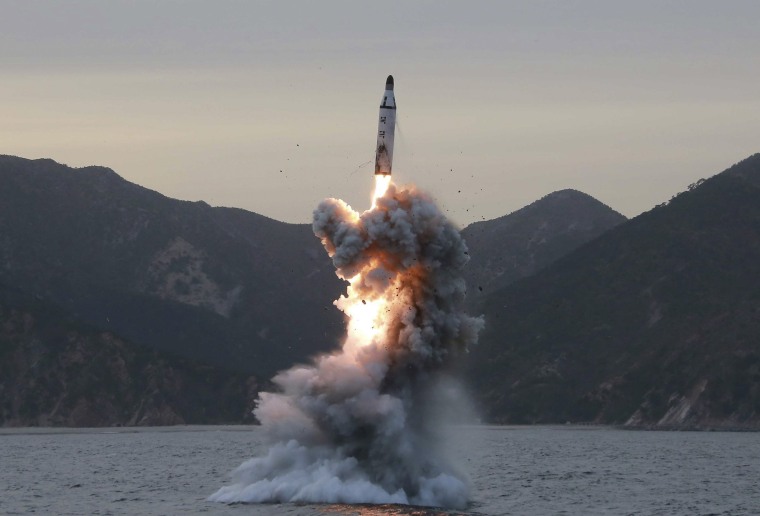 Starting in the 1970s, the country has test-fired short and medium-range missiles that are in theory capable of hitting America's allies in South Korea and even Japan. Tests for the medium-range missiles have had a very high failure rate, however.
The closest it has come to demonstrating ICBM capabilities was when it put two satellites into space, first in December 2012 and again in February last year. Again, these successes were interspersed with several failures.
The launches that did succeed drew international condemnation, and triggered a new round of U.N. sanctions. They were seen as an excuse to test technology for long-range missiles.
Like a rocket used to launch a satellite, an ICBM travels into space on its huge trajectory. But it also needs to reenter the atmosphere before it hits its target thousands of miles away.
For this to work, it needs a reentry vehicle, and North Korea showed off such a device when it touted its miniaturized nuclear warhead last year. Some analysts think it might work.
"Using computer modelling, we arrived at the tentative assessment that the reentry vehicle on the [ICBM] could survive atmospheric reentry," said Dewey at Jane's Intelligence Review. He and his colleagues released a report that said assessed with "a reasonable degree of confidence" the reentry vehicle could deliver the nuclear weapon.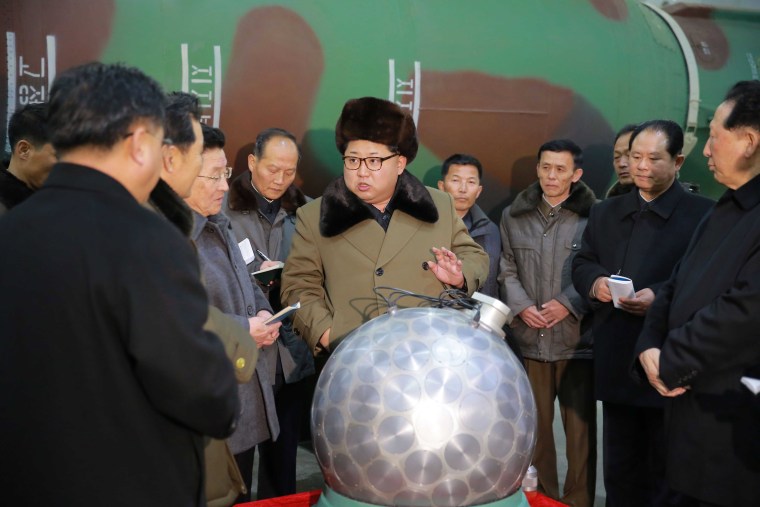 However, for now North Korea hasn't proven that it can combine all these pieces of the puzzle to build a reliable weapon.
"The DPRK is still struggling to perfect its missile technology," according to Cameron, at the EU-Asia Center. "Sometimes it succeeds as it did two weeks ago by launching four ballistic missiles at once; and sometimes it fails."
The New York Times examined earlier this month whether North Korea's failures could be down to cyber-sabotage by the United States, although it may just be down to manufacturing errors and incompetence.
"How many failures did the U.S. have in the 50s and 60s? How many failures does a company like Space X have today?" said Karako at the Center for Strategic and International Studies.
How crucial these failures are remains to be seen. But many experts think the prospect of North Korea being able to strike the U.S. is likely some way off.
However, as Dewey put it: "It appears that an ICBM won't be available until the medium-to-long-term, but the North does have a habit of surprising us."