Negotiations with North Korea are showing promising signs of success — just not the negotiations involving the Trump administration.
For all the fanfare of President Donald Trump's historic summit with North Korean leader Kim Jong Un in Singapore in July, the denuclearization agreement they signed was vague to the point of being effectively meaningless, according to many experts.
That lack of clarity appears to have slowed the ensuing talks between Washington and Pyongyang to a halt, with neither side able to agree on how to progress.
NBC News reported this weekend that his administration is taking an increasingly aggressive stance because of evidence North Korea is still making nuclear weapons, according to senior U.S. officials.
Kim did offer a potential olive branch to Trump last week, and the two sides say they're planning a second summit. It's unclear if these moves will be enough to break the deadlock.
And yet in the background, often drowned out by the din of Trump's headline-grabbing promises, a second, quieter set of negotiations between North and South Korea has been far more encouraging.
"There are currently two parallel diplomatic tracks in play: the peace track driven by Seoul and the denuclearization track driven by Washington," according to Abraham Denmark, a director at the Woodrow Wilson International Center for Scholars.
"The peace track has made much more progress so far," he said.
A puzzle
The two Koreas, divided by a war in the 1950s that technically has never ended, have recently traded apocalyptic threats, deadly shell fire and even propaganda music blasted over the border by hulking loudspeakers. As recently as last September, Pyongyang warned it could wipe out the South in a nuclear strike.
But things began to change after the election last year of Moon Jae-in, a liberal human-rights lawyer, as South Korea's president.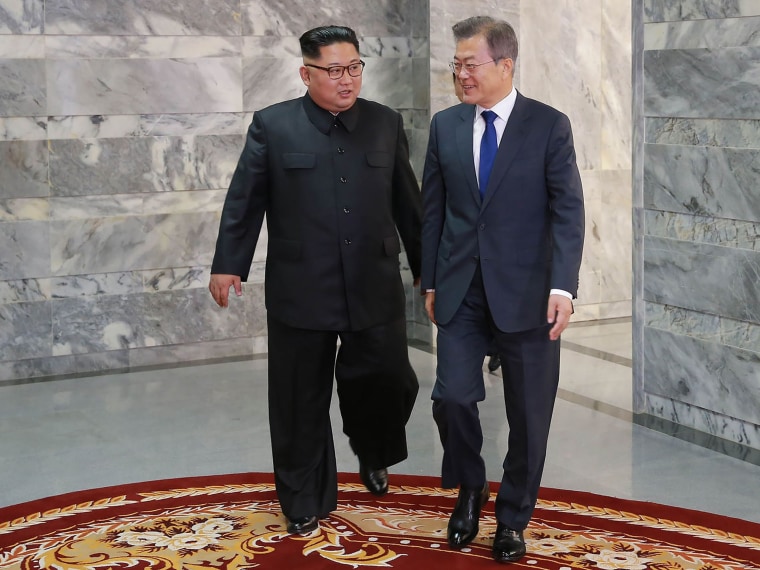 Moon has been "a key driver of this diplomacy since its inception," Denmark said, because he's proved to be a skilled and effective navigator among Kim, Trump, China and Japan.
Moon suggested that Trump should be nominated for the Nobel Peace Prize for his overtures to North Korea. Some who watch these talks closely say, if anyone is nominated, it should be Moon.
Since Moon came to power, there have been big symbolic gestures. The Koreas fielded a united hockey team at the Winter Olympics in PyeongChang, South Korea, in February, and there was the historic meeting between Moon and Kim at the Demilitarized Zone months later.
The symbols also had some substance behind them. At their first summit, in April, Moon and Kim signed a detailed agreement called the Panmunjom Declaration in which they pledged to work toward ending the Korean War and avoid military provocations. It also allowed families divided by the war brief and emotional reunions, and held the promise of future economic ties.
This weekend, a military parade in Pyongyang marking 70 years since the country's foundation eschewed the usual display of long-range missiles for a float celebrating the declarations signed with the South.
The celebration also involved a vast gymnastic display involving 100,000 performers. Here, traditional songs praised Korean shared culture, and imagery focused on joining hands after seven decades of separation.
The showpiece involved thousands in the stadium holding up white cards that formed one giant screen. Onto this was beamed highlights of Kim and Moon's summit. The crowd erupted in applause, as did Kim who was in the audience.
The Panmunjom Declaration symbolized the different approaches taken by South Korea and the U.S. The declaration pledges to work toward denuclearization, but many analysts believe Moon sees a nuclear-free Korea as an eventual goal that might be achieved through step-by-step concessions.
On Tuesday, Moon said Trump and Kim needed to make "make bold decisions," and urged the U.S. to "take a corresponding step" if the North is to denuclearize.
"Kim Jong Un's genius is to set three balls rolling. They all interact, cleverly."
Contrast this with Trump's zero-sum strategy, mirrored by the subsequent demands from his team that North Korea make concessions without giving any themselves.
China, too, has its own agenda, in recent months loosening trade restrictions with Pyongyang and undercutting Trump's efforts to pressure Kim, according to former officials and experts.
"Kim Jong Un's genius is to set three balls rolling" — the U.S., South Korea and China, according to Aidan Foster-Carter, an honorary senior research fellow at Leeds University, in England. "They all interact, cleverly."
"This is not all about America, and it's not all about nukes," he said.
'Moon is the tortoise and Trump the hare'
A major stumbling block is North Korea's desire to bring an official end to the war.
American officials are worried this would lead to further calls for a permanent end to military exercises or even withdrawal of the 28,000 American troops based in the South.
"Stylistically, Moon is the tortoise and Trump the hare," said George Lopez, a former member of the United Nations Panel of Experts on North Korean sanctions.
Trump "is trying to win the entire diplomatic race in a speed-blitz of incomplete promises and big declarations on security," said Lopez, who is now a professor emeritus at Notre Dame's Kroc Institute for International Peace Studies.
"Moon is slow and steady and paying attention to detail," he added.
Other experts go further and say Moon isn't bothered by North Korea's nuclear abilities but wants to do enough to keep the U.S. onside.
"Moon wants to improve relations; he doesn't care if North Korea disarms or not," said Jeffrey Lewis, a nuclear policy expert at the Middlebury Institute of International Studies at Monterey, California. "Of course, he knows the United States cares, so his goal is get just enough on the score to keep Trump happy."
Like the CIA, Lewis believes there is zero chance of Kim ever giving up his nuclear arsenal. According to Lewis' theory, Moon hopes Trump has hitched his star so firmly to the Korea issue that he is eventually "willing to settle for vague assurances on disarmament."
With talks at an impasse, Trump has asked Moon to be "chief negotiator" between Washington and Pyongyang. They've all been able to ride along together so far, their hopes and dreams not clashing too much.
But Trump's insistence on quick results and Moon's desire for gradual progress could strain their relationship.
"I worry how long Trump can sustain this," Lewis said. "He has repeatedly and publicly promised that Kim will disarm, and he seems to be dragging his feet now on the peace agreement."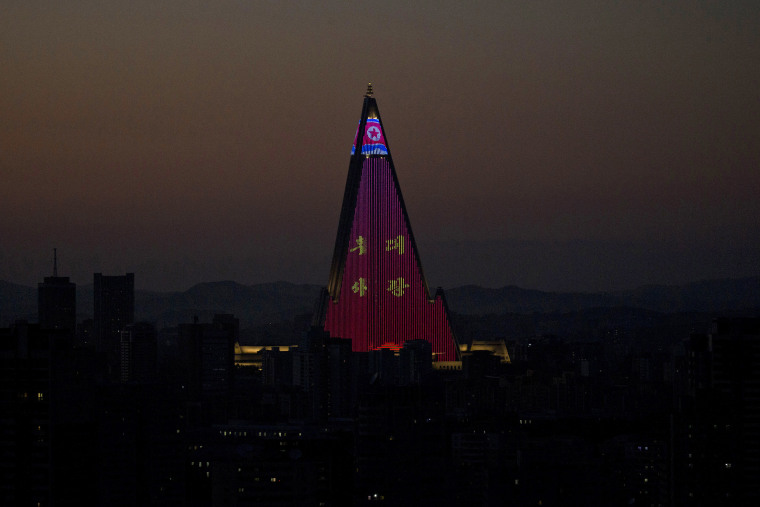 He added, "I just have the feeling that this will all of a sudden go sideways and Trump will lash out at Kim."
David Wright, a co-director of the Global Security Program at the Union of Concerned Scientists, agrees.
"Trying to get Moon to be a mediator for the U.S. could be problematic if Moon sees the larger negotiations differently than the Trump administration," he said.
Moon is "likely to be able to carry communications, but it seems to me he is unlikely to stall progress at the North-South level if he thinks the U.S. is not taking the steps it needs to in order to move things at the nuclear level."
We'll likely to know more on Sept. 18, when Moon is scheduled to travel to Pyongyang for his third summit with Kim.
South Korean officials say they will discuss "practical measures" toward denuclearization, and some hope it could reignite talks with the U.S.
But many remain skeptical.
Lopez said he "seriously doubts" Trump would accept Moon as a mediator if during the talks the South Korean leader sets the table for the U.S. to sign off on ending the war.
South Korea and U.S. relations, he predicted, "will become more distant and not resemble the partnership needed to craft mutual deescalation of the crisis and the nukes."
CORRECTION (Sept. 11, 2018 2:38 p.m. ET): An earlier version of this article misstated the location of President Donald Trump's summit with Kim Jong Un. They met in Singapore, not Helsinki.