PYONGYANG, North Korea — An American student detained in North Korea for almost two months appeared on state television Monday where he appeared to apologize for attempting to steal a political banner as a souvenir.
Otto Warmbier, a 21-year-old University of Virginia undergraduate student, was shown bowing deeply and reading out a statement saying that he had committed an anti-state crime with "the tacit connivance of the U.S. government and under its manipulation."
In previous cases, people who have been detained in North Korea and given a public confession often recant those admissions after their release.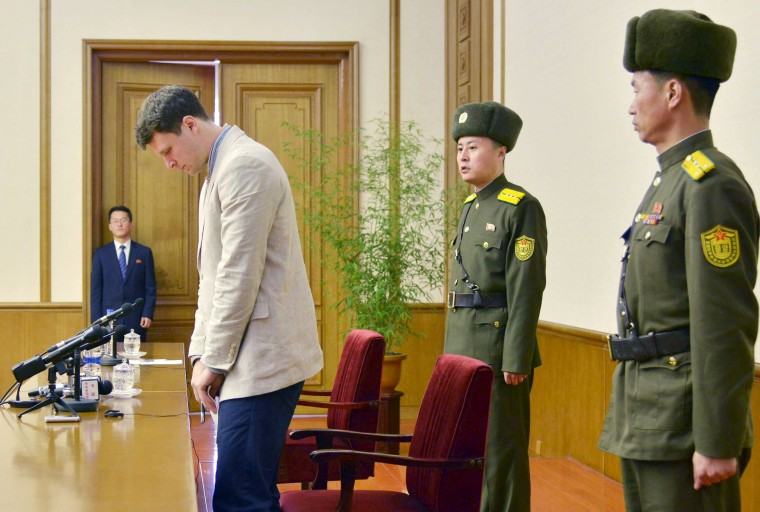 Warmbier, an Ohio native, was detained in January while visiting the country with Young Pioneer Tours, an agency specializing in travel to the North. Visiting North Korea is strongly discouraged by the State Department.
In his statement, Warmbier said he was offered a reward by a member of his church for taking the banner.
"I am begging to the Korean people and government for my forgiveness," his statement said.
North Korea regularly accuses Washington of sending spies to overthrow its government to enable the U.S.-backed South Korean government to control the Korean Peninsula.
Warmbier's family have not heard from him since his arrest, according to a statement provided to the Cavalier Daily, the University of Virginia's student-run newspaper.
"He seems to be in good health, although we won't know for sure about his condition until we have a chance to speak with him," the statement said.