SEOUL, South Korea — Delegations from North and South Korea could meet for the first official discussions between the neighbors since 2015 ahead of the PyeongChang Winter Olympics.
South Korea proposed Tuesday that talks be held on Jan. 9, said Cho Myoung-gyon, the head of his country's Unification Ministry. He said that Seoul had consulted with the U.S. and had Washington's blessing.
South Korea's overture was in response to comments made by North Korean leader Kim Jong Un in a New Year's Day speech. He suggested immediate talks with Seoul over sending a delegation to the Olympics.
"North Korea's participation in the Winter Games will be a good opportunity to show unity of the people, and we wish the Games will be a success," Kim said.
Two North Korean figure skaters have qualified for the Winter Games, which are due to begin on Feb. 9. However, Kim's speech was the first time Pyongyang has suggested it is seriously considering sending them to PyeongChang, which is in the South but about 50 miles from the North Korean border. The neighbors officially remain at war.
North Korea did not immediately respond to South Korea's invitation. But the Unification Ministry said it made the terms simple: Its delegation would meet Kim's delegation anytime, anywhere and that any format for the talks would be acceptable.
President Donald Trump tweeted Tuesday that sanctions and "other" pressures were beginning to have an impact on North Korea. "Rocket man now wants to talk to South Korea for first time," Trump wrote, using his derogatory name for Kim. "Perhaps that is good news, perhaps not — we will see!"
South Korean President Moon Jae-in has repeatedly expressed hope that North Korea would participate at the Olympics. He sees their attendance as an opportunity for greater peace on the Korean Peninsula.
During Moon's campaign and since taking office in May, he's made it clear he plans to re-engage with North Korea after communications ground to a halt under previous administrations.
According to the Unification Ministry, the last official inter-Korea talks were held in December 2015. They followed a period of escalating tensions during which South Korean soldiers were injured by landmines in the Demilitarized Zone and the neighbors exchanged artillery fire across the border.
North Korea has said in public statements that it wants an official end to the Korean War. The conflict was halted by a 1953 armistice but no peace treaty has been signed. It also wants nothing short of full normalization of relations with the U.S. and to be treated with respect and as an equal in the global arena.
Ahead of the Games, Moon has asked the U.S. to delay annual military drills with South Korea that are scheduled to begin next month. Washington has yet to respond.
Since taking office, Trump's harsh rhetoric has signaled his administration's hard-line stance against North Korea's nuclear ambitions. Pyongyang has responded in kind by deriding the U.S. leader and threatening war.
The U.S. military has also conducted large-scale shows of force in the region, while Kim has increased the pace of ballistic missile tests over the past year.
Amid the tensions, the North Korean dictator said Monday that "a nuclear button is always on my desk" and the "entire United States is within range of our nuclear weapons."
On Tuesday evening, Trump angrily struck back at that, via Twitter, posting:
"North Korean Leader Kim Jong Un just stated that the 'Nuclear Button is on his desk at all times.' Will someone from his depleted and food starved regime please inform him that I too have a Nuclear Button, but it is a much bigger & more powerful one than his, and my Button works!"
Two U.S. military officials said earlier Tuesday that a test ballistic missile launch by the North is possible, if not likely, in the coming days. American intelligence has traced a ramping up of related activity, including the moving of equipment, indicative of a test, according to the officials who requested anonymity.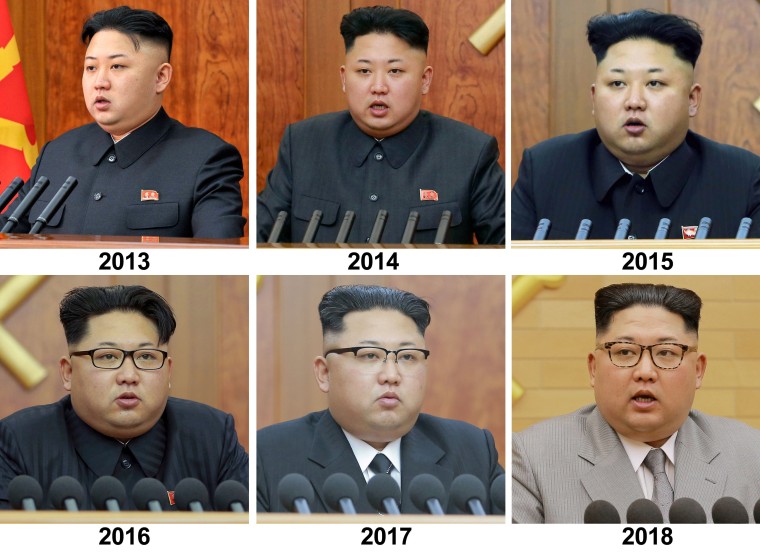 In September, North Korea conducted its sixth and most powerful nuclear test. However, analysts say that based on the current evidence it's hard to prove or debunk North Korea's claim that it can now hit faraway American targets such as New York or Washington.
Sen. Lindsey Graham, R-S.C., said on Twitter Monday that allowing North Korea to participate in the Olympics "would give legitimacy to the most illegitimate regime on the planet." He also suggested that the U.S. should not participate in the Games if athletes from the North did.
Graham also called North Korea's offer for talks an "absurd overture."
The International Olympic Committee is the formal channel for deciding which countries are invited.