WASHINGTON — North Korea is continuing work on its ballistic missile program, U.S. officials briefed on recent intelligence tell NBC News, confirming the gist of a private report Monday detailing recent improvements made at undeclared military sites.
A separate analysis by the Middlebury Institute of International Studies, provided exclusively to NBC News, describes a secret military base deep in North Korea's interior that analysts believe could house missiles capable of reaching the United States.
American defense officials stressed that they consider it a positive development that North Korea has not conducted a nuclear test since September 2017.
"North Korea has continued its ballistic missile program at a number of bases but it's significant that they have not tested one in nearly a year," one official said. "We need to give the diplomats time and space to work."
Nonetheless, the recent intelligence, and the private satellite photos of work on undeclared missile sites, underscore the widespread belief among experts that President Donald Trump's pronouncement that the world no longer has to worry about a North Korean nuclear program is divorced from reality.
"It looks as if it is a political charade, and it's a dangerous one," retired Gen. Barry McCaffrey told NBC News. "In the short term, North Korea is the most consequential threat to U.S. national security we're facing....They have nuclear weapons, they have delivery systems, they are not going to denuclearize. So I think the outcome of all of this is we're loosening the economic constraints on these people and we're kidding ourselves."
The private report released Monday said researchers had identified 13 of an estimated 20 undeclared North Korean missile bases, and included a detailed analysis of one facility, the Sakkanmol Missile Operating Base, about 50 miles north of the Demilitarized Zone separating North and South Korea.
The report was prepared by a group called Beyond Parallel, a program at the Center for Strategic and International Studies in Washington. It was led by Victor Cha, a former diplomat who was considered by the Trump administration for the job of ambassador to South Korea, but could not get on board with Trump's approach.
Separately, Jeffrey Lewis, director of the East Asia Nonproliferation Program at James Martin Center for Nonproliferation Studies at the Middlebury Institute of International Studies, provided NBC News with his group's analysis of one of the most important facilities, located near Yeongjeo-dong, deep in the interior of North Korea and extending to the Chinese border.
The location makes it a strong candidate for basing North Korea's longest range missiles, Lewis has concluded. The site has been identified by defectors, but Lewis found it on satellite imagery and observed work ongoing there as recently as last year.
"The missile facility at Yeongjeo-dong remains an active military base, with a number of hardened and underground structures for launching ballistic missiles," Lewis wrote. While one defector said it was built to house medium-range Nodong missiles, "other evidence suggests the site was constructed to house longer range-missiles that would need to be rolled out from tunnels, erected and launched."
After Trump met North Korean leader Kim Jong Un at a historic summit in Singapore in June, North Korea did not agree to stop working on its nuclear program. Instead, Kim signed a vague declaration agreeing to work toward complete denuclearization of the Korean Peninsula," a phrase that was not defined.
Secretary of State Mike Pompeo said last month that a second summit between the two leaders would be scheduled as part of diplomatic talks that he described as promising. But even as these talks have been ongoing, North Korea continues to work on its nuclear program. U.S. intelligence officials, including CIA Director Gina Haspel, have expressed public skepticism about the North's willingness to give up its weapons.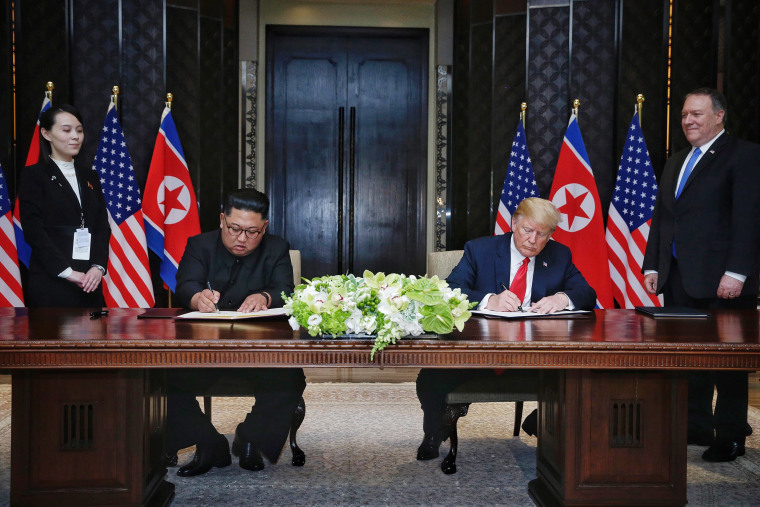 Answering questions after a speech in Louisville in September, Haspel noted that Kim Jong Un's government views nuclear weapons as "essential to their regime's survival."
Trump, in a June tweet, declared that "There is no longer a Nuclear Threat from North Korea," a view that is not shared by any of his top national security officials, or the American intelligence community.
NBC News reported in June that U.S. intelligence agencies had detected that North Korea has increased its production of fuel for nuclear weapons at multiple secret sites even as Trump and Kim were meeting — and that Kim would seek to hide those facilities as he tries to extract concessions in nuclear talks with the Trump administration.
The Washington Post corroborated that story, reporting that intelligence agencies had concluded that North Korea "does not intend to fully surrender its nuclear stockpile, and instead is considering ways to conceal the number of weapons it has and secret production facilities."
North Korea has offered to dismantle a missile site even as it has been improving other sites in full view of American spy satellites, underscoring the regime's continued work on its missile programs, officials tell NBC News. Experts also say they have no reason to believe North Korea has stopped production of nuclear fuel. The North already has as many as 60 nuclear bombs, intelligence estimates suggest.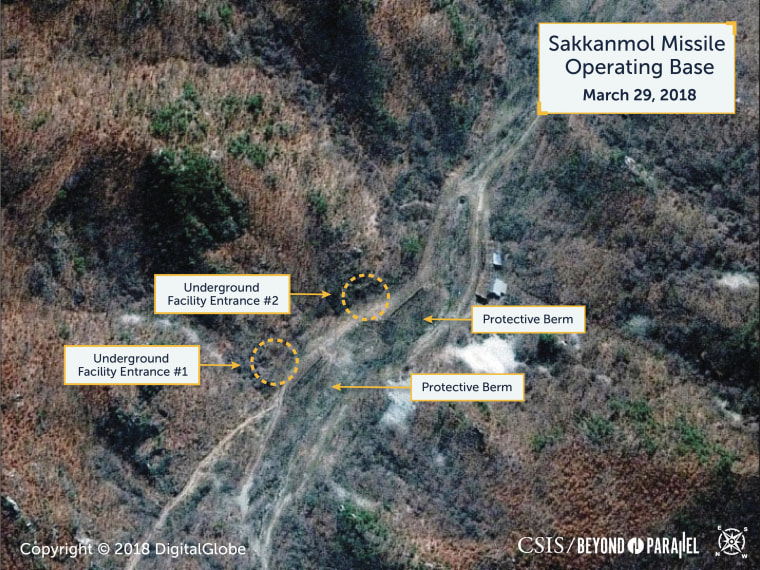 But Trump continues to suggest, without evidence, that he is solving the North Korea problem.
"The sanctions are on," Trump said at a news conference last week. "The missiles have stopped. The rockets have stopped. The hostages are home."
Experts say, however, that the global sanctions regime on North Korea has weakened in recent months, in part because Russia and China have stepped up trade with North Korea.
Many observers argue that Trump has been played by Kim.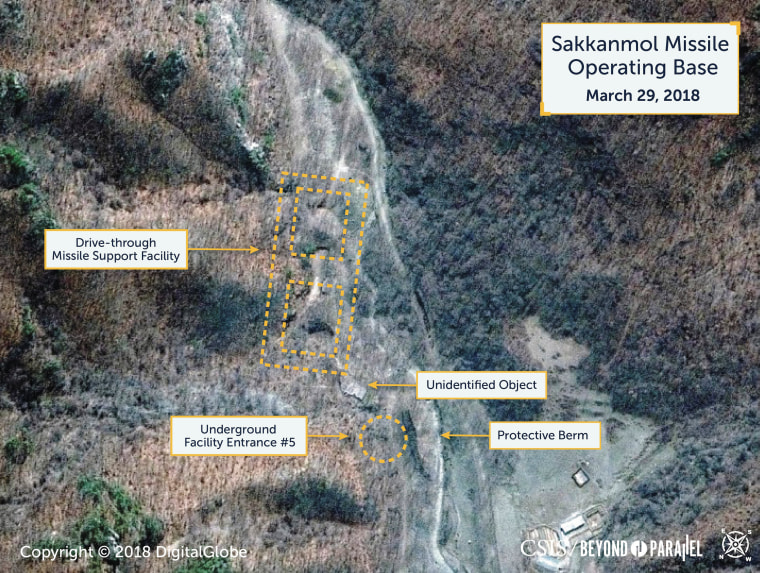 "Kim didn't dupe Trump. Trump duped himself," tweeted Jeffrey Lewis, an arms control expert who studies North Korea closely.
"Kim pocketed the legitimacy that the leader of the free world gave the dictator of a rogue state and has not even provided a list of his nuclear weapons, missiles, and facilities, let alone get rid of them," said Ivan Eland, a senior fellow at the Independent Institute, a California think tank.
"Because no viable military option exists to take out North Korea's missiles and nuclear arsenal," said Eland, "the U.S. will eventually need to use its vastly superior atomic arsenal to deter an attack from a nuclear North Korea — as it has successfully done with more formidable nuclear foes, such as the Soviet Union, Russia, and China."