LONDON — President Donald Trump may have torn up plans for his June 12 summit with Kim Jong Un, but experts believe talks with North Korea still remain a more likely prospect than conflict.
The White House stunned friend and foe alike Thursday, abruptly canceling the Singapore meeting 18 days before it was due to take place.
The decision blindsided Seoul, where South Korean President Moon Jae-in said he was "perplexed."
But North Korea said it was still willing to sit with the United States "with our big and open heart" and observers believe the momentum toward dialogue is strong enough to avoid the nuclear showdown hinted at in Trump's unconventional open letter to Kim.
Trump deepened the mystery early on Friday, hinting that the meeting could even be back on. "We're going to see what happens," he told reporters. "We're talking to them now. It could even be the 12th" of June.
The president then tweeted late Friday night that the two countries are having "very productive talks" about reinstating the summit.
China — blamed by some for nixing the summit — and South Korea said Friday they would also continue to push for talks.
"We see it as fortunate that the embers of dialogue between North Korea and the United States weren't fully extinguished and are coming alive again," Seoul's presidential spokesman Kim Eui-kyeom said in a statement late on Friday. "We are carefully watching the developments."
While Seoul expressed cautious optimism, analysts said talks remained likely.
"Talking is still the only game in town," said John Nilsson-Wright, senior research fellow on the Asia-Pacific region at London's Chatham House think-tank. "There's every reason for talks to go ahead, but they will have to be done with lots of detailed preparation, which was lacking in the summit, and it will take time. North Korea is playing a very long game, and may even be looking beyond Trump."
Gen. Vincent Brooks, the commander of U.S. Forces Korea, said Friday that the summit cancellation was a bump in the road.
"I am not worried about it because the opportunity is not lost. It is just delayed," he told a seminar in Seoul, according to the Yonhap news agency. "Don't worry about what happened last night because it may have been too early to celebrate. It is also too early to quit. Never quit."
Sen. Lindsey Graham, R-S.C., said Trump canceled because he felt North Korea was "playing him."
"The preferred route is through peace, through a peace treaty, a win-win for them and us," he said on NBC's 'Today.' "And in terms of when, he wants it to be in his first term, but if diplomacy fails, then military action is the only thing left, and it would be the utter destruction of the North Korean regime, which would come at a high price."
Trump's letter to Kim left the way open for the White House to rejoin talks.
"You talk about nuclear capabilities, but ours are so massive and powerful that I pray to God they will never have to be used," Trump threatened, before adding, "If you change your mind … please do not hesitate to call me or write."
Pyongyang's response was also highly unusual for its speed and conciliatory tone, according to Koh Yu-hwan, a professor at Seoul's Dongguk University, who described it as "close to an apology letter."
By contrast, China was unapologetic, brushing aside suggestions it had derailed the summit. "We have no ulterior motives," foreign ministry spokesman Lu Kang told reporters in Beijing. "The nuclear issue on the [Korean] Peninsula requires all parties concerned, especially those directly involved in the issue, to be able to move toward the same direction and act with good will."
He added: "The pressing task is that all involved parties should push forward a meeting and achieve a positive outcome during a summit. All parties involved must create the right atmosphere."
Nevertheless China has made it clear it wants to be involved in any denuclearization talks.
Retired U.S. Navy Adm. James Stavridis, a former supreme allied commander of NATO and currently the dean of the Fletcher School of Law and Diplomacy at Tufts University, said that "you could feel the air collapse in the summit balloon" after Kim's recent visit to Beijing.
"Clearly China wants to position themselves to be a driver in this process," he said. "They encouraged Kim Jong Un to step back from the summit."
Stavridis added: "The way this summit was moving, we were going to end up with a U.S.-North Korea summit, South Korea playing a bit part and China not even on the stage. That is unacceptable to President Xi."
The biggest blow from the summit cancellation was felt in South Korea, the main sponsor of the talks, where its National Security Council met Friday for an hour.
Dozens of university students and women's rights activists protested in different rallies in Seoul on Friday to denounce Trump, with some punching his face printed on a sign and tearing his photograph apart.
Kim Dong-ho, 38. said it wasn't right to isolate North Korea again when it was making efforts to join the international community.
"After all, those of us living on the Korean Peninsula suffer the consequences of your action, you Yankee!" Kim said.
Trump's decision was a clear embarrassment for President Moon, coming just a day after he flew to Washington to make the case for the summit.
Pictures released by South Korea's presidential Blue House showed a glum-faced Moon in an emergency meeting with advisers. He had been credited with creating conditions for peace after North Korea's relentless pursuit of a nuclear-armed missile capable of hitting the United States raised fears of war on the Korean Peninsula.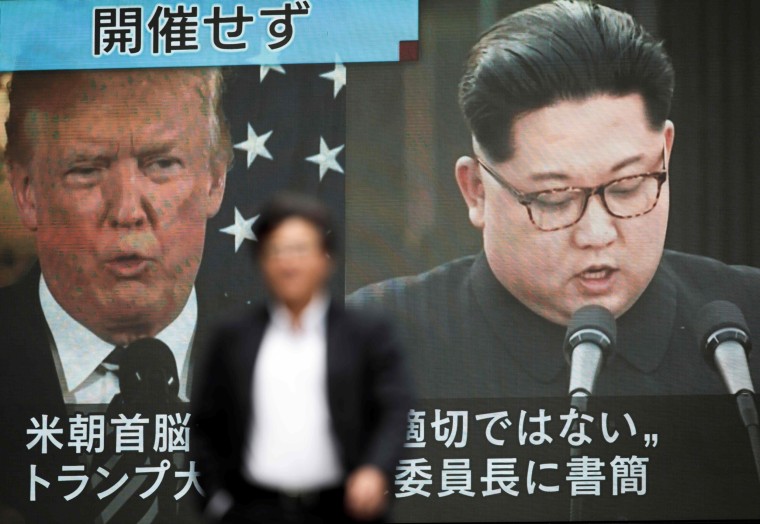 However, Moon may have made the wrong pitch when he met Trump on Wednesday, according to Chun Yung-woo, a former South Korean nuclear negotiator. He "overestimated what the North means in terms of denuclearization and oversold it to Washington," Chun said. "You get sick if you eat undercooked food."
Nevertheless, it won't stop Moon from pursuing his goal of trying to bring the two sides together, according to Lee Seong-hyon, a research fellow at Sejong Institute. "Moon sees this as his mission," Lee said.
Nilsson-Wright agreed, saying Moon had "invested so much" in the talks that he will want to get them back on track "once the dust has settled."
"The question is whether Trump has the appetite at this point," he added. "He has a lot on his plate and it is not clear that he has any strategic vision of any sort let alone the patience. We shouldn't assume Trump is suddenly going to pivot and develop a new longer-term vision for dealing with North Korea."