North Korea accused the United States Wednesday of driving the region "to the brink of war" amid the largest-ever joint military drills staged by America and Pyongyang's bitter rival, South Korea.
The Key Resolve and Foal Eagle exercises are an annual event and always draw ire from North Korea.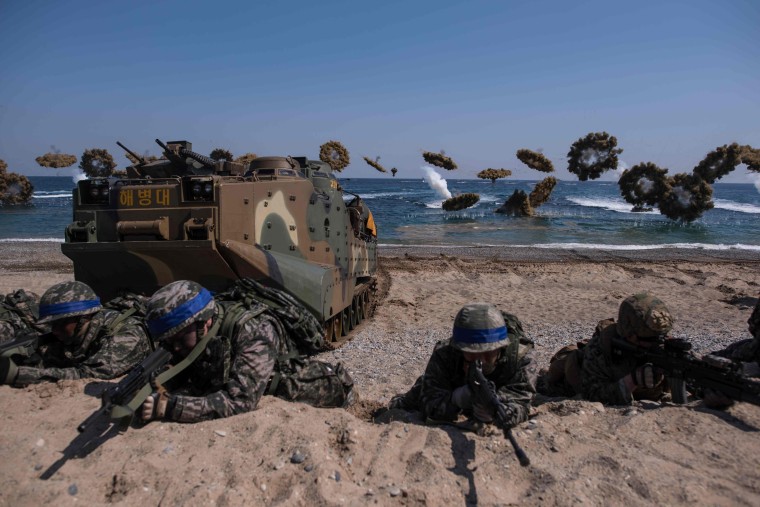 This year, Washington has contributed some 17,000 U.S. troops to the drills provoking another strong reaction from the hermit nation.
"This is what is driving the situation on the Korean peninsula and the region to the brink of war," Jon Min Dok, director of the Institute for Disarmament and Peace at North Korean Ministry of Foreign Affairs, told the Associated Press.
He said the drills were "unprecedented, the largest-scale joint war drills, surpassing all the previous drills, going on for nearly two months."
North Korea routinely condemns the drills, which began earlier this month and run until the end of April, as a rehearsal for an invasion. The U.S. says they are defensive and that it has no plans to invade.
The North has responded to this year's by launching a series of short-range missiles that have landed in the sea, causing no damage. The latest of these came Tuesday, with the North test-firing a short-range projectile 125 miles along its coast, according to the South Korean military.
In January, Pyongyang conducted a nuclear test, followed by what it said was a satellite launch in February that was condemned internationally as cover for testing banned missile technology.
Jon, at the North Korean Ministry of Foreign Affairs, told the AP it was "ridiculous, a false argument" to say that the country's nuclear program posed a threat to other nations.
He said a nuclear arsenal was "the only way to effectively deter the persistent nuclear threat and war provocations from the US … as long as the U.S. persists in its moves to stifle our socialist system."
On Saturday, North Korea's propaganda website DPRK Today posted a computer-generated video of a submarine-launched nuclear missile destroying Washington, D.C.