The father of the American college student unexpectedly released from a North Korean prison this week lashed out at a "pariah" regime that he says "brutalized and terrorized" his son for 17 months — denying him contact with the outside world and allowing his health to deteriorate so drastically.
Fred Warmbier did not explicitly confirm reports that his son Otto Warmbier was in a coma, but he noted during a news conference in Ohio that he remains in a Cincinnati hospital in stable condition with a severe neurological injury.
He also said he does not believe the North Koreans' explanation that his son's unknown medical condition was the result of botulism and a sleeping pill.
Doctors treating Otto Warmbier at the University of Cincinnati Medical Center said later at a news conference that he is suffering from extensive brain damage but that no tests revealed any evidence of active botulism, a toxin that can cause nerve injury.
They added that the pattern of brain injury is usually seen as a result of cardiopulmonary arrest, which deprived his brain of oxygen for some period of time.
Dr. Daniel Kanter said he remains in a state of "unresponsive wakefulness" and hasn't shown any "purposeful movements." He has "no signs of understanding language or responding to verbal commands," Kanter added.
Related: North Korea Releases Cincinnati Student, Parents Say He's in Coma
Earlier, Fred Warmbier said he was simply happy to know that his 22-year-old son, a University of Virginia undergraduate, is back on American soil after being inexplicably detained in January 2016. The Warmbier family had been forced to choose their words carefully during his imprisonment as they implored publicly for his release.
"North Korea has proven they are not nature's noblemen," said Fred Warmbier, acknowledging that he can now speak freely. "We are not burdened by what North Korea says or does any longer. We've been forced to act quiet and act different because we didn't want to offend them."
He added that President Donald Trump called him Wednesday night to ask about his son's condition and they shared a "really nice conversation."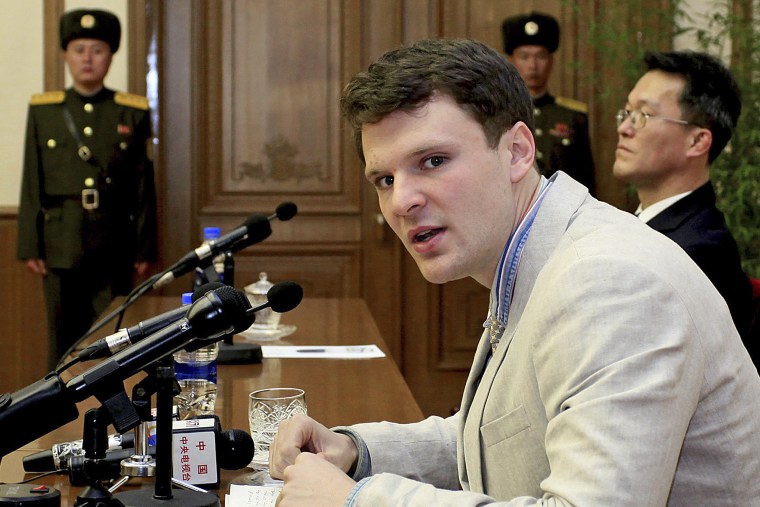 Previously, Otto Warmbier's parents told The Washington Post and The Associated Press that upon his announced release Tuesday, he was medically evacuated from the isolated Asian nation in a coma.
There's "no excuse for any civilized nation to keep this a secret and deny top-notch medical care for so long," Fred Warmbier said.
He described his son as adventurous, and said he was in Asia as part of an organized tour that included a stop-over in North Korea before going to Hong Kong for a study abroad trip.
But that trip was sidelined when Otto Warmbier was convicted in March 2016 for allegedly attempting to steal a propaganda banner from a restricted area of his Pyongyang hotel at the request of an acquaintance. Following an emotional one-hour trial, North Korea found him guilty of committing a hostile act against the country and sentenced him to 15 years in prison with hard labor.
Fred Warmbier said 15 months went by without any word about his son. The family went to Washington, D.C., to press lawmakers and the White House for help.
When asked if the Obama administration could have done more, he told reporters: "I think the results speak for themselves."
He said the Trump administration and the State Department's top official on North Korea, Joseph Yun, made progress in getting his son released.
No official reason was given to him for why the North Koreans decided to let Otto Warmbier go and whether any deal had to be struck between Washington and the regime of Kim Jong Un.
"I think the State Department was negotiating pretty tough. I don't know we will ever know, but (North Korea) didn't do it from the kindness of their hearts — North Koreans don't do that," Fred Warmbier added.
The State Department has denied that former NBA player Dennis Rodman's latest visit to North Korea this week had anything to do with the release.
In an official statement Thursday, the state-run Korean Central News Agency said that Otto Warmbier's freedom was granted based on "humanitarian grounds."
During Thursday's press conference, Fred Warmbier dressed in the same beige jacket that his son was photographed wearing during his trial in North Korea. The distraught dad choked back tears as he mentioned how "thrilled" his family is to finally have their son back.
"I'm not confessing, I'm speaking," Fred Warmbier said. "But Otto, I love you, and I'm so crazy about you and I'm so glad you're home."