BEIJING — South Korea is desperately trying to manage the diplomatic crisis between President Donald Trump and Kim Jong Un in order to avert threatened American military action against North Korea.
Trump's announcement Thursday that he was calling off the Singapore summit was followed by a flurry of reversed decisions and policy re-statements, rhetorical declarations both hostile and conciliatory, shuttle diplomacy by minor officials around the globe, high-profile meetings and low-key discussions.
The leadership in Seoul has been working around-the-clock to keep peace talks on track.
On Saturday, South Korean President Moon Jae-in and Kim Jong Un held a "surprise summit" reportedly requested by Pyongyang in the wake of Trump's letter, aimed at demonstrating that the peace process was still on track and that denuclearization talks could continue to move forward.
The neighboring Koreas technically remain at war after fighting ended with an armistice instead of a peace treaty in 1953.
Moon and his allies are intent on acting as mediators between Pyongyang and Washington, expressing confidence that a meeting between Trump and Kim will happen soon.
"I am 99 percent certain the summit will take place," said Kim Hong-gul, a political ally of Moon's and the son of former South Korean President Kim Dae-jung, who initiated his country's first rapprochement with North Korea in 2000.
Kim Hong-gul is one of the few South Korean politicians who had met Kim Jong Un prior to last month's Panmunjom summit, and has direct lines of communication with key North Korean leaders.
"I get the feeling that for Kim and Trump, neither side is willing to break the deal. Neither has the guts to do it," Kim Hong-gul told NBC News. "They were just bluffing, very gently compared with the past, to save face because of domestic and international attention and pressure."
In Trump's case, this "bluffing" involves apocalyptic language which, in the context of a potential nuclear conflict, is alarming.
"You talk about your nuclear capabilities, but ours are so massive and powerful that I pray to God they will never have to be used," Trump wrote to Kim Jong Un in his letter announcing he was canceling the summit.
And should the meeting originally scheduled for June 12 in Singapore end without an agreement, or without a commitment to continue talking, plans for a "limited military strike" may again take front-and-center in U.S. policy toward North Korea.
Although White House administration officials have said they are confident they can carefully calibrate such a strike to ensure it would not spiral into a wider conflict, such an outcome would be far from certain.
"It is far more likely that a U.S. attack on North Korea, no matter how limited, would result in the dissolution of the 1953 armistice and a resumption of war between North Korea and the US-ROK alliance," retired Air Force Lt. Gen. Jan-Marc Jouas, a former deputy commander of U.S. Forces Korea, wrote in a letter to Congress in November. "An attack by the U.S. on North Korea's strategic nuclear capabilities, which they deem essential to the regime's survival, would most likely be viewed as an existential threat and generate a corresponding response."
The more than 25 million South Koreans who live in and around Seoul would be put at immediate risk, as would the more than 28,000 American service members based on the Korean Peninsula.
"Unfortunately, North Korean artillery, rockets, and missiles that threaten the capital will take days to eliminate, even under ideal conditions," Jouas added. "During that time an enormous casualty and evacuee crisis will develop."
Jouas predicted that during those crucial days, the U.S. would be faced with having to try to evacuate "over 100,000 noncombatant Americans" alone, without even considering the tens of thousands of combatants and South Korean civilians who would likely die.
Many Korea watchers outside of Seoul remain unconvinced that the summit is well and truly off. Every party involved has a reason to come to the bargaining table, they say.
"It's in North Korea's interest to pursue talks with President Trump — there's the prestige factor, plus the economic benefits and even legitimacy as a member of the international community," said Soo Kim, a former CIA intelligence analyst who specializes in North Korea.
Soo Kim highlighted that Moon has made North Korea "a legacy priority" for his administration and that Trump holding successful talks with North Korea would be "an achievement no U.S. president has ever attained."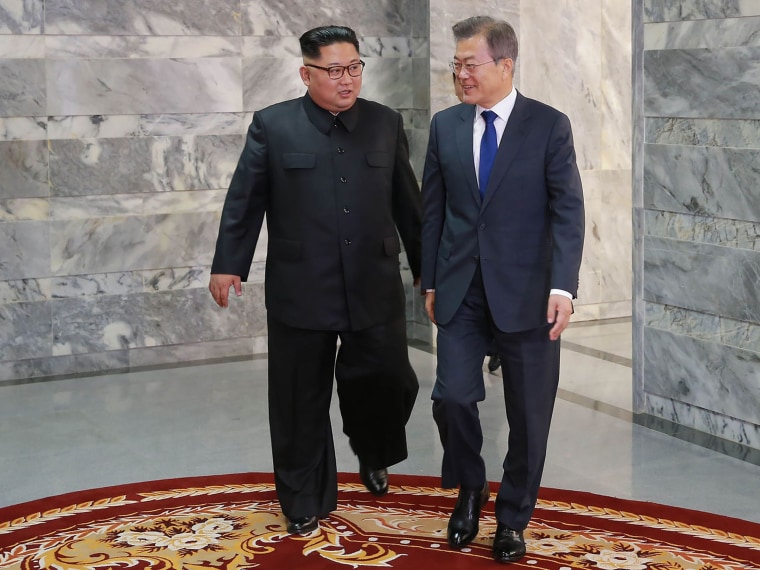 As officials like National Security Adviser John Bolton and Trump publicly contemplate a military strike, there are downsides to being stuck in the middle between Pyongyang and Washington.
Moon's role as a mediator "carries the risk of being seen as Seoul putting itself halfway between the common enemy" who is threatening both the U.S. and South Korea, with the United States "having put its sons and daughters in harm's way to protect it," according to Bruce Klingner, a senior research fellow for Northeast Asia at the Heritage Foundation, a conservative think tank.
North Korea has said in public statements that it wants an official end to the Korean War. It also wants nothing short of full normalization of relations with the U.S. and to be treated with respect and as an equal in the global arena.
Adam Mount, a senior fellow at the Federation of American Scientists who specializes in nuclear strategy and North Korea, said that for Moon the peace process "stands between his country and a devastating war that could kill hundreds of thousands."
"Moon should not have to choose between his alliance with the United States and peace," Mount said. "The safety of the South Korean people should be the foremost priority of the Trump administration, because our ally's security is inextricably linked to our own."
But if a bilateral meeting between Trump and Kim Jong Un does take place, Moon may be left as a virtual bystander while the two leaders take matters into their own hands.
Victor Cha, former director of Northeast Asian affairs at the National Security Council, said that the potential Singapore summit would only be the beginning. It's what happens there that really matters.
"We're all focused on the roller coaster. But in terms of the substance, the key issue is: Are they going to give up their nuclear weapons? And I think unfortunately, the answer is no," Cha told "Meet the Press" on Sunday. "Do they want a peace treaty, the North Koreans? Absolutely. And they want a peace treaty because it validates them as a nuclear weapon state. It ensures that Trump won't attack."