MANILA, Philippines — Imposing tough sanctions against North Korea shows that the world is united in condemning the regime's recent missile tests, Secretary of State Rex Tillerson said Sunday.
Tillerson made the comments during a trip to the Philippines, a day after the United Nations Security Council unanimously approved sanctions against the isolated regime.
"The best signal that North Korea could give us that they're prepared to talk would be to stop these missile launches," Tillerson told reporters in the Philippine capital of Manila. "We've not had an extended period of time where they have not taken some type of provocative action by launching ballistic missiles."
On Monday, North Korea's state-run KCNA news agency denounced the U.N. sanctions, saying they infringed on its sovereignty and vowed to take "righteous action," according to a Reuters translation.
KCNA reiterated the country's position that its nuclear program is not up for negotiation so long as the U.S. continues what the regime sees as a hostile position toward it.
"There is no bigger mistake than the United States believing that its land is safe across the ocean," KCNA said, according to Reuters.
North Korea has in recent weeks tested two intercontinental ballistic missiles, and experts believe the tests show the missiles have the capability to reach parts of the United States. The country has also conducted five nuclear tests since 2006.
The U.N. sanctions approved Saturday include a ban on coal and other exports worth over $1 billion — a huge bite in its total exports, valued at $3 billion last year.
Tillerson said the U.S. would be monitoring implementation of the sanctions to ensure that they are enforced by all countries.
The sanctions could take time before the regime of Kim Jong Un feels any impact, but Tillerson said: "I think perhaps the more important element of that is just the message that this sends to North Korea of how unacceptable the entire international community finds what they're doing to be."
Tillerson would not give a timeline on North Korea's actions that could satisfy the United States, but said "we'll know when we see it."
Tillerson also said that the United States has not made any decisions on how to respond to Russian President Vladimir Putin ordering the U.S. to reduce its diplomatic staff in the country by 755.
Tillerson said he asked Russian Foreign Minister Sergey Lavrov "several clarifying questions" and said the U.S. will respond by Sept. 1.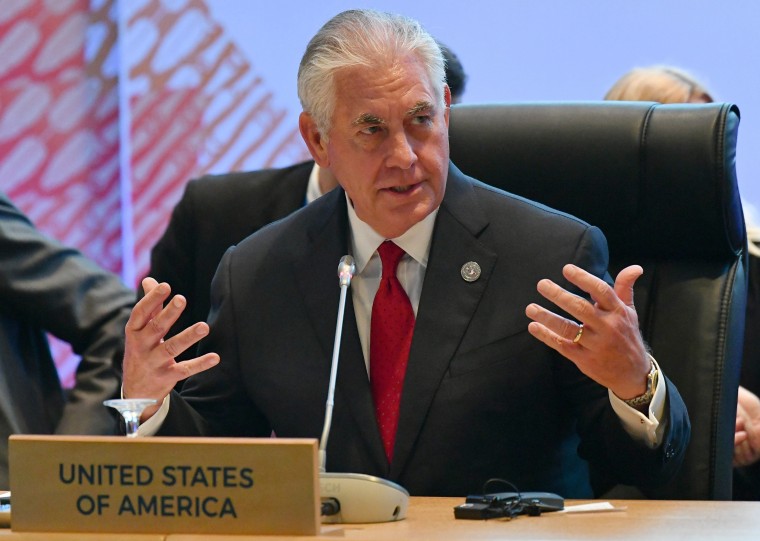 Putin announced the order to reduce diplomatic staff in Russia after Congress passed a new round of sanctions aimed at punishing Moscow for allegedly trying to interfere in the 2016 U.S. presidential election and for its military aggression in Ukraine. President Donald Trump signed the Russia sanctions bill on Wednesday.
Tillerson called the election meddling "certainly a serious incident" and said he discussed it with Lavrov.
"We talked about it in the discussion we had with Minister Lavrov yesterday — and trying to help them understand just how serious this incident had been and how seriously it had damaged the relationship between the U.S. and the American people and the Russian people, that this had created serious mistrust between our two countries and that we simply have to find some way to deal with that," Tillerson said.
Asked how the U.S. can support the Philippine government in its fight against ISIS without endorsing human rights abuses in President Rodrigo Duterte's bloody crackdown on drugs, Tillerson said there was no conflict.
Tillerson said most of the assistance the U.S. is providing is information and the transfer of some drones and Cessna aircraft, as well as training and "guidance in terms of how to deal with an enemy that fights in ways that is not like most people have ever had to deal with."
"I see no conflict — no conflict at all in our helping them with that situation and our views of the human rights concerns we have with respect to how they carry out their counter narcotics activities," Tillerson said.
Duterte has been roundly criticized for a bloody war on illegal drugs that has left thousands of suspects dead.
Abigail Williams reported from Manila, and Phil Helsel reported from Los Angeles.