WASHINGTON — The Trump administration is readying a package of diplomatic and military moves against North Korea, including cyberattacks and increased surveillance and intelligence operations, after the nation's sixth and largest nuclear test, according to senior White House and Pentagon officials.
The U.S. may also propose a U.N. Security Council resolution mandating the inspection of ships arriving or leaving the reclusive state, the officials said. The expanded inspections would target vessels carrying missile parts and technology that North Korea exports as well as materials the country imports, a senior administration official said.
President Trump is also seriously considering adopting diplomatically risky sanctions on Chinese banks doing business with Pyongyang and upgrading missile defense systems in the region, administration officials said. In addition, the administration is not ruling out moving tactical nuclear weapons to South Korea should Seoul request them, a White House official said, though many consider such a move a nonstarter. It would break with nearly three decades of U.S. policy of denuclearizing the Korean Peninsula.
The proposals form part of a more aggressive approach to North Korea being considered by Trump, according to nearly a dozen administration and defense officials and others aware of the strategy, all of whom requested anonymity because of the sensitivity of the matter.
Trump's top national security advisers walked him through a range of options over lunch in the White House on Sunday, just hours after North Korea's latest test, officials said.
Related: North Korea Says It Has Tested Hydrogen Bomb That Can Fit on ICBM
While the discussion included details of U.S. military capabilities, the core part of the strategy remains diplomacy with China and America's allies, the officials said. Trump suggested as much Thursday when he left open the possibility of military action against North Korea but said it is not his preferred course.
"I would prefer not going the route of the military, but it's something certainly that could happen," Trump said during a news conference at the White House.
His comments coincided with U.S. officials anticipating another ICBM launch from North Korea in coming days.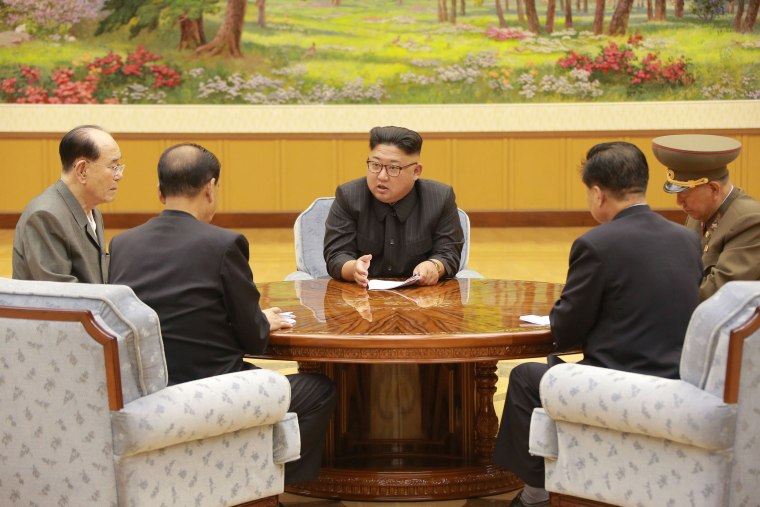 Trump's national security advisers presented him with U.S. military options, including pre-emptive strikes, and nuclear capabilities should America be called on to abide by its treaty obligations in the region, White House and defense officials said. The president's advisers have made the case, however, that military strikes on North Korea could have serious repercussions, senior defense officials said.
China has also told administration officials that if the U.S. strikes North Korea first, Beijing would back Pyongyang, a senior military official said.
Related: Why It's So Hard for U.S. Spies to Figure Out North Korea
If North Korea strikes a U.S. target, however, that "changes everything," a senior administration official said.
Still, the U.S. use of nuclear weapons is a remote possibility, the officials said. A first use of nuclear weapons would be extremely aggressive and lack support domestically or among international allies, the senior administration official said. But the president's team has reviewed the gamut of options as part of the policy process.
"We talk about all kinds of crazy stuff we never do," the official said. "Then you know why you rule it out."
One move under consideration is the deployment of land-based Aegis SM-3 missile interceptors like those used for missile defense operations in Europe, White House and defense officials said. Equipment for the additional four launchers for the anti-missile THAAD system in Seongju, South Korea, was moved into place on Wednesday, two defense officials said. These additional tubes will add to the two already there, giving the THAAD system full operational ability.
The U.S. has adopted sanctions aimed at Chinese entities that conduct business with North Korea, but has so far held back on broadly targeting China's banking system. China has told U.S. officials it would protest such a move diplomatically and retaliate, according to the senior administration official.
U.S. officials have also made the case to China that if Beijing doesn't take stronger steps against North Korea, such as cutting off oil exports, South Korea and Japan are likely to pursue their own nuclear weapons programs and the U.S. won't stop them, the official said.
"It's more a message for China than North Korea," the official said.
Trump spoke with Chinese President Xi Xinping by phone on Wednesday for 45 minutes, but the two leaders did not reach consensus on a path forward, the official said.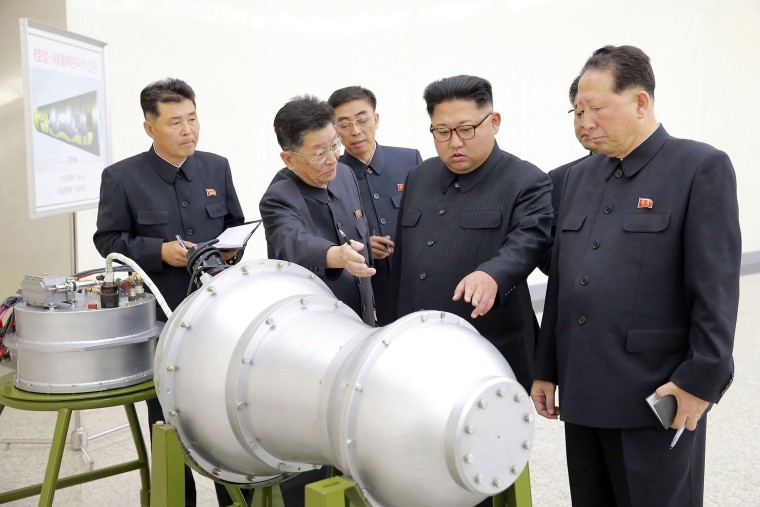 China has resisted U.S. calls for cutting its oil sales to North Korea. Beijing, meanwhile, continues to press the U.S. to engage Pyongyang in diplomatic talks, which the Trump administration rejects.
Related: Putin Warns 'Hysteria' on North Korea Threatens 'Global Catastrophe'
Trump's lunch on Sunday included his chief of staff John Kelly; Vice President Mike Pence; Defense Secretary James Mattis; National Security Adviser H.R. McMaster; the chairman of the Joint Chiefs of Staff, Joseph Dunford; and the director of National Intelligence Dan Coats, the senior administration official said.
Afterward, the president's national security team convened a separate meeting on the issue in the Situation Room, which Secretary of State Rex Tillerson and CIA Director Mike Pompeo joined remotely, the official said.
On Thursday Tillerson was asked if he had any response to North Korea's nuclear test.
"Oh, we'll have one," he said.