The United States has begun shipping a controversial anti-missile system to South Korea after North Korea test-launched four medium-range missiles on Monday, U.S. officials told NBC News.
The system, called THAAD, which stands for Terminal High Altitude Area Defense, is an anti-missile system designed to counter a threat like that from North Korea.
Other THAAD systems are already active in Hawaii and Guam to defend against North Korea, but the shield hadn't yet been deployed to South Korea — a scenario that Beijing has denounced as a "clear, present and substantive threat to China's security interests."
The "first elements" of the THAAD system have already arrived in South Korea, U.S. defense officials told NBC News on Monday, just hours after Hwang Kyo-ahn, South Korea's acting president and prime minister, urged the United States to deploy it as soon as possible, saying the consequences of a nuclear-armed North Korea would be "horrible and beyond imagination."
Defense officials stressed that THAAD "is strictly a defensive system" aimed solely at defending South Korea against North Korean missiles.
U.S. Forces Korea confirmed the deployment in a statement a short time later.
White House Press Secretary Sean Spicer signaled the deployment Monday when he told reporters that the United States was "taking steps to enhance our ability to defend against North Korea's ballistic missiles, such as through the deployment of a THAAD battery to South Korea."
U.S. defense officials confirmed to NBC News on Monday night that that meant delivery was already under way — not that the United States was simply restating its previous promises to send the system to South Korea sometime in the future.
They told NBC News that the planned deployment had already been in the works and that the timetable wasn't affected by the latest North Korean launches, which Spicer called a "very serious threat."
The North Korean news agency KCNA, whose pronouncements are usually regarded as propaganda for North Korean leader Kim Jong Un, said the launches early Monday were part of a drill to test potential strikes against "the bases of the U.S. imperialist aggressor forces in Japan."
The Defense Department said Defense Secretary James Mattis spoke with Japanese Defense Minister Tomomi Inada and that they agreed the North Korean launches were "an unacceptable and irresponsible act that undermines security and stability in the region."
The White House said President Donald Trump shared similar sentiments with Hwang and Japanese Prime Minister Shinzo Abe in telephone calls Monday.
Two senior U.S. defense officials told NBC News on Monday that North Korea actually fired five missiles, not four, but that one of them failed to launch. The four missiles that made it off the launchpad traveled more than 600 miles east toward Japan.
U.S. Defense Department officials said the missile launch posed no threat to North America.
News of the deployment, which comes as President Park Geun-hye faces an impeachment trial, was greeted with caution and skepticism in South Korea. Hwang has been acting president since the National Assembly suspended Park's powers in December.
"Our official stance on THAAD is not that we are blindly opposing the installation," said Woo Sang-ho, floor leader of South Korea's major opposition Democracy Party. "We want certain steps to be respected, and the best policy we have been urging the Park administration was that they should not be the one to make the decision but it should be the incoming new government to deal with it."
Woo told NBC News: "It is a shame that the THAAD installation started just like this, without taking proper steps, including the approval from our National Assembly."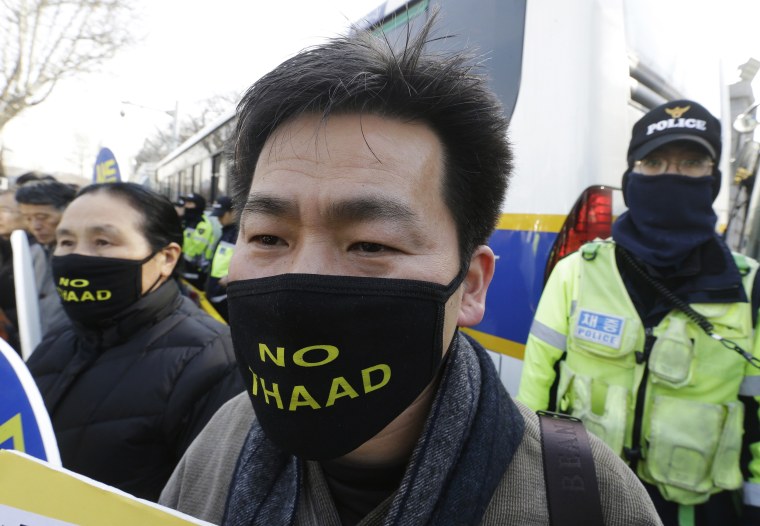 Yang Uk, a senior fellow at the Korea Defense & Security Forum, a private research group in Seoul, said: "THAAD installation will not be met with fully open arms but semi-open arms."
"A majority of South Korean people do understand the need for installing the THAAD and also that it is better sooner than later, but China's trade attack and pressure on South Korean people and businesses is [stopping] many South Koreans from welcoming THAAD," Yang told NBC News.
"The reality is that China is opposed to THAAD deployment not because of South Korea, but because of the U.S., and so if the U.S. works closely with South Korea to alleviate China's pressure against South Korea, more South Koreans will openly support THAAD installation," Yang said.
But Kim Young-woo, chairman of the National Assembly's Defense Committee, rejected the idea that China's opposition should influence the decision.
"China does not really have a say here, as this is about South Korea's defense capability. It is against the principles of free trade to put economic pressure against South Korea," Kim told NBC News.
"Just look at how North Korea's threat is escalating," Kim said. "We are faced with North Korea's fanatical obsession over weapons of mass destruction. ... The THAAD is a defense capability we need to defend ourselves."
North Korea is banned from testing any ballistic missile technology under a set of U.N. resolutions. But it has threatened to conduct more missile tests in response to an annual two-month joint military exercise between Seoul and Washington, which continues through April.