WASHINGTON — Annual U.S. and South Korean military exercises could begin as early as the end of this month, say three U.S. defense officials.
Foal Eagle, a yearly exercise with the South Korean military, is now scheduled to begin on March 31 and run through May. The exercise, which the U.S. military describes as defensive in nature, involves thousands of U.S. troops conducting ground, air, naval, and special operations field exercises.
The exercises are usually conducted in March and April, but in December South Korean President Moon Jae-In told NBC News his country was pushing the U.S. to postpone the exercises until after the Winter Olympics and Paralympics in PyeongChang, which end March 18, as an olive branch to North Korea.
North Korea has previously condemned the annual exercise and the large-scale mobilization of troops as provocative.
In January, Secretary of Defense James Mattis said the U.S. would "deconflict" with the Olympics "for logistics reasons."
"There's enough traffic on the roads, enough people trying to get around the country to the various locations not to run truck convoys and military exercises and shut down roads," Mattis said, calling the delay in the exercises "not that unusual."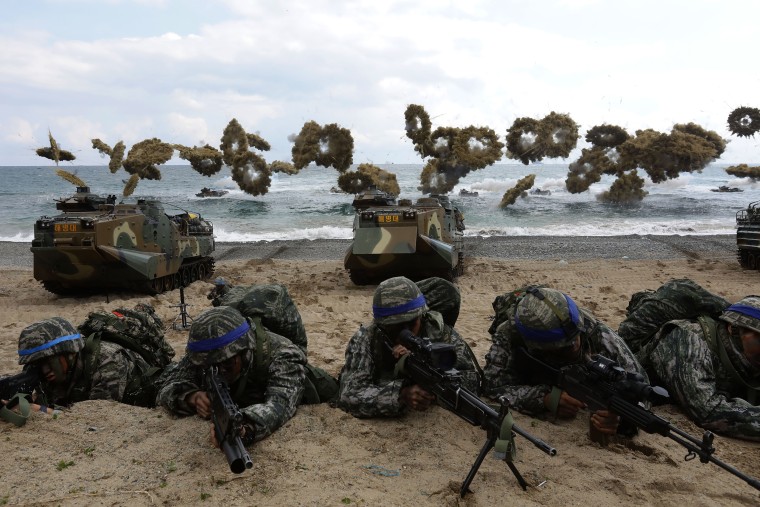 This year's Foal Eagle and a concurrent exercise called Key Resolve will overlap with a third round of talks between South Korean envoys and North Korea's Kim Jong Un. The North Korean leader met with South Korean officials on Tuesday for the first time since assuming power in 2011, and after the meeting South Korean officials said the North is willing to talk to the U.S. about giving up its nuclear weapons, and that Kim Jong Un agreed not to conduct ballistic missile or nuclear tests while the historic dialogue continues.
During Foal Eagle 2017, about 3,600 U.S. service members joined some of the 28,500 American military members already living and working on the Korean Peninsula for two months of training with nearly 200,000 of their South Korean counterparts.
Key Resolve is an annual command and control exercise – a computerized war game – that usually runs about 10 days and occurs at around the same time as Foal Eagle. Key Resolve will be in mid to late April this year, the officials said.
Combined, both Key Resolve and Foal Eagle have involved up to 300,000 troops from the U.S. and South Korea in past years.
A spokesperson for the Pentagon would not confirm the dates of the exercises. "Additional information will be released after the Paralympics," Pentagon spokesperson Lt. Col. Chris Logan said.
In February, South Korea's Defense Minister Song Young Moon said the U.S. and South Korea would make an official announcement about the exercises after the Paralympics end on March 18.