PYONGYANG, North Korea — Kim Jong Un's regime isn't worried about a lack of bonding damaging a unified Korean bid for a "miracle on ice" at next month's Winter Olympics.
North and South Korea technically remain at war — but that won't stop their women's hockey players from forming a single team at the PyeongChang Games amid a recent thaw in relations between the two nations. The joint hockey squad was approved on Saturday.
Han Ho Chul, the executive secretary of North Korea's Olympic Committee, told NBC News that there was no question that the athletes would gel before hitting the rink against Switzerland on Feb. 10.
"We are the same people who share the same language, same culture and same blood," he said. "I'm sure they will work together fine."
Han added that the Olympics would "show the world that North and South are the same people, same nation."
South Korean President Moon Jae-in views the PyeongChang Games as an opportunity to improve relations after a year of tension over North Korea's nuclear weapons program. He believes the unified team will provide a "historically grand moment" once it appears on ice.
The International Olympic Committee issued exceptional entries to 22 North Korean athletes to allow them to take part in the games.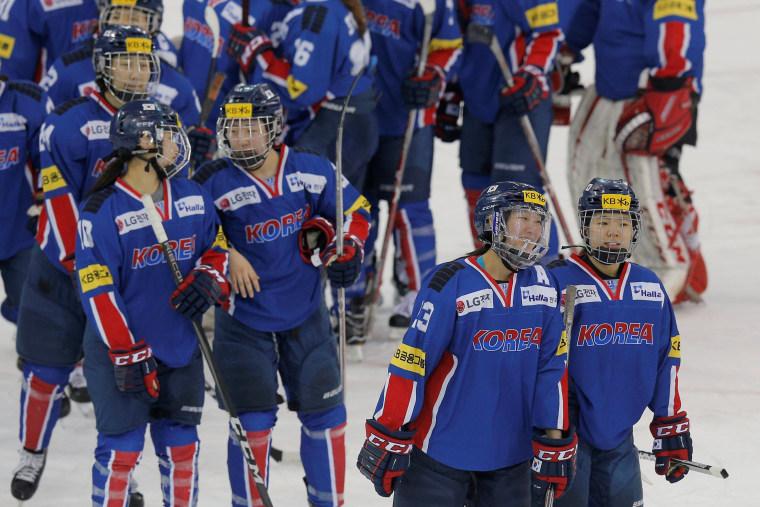 Other reconciliatory gestures the Koreas have agreed to for the Olympics include a joint march under a blue-and-white "unification" flag at the Feb. 9 opening ceremony.
The IOC ruled that three members of the unified women's hockey team must be of North Korean origin for each game.
The South Korean team's coach, Sarah Murray, a Canadian, has expressed concerns about how the new players from the North will fit in.
"Adding somebody so close to the Olympics is a little bit dangerous just for team chemistry because the girls have been together for so long," she said.
The Koreas sent joint teams to major international sporting events twice in 1991, and had their athletes march together in the opening and closing ceremonies of several sporting events in the 2000s, including the 2000 Sydney Summer Olympics.
The Korean War ended in an armistice rather than a peace treaty in 1953 — meaning the countries officially remain at war. They now share the most heavily guarded border on the planet.
A Korean folk song, "Arirang," will be played before the hockey games instead of either national anthem."
Lester Holt reported from Pyongyang, and Jason Cumming from London.