Singer-songwriter John Prine died from complications related to COVID-19, his family said Tuesday night. He was 73.
The country-folk singer was being treated for the coronavirus at Vanderbilt University Medical Center in Nashville, Tennessee, when he died, his family said.
His wife, Fiona, said last month that she had tested positive for COVID-19, and she has since recovered, but her husband was hospitalized March 26 with coronavirus symptoms. He was put on a ventilator and remained in intensive care for several days.
Prine said he was discovered by the late film critic Roger Ebert in Chicago. In 1970, Ebert wrote a glowing review of Prine in the Sun-Times newspaper, and his career went from delivering mail to writing lyrics Bob Dylan would call "pure Proustian existentialism."
Full coverage of the coronavirus outbreak
He was a virtuoso of the soul, if not the body. Prine sang his conversational lyrics in a voice roughened by a hard-luck life, particularly after throat cancer left him with a disfigured jaw.
He joked that he fumbled so often on the guitar, taught to him as a teenager by his older brother, that people thought he was inventing a new style. But his openheartedness, eye for detail and sharp and surreal humor brought him the highest admiration from critics, from peers and from such younger stars as Jason Isbell and Kacey Musgraves, who even named a song after him.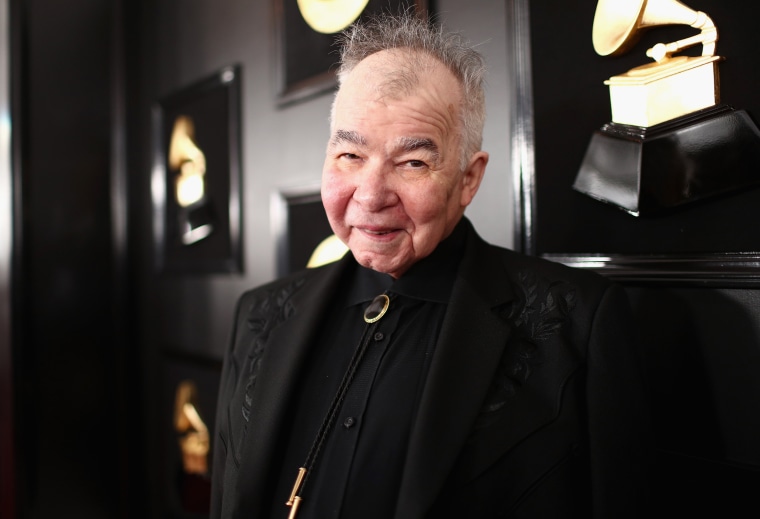 Prine was particularly admired by his fellow singer-songwriters. Dylan called him one of his favorite songwriters, and Johnny Cash said he listened to Prine's music for his own musical inspiration.
Kris Kristofferson was "one of his earliest advocates," according to Prine's bio, and the two were tour mates and friends for decades.
Prine received lifetime achievement recognition at the Grammy Awards this year. In 2015, he was inducted into the Grammy Hall of Fame.
Prine was never a major commercial success, but he performed for more than four decades, often selling his records at club appearances where he mentored rising country and bluegrass musicians.
"I felt like I was going door to door meeting the people and cleaning their carpets and selling them a record," he joked in a 1995 Associated Press interview.
Download the NBC News app for full coverage and alerts about the coronavirus outbreak
Many others adopted his songs. Bonnie Raitt made a signature tune out of "Angel From Montgomery," about the stifled dreams of a lonely housewife, and performed it at this year's Grammys ceremony. Bette Midler recorded "Hello in There," Prine's poignant take on old age. Prine wrote "Unwed Fathers" for Tammy Wynette and "Love Is on a Roll" for Don Williams.
Others who covered Prine's music included Cash, Joan Baez, John Denver, the Everly Brothers, Carly Simon, George Strait, Miranda Lambert, Norah Jones and Old Crow Medicine Show.
On Twitter on Tuesday, late-night talk show host Stephen Colbert dedicated "deep love and gratitude for his gift he gave us all."
He is survived by his wife; two sons, Jack and Tommy; a stepson, Jody; and three grandchildren.