Jeff Beck, the British rock star known for his mastery of guitar, died of bacterial meningitis, his family announced Wednesday.
Beck, 78, spent last summer touring Europe and released a joint album with actor Johnny Depp in July. He contracted meningitis "suddenly," according to the statement on his official website and social media accounts.
"His family ask for privacy while they process this tremendous loss," the statement said.
A representative for Beck said he had been sick over the holidays and died Tuesday at a hospital near his home in Surrey, England.
Beck, an eight-time Grammy winner, earned two spots in the Rock & Roll Hall of Fame, in 1992 with the Yardbirds and as a solo artist in 2009.
Beck, who ranked fifth on Rolling Stone's list of the 100 greatest guitarists of all time, is credited with having influenced a generation of musicians and was known for blending all types of music — hard rock, jazz, funky blues and even opera.
He spent time in bands such as The Nightshift, the Tridents and the Yardbirds, which he joined in 1965 to replace Eric Clapton. While he was with the group, the Yardbirds had hits with "Heart Full of Soul," "I'm a Man" and "Shapes of Things."
A year after he joined, he was replaced by Jimmy Page.
Before he was known as a guitar god, Beck was a boy in England, building his first instrument from a cigar box, a picture frame and string from a radio-controlled toy airplane.
Beck collaborated with a number of famed musicians over his decadeslong career, with guitar credits on songs by Cyndi Lauper, Tina Turner, Mick Jagger and Rod Stewart.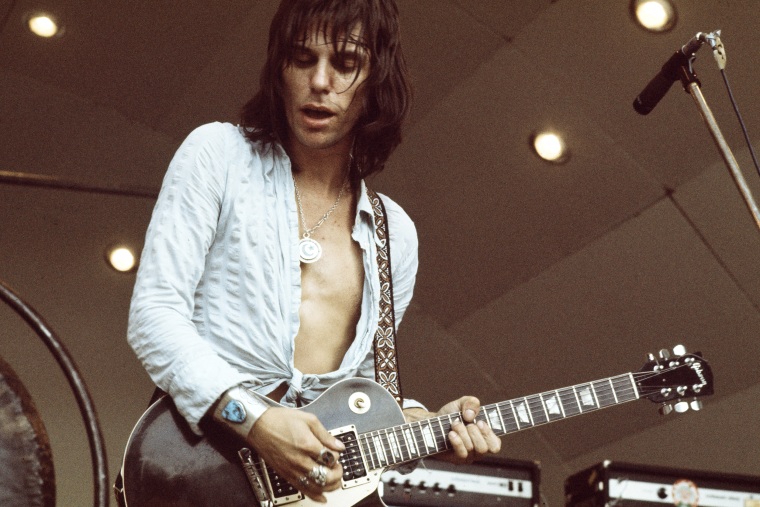 Gene Simmons, the bassist for KISS, was among many who wrote tributes to Beck on social media after his death.
"Heartbreaking news to report the late, great Jeff Back has sadly passed," Simmons tweeted. "No one played guitar like Jeff. Please get ahold of the first two Jeff Beck Group albums and behold greatness. RIP."
In a series of tweets, The Kinks' original guitarist, Dave Davies, expressed shock and dismay. He said Beck had looked "in fine shape."
"Deepest sympathy to his wife friends close ones I'm bewildered Jeff Beck it don't make sense I don't get it," Davies tweeted. "He was a good friend and a great guitar player."
Beck is survived by his wife, Sandra.