Longtime TV personality Jerry Springer, who helped pioneer the high-energy, often-profane genre of confrontational daytime television, died Thursday after a bout with cancer, his representatives said.
He was 79.
Springer, the former mayor of Cincinnati, died in suburban Chicago, publicist Linda Shafran said. He died from pancreatic cancer, family spokesperson and longtime friend Jean Galvin said.
"Jerry's ability to connect with people was at the heart of his success in everything he tried, whether that was politics, broadcasting or just joking with people on the street who wanted a photo or a word," Galvin said.
"He's irreplaceable, and his loss hurts immensely, but memories of his intellect, heart and humor will live on."
"The Jerry Springer Show" ran from 1991 to 2018 and was known for its profanity-prone guests who often had to be restrained by on-set security guards as audience members wildly cheered, "Jerry, Jerry, Jerry!"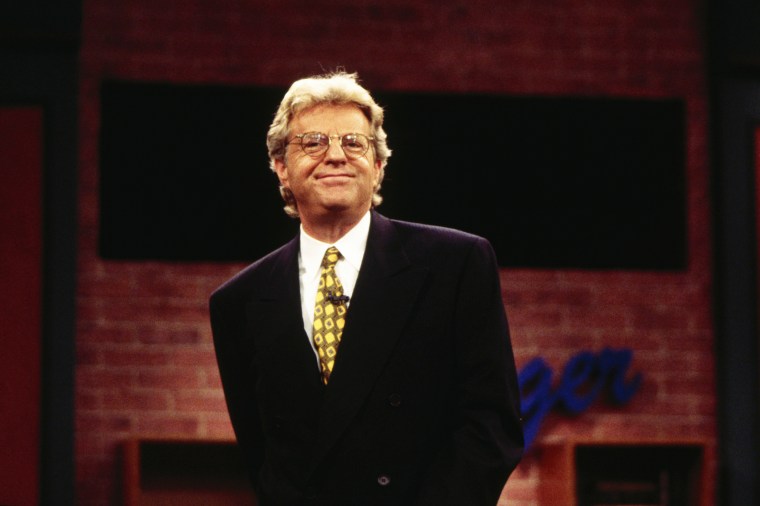 The show's 1990s popularity made it a ratings rival of its daytime polar opposite, "The Oprah Winfrey Show," and Springer had no regrets about the high-energy, low-brow material he aired on afternoon TV.
"I don't watch the show, but it's not aimed at 66-year-old men," Springer said in a 2010 interview. "If I were in college, I would watch. I enjoy doing it. It's a lot of fun."
Former Education Secretary William Bennett in 1995 famously called "Springer" and other shows of the era "perpetrators of cultural rot."
"Springer" was such a success that the words "Jerry Springer" became a synonym for anything outrageous or ridiculous on TV.
After Will Smith slapped Chris Rock at last year's Oscars, Alec Baldwin bemoaned how the ceremony had "turned into the Jerry Springer show."
At the end of each episode of the confrontational and occasionally violent show, a seemingly sincere Springer would appeal to his viewers' better angels.
He'd sign off each "Springer" episode with a catchphrase he had developed in his days in television news: "Take care of yourself and each other."
Fellow 1990s daytime talk show host Maury Povich mourned Springer's passing, calling him "a unique showman."
"I am shocked and saddened by the passing of Jerry. He was not only a colleague but a friend," he said in a statement. "We worked for the same company for decades. He was joyful, smart and, in his own way, a unique showman. I will miss him."
Steve Wilkos, the on-set security supervisor for Springer's show, who eventually became a talk show host himself, said none of his success would have been possible without Springer.
"Other than my father, Jerry was the most influential man in my life," Wilkos said in a statement. "Everything I have today I owe to Jerry. He was the smartest, most generous, kindest person I've ever known. My wife and I are devastated. We will miss him terribly."
Gerald Norman Springer was born Feb. 13, 1944, in a London subway station that was being used as a bomb shelter against German air raids.
His Jewish parents — Margo and Richard Springer — had fled Nazi Germany before the start of World War II.
The family moved to the U.S., and Springer grew up in New York City, where he graduated from Forest Hills High School in Queens.
Springer studied political science at Tulane University and received a law degree from Northwestern Law School. He joined the ill-fated presidential campaign of Robert Kennedy in 1968 and participated in the massive anti-war protests at that year's Democratic National Convention in Chicago.
He settled in Cincinnati and soon took an active role in politics, eventually becoming mayor in a City Hall career that easily could have been the topic of a Springer show.
He won election to the City Council in 1971, but he resigned in 1974 after he admitted having used the services of prostitutes, some of whom he paid with checks.
The scandal didn't sink Springer, and his openness about the affair is largely cited for his political comeback.
He won election back to the council in 1975 and served as mayor for a year beginning in 1977.
Springer took one more shot at politics in 1982, running for governor of Ohio. He finished third in the Democratic primary, winning 20.4% of the vote in finishing third to the eventual general election winner, Dick Celeste.
Springer then turned his attention to television, as a political reporter and anchor on WLWT, the NBC affiliate in Cincinnati, where his "Final Thought" commentaries became an audience favorite.
"I cannot think about my life or talk about my life without talking about Cincinnati and the role Channel 5 played. Channel 5 gave me my career so that's everything," he told WLWT this month.
"It's in my blood. It really is. I'm not trying to be corny about it. I love this place. I love this station. I owe it everything."
Even after he stopped making "Springer," he remained a fixture in pop culture.
He finished in fifth place on "Dancing with the Stars" in 2006 in a competition won by former Dallas Cowboys running back Emmitt Smith.
Springer's family didn't immediately name a charity for fans to donate to in his name.
Instead, they said: "To remember Jerry, the family asks that in lieu of flowers you consider following his spirit and make a donation or commit to an act of kindness to someone in need or a worthy advocacy organization. As he always said, 'Take care of yourself, and each other.'"