Michael Phelps, who continues to make history from one race to the next, took home his 23rd gold medal on Saturday night in what he has said was the final race of his storied career.
Here are 23 things you need to know about the swimmer.
1. Phelps has an estimated net worth of $50 million
After acrewing money from his gold medal rewards, sponsorships, endorsements and paid appearances, Phelps has an estimated net worth between $50 to 55 million, Patrick Rishe, director of the sports business program at Washington University of St. Louis told CNBC.
2. He's engaged to 2010 Miss California
Phelps announced his engagement to his fiance Nicole Johnson in February of 2015 posting a photo to social media cuddling with her in the snow. His future wedding plans with the former Miss California, model and ESPN production assistant have remained fairly quiet.
3. He's had a run-in with the law
Phelps received his second conviction for drunken driving in September of 2014, registering a .14 percent on a blood alcohol test after he left the Horseshoe Casino in Baltimore and was pulled over for speeding. Phelps was on probation for 18 months and spent 45 days in rehab after the incident.
4. He was diagnosed with ADHD at age 9
At nine years old, doctors diagnosed Phelps with attention deficit hyperactivity disorder, a mental condition that 4 million children live with in the United States. Through medication, behavior therapy and the help of his mother, Debbie, Phelps was able to focus his energy into swimming, his mom told Everyday Health.
5. His 3-month-old son already has his own Instagram page
Boomer Phelps was only born three months ago, but the baby is already Internet famous with his own verified Instagram account accruing 258,000 followers.
6. His most recent Olympic pre-race playlist features Eminem, Young Jeezy and Eric Church
The Rolling Stone revealed that Phelps has always been a fan of hip-hop when getting pumped for his 2012 races, but now he's added country music to his playlist this year listening to Eric Church, The New York Times reported.
7. #PhelpsFace went viral
Phelps directed a death stare toward his rival South African swimmer Chad le Clos who was warming up and dancing in front of him. Since then, the Internet has turned the #PhelpsFace into a meme wondering what's going on in the swimmer's head.
8. He's an author of two autobiographies
After Phelps earned his record breaking eighth Olympic gold medal in 2008, he has co-authored two books about himself respectively titled "No Limits: The Will to Succeed" and "Beneath the Surface."
9. A street was named after him in Baltimore
Drivers in Baltimore may find themselves strolling down Michael Phelps Way, after the Olympian's hometown named a street named after him in 2004.
10. He has his own emoji app now
Joining the likes of celebrities Kim Kardashian, Amber Rose and Blac Chyna, Phelps has jumped into the market of original emojis apps. It costs $1 to download the Phelpsmoji app, which features 100 different emojis inspired by the swimmer. Here's to hoping the #PhelpsFace makes it into the next update.
11. He was eating 12,000 calories per day prepping for the 2008 Olympics
Leading up to the 2008 Beijing Olympic Games, Phelps told NBC in an interview that he would consume up to 12,000 calories a day to sustain his training.
"Eat, sleep and swim. That's all I can do," Phelps told NBC in 2008. "Get some calories into my system and try to recover the best I can."
But now, Phelps has much more regular diet he said in a recent Facebook live video with his fans.
12. Phelps chose his son's middle name in honor of his coach
Phelps said in the same Facebook live video in May that he gave his newborn son, Boomer, the middle name "Robert" in honor of longtime swim coach, Bob Bowman.
13. His wingspan is 6' 7"
Phelps' 6' 7" wingspan is unusually longer than his height, which is 6' 4". His torso is also disproportionate to his height, with measurements similar to a 6 '8" man.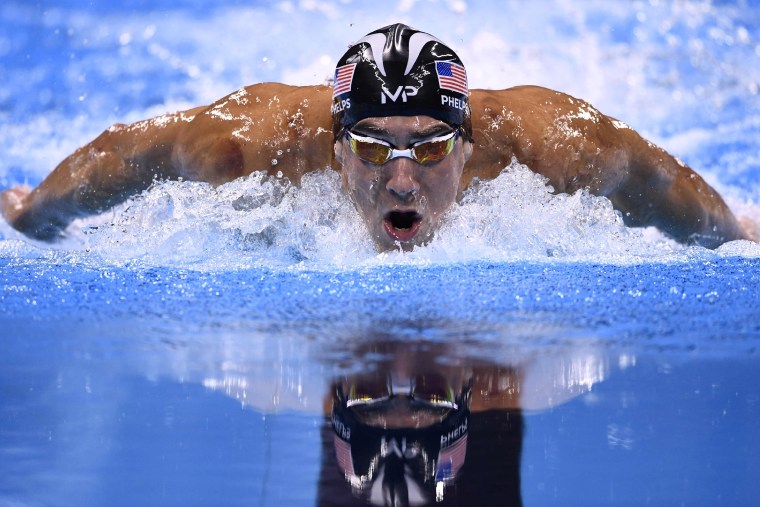 14. A photo leaked in 2009 showing him smoking a bong
A photo revealed Phelps smoking from a bong at a party in January of 2009, but it did not show if he was smoking marijuana from it. In an interview with TODAY's Matt Lauer, Phelps never said if there was weed in the bong, and would only say that what had occurred was "a big mistake."
"It was an awful judgment. And, really, the people I hurt is my family, clearly, my friends, the close people around me and most importantly, the fans," Phelps told Lauer.
15. He loves himself some carpool karaoke
Phelps joined a few of his team members on the US Olympic swim team in their own version of carpool karaoke, including a jam session to "Chicken Fried" by the Zac Brown Band.
16. He began competing in the Olympics at the age of 15
Phelps' first Olympic race was in 2000 in Sydney when he finished fifth in the 200m butterfly final walking away without a medal in hand. Four years later he won six gold medals and two bronze in Athens.
17. He wasn't initially planning to swim in Rio during the 2016 games
After the 2012 Olympics in London, Phelps said he was going to retire, vowing off the 2016 games. But that retirement was brief, as he announced he would begin competing again in April of 2014 just in time to get ready for Rio.
18. He reunited with his estranged father when in rehab
Phelps' parents divorced when he was nine years old, and he slowly lost touch with his father, Fred, once his swimming career grew more successful. However, the two recently reconnected when Phelps invited Fred to visit him at the rehab treatment center in 2014 for family week, he told Sports Illustrated.
"I felt abandoned. I have an amazing mother and two amazing sisters. But I would like to have a father in my life, and I've been carrying that around for 20 years," Phelps told SI. "And now my father and I communicate. It's not fixed. You don't fix something like that. But it's better."
19. He likes to wear two swim caps
Fearful of wrinkles and seeking to make himself more aerodynamic, Phelps prefers to wear two swim caps when he's in the water.
20. He likes to golf
Phelps once joked that he would only play in Rio if he could participate as a golfer. In 2012, he showed off his golfing skills a bit more when he sank a putt that was about the same distance of a pool lap in an Olympic-sized pool.
21. He didn't initially like swimming
In an interview with Parenting, Phelps said he didn't love swimming when he first started, and he only began at first to learn water safety. "Then, once I started falling in love with sports, I got more comfortable with it," he added.
22. He has a fear of snakes
Phelps has long disliked snakes ever since he picked up a rock in his parents yard when he was a little boy and hissing snake popped out, Phelps revealed to Sports Illustrated. For decades, he said the traumatic snake memory from his childhood recurred as nightmares.
23. He practices cupping for his races
Phelps and other Olympian swimmers alike have recently begun a Chinese traditional practice known as cupping that leaves large circular bruise-like spots. The practice has been done to balance energy, remove toxins and improve circulation. Although studies in English have not supported the benefits yet.
(BONUS) 24. Like everybody else, Phelps said he pees in the pool too
In a candid 2012 interview with the Wall Street Journal, Phelps was asked if he sometimes pees in the pool.
"I think everybody pees in the pool," Phelps said laughing. "It's kind of a normal thing to do for swimmers. When we're in the pool for two hours, we don't really get out to pee. We just go whenever we are on the wall."
It's fine though, Phelps added, "chlorine kills it, so it's not bad."