The streak continues.
Team USA closed out the swimming portion of the Tokyo Olympics with a gold-medal finish Sunday in the men's 4x100 medley relay, which it has never lost at the Summer Games.
The United States has won 10 consecutive gold medals in the relay, and Ryan Murphy, Michael Andrew, Zach Apple and Caeleb Dressel ensured that Team USA remained undefeated. And they did it in world record time.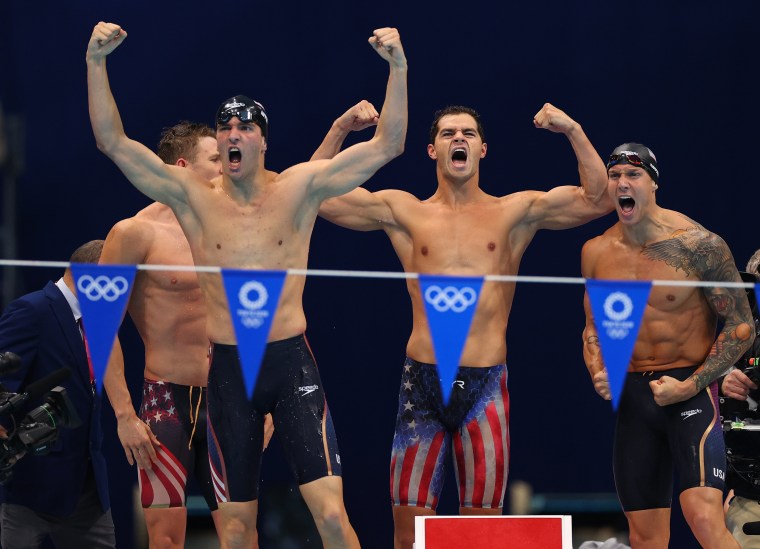 For Dressel, who swam the butterfly leg in the relay, it was his second win of the day. He added to his Tokyo medal collection earlier with gold in the 50-meter freestyle race.
Dressel, 24, went three-for-three performance in his solo Olympic events and will go home with five golds.
Before Sunday's wins, he captured gold in the 100-meter butterfly and the 100-meter freestyle races and claimed a world record during the Games. He set the record in the 100 butterfly, breaking the 49.50-second time that he set in 2019.
The two-time Olympian from Florida also earned gold in the 4x100 free relay, where he swam the first leg earlier in the meet.
In the 1500-meter freestyle race, U.S. swimmer Bobby Finke charged in the final length once again to complete an unprecedented sweep of the distance swimming events in Tokyo.
Finke went 25.7 in the final 50 meters to surge past Germany's Florian Wellbrock and Ukraine's Mykhailo Romanchuk to secure his second gold medal of the Olympics.
After coming from out of nowhere to win the inaugural Olympic men's 800m freestyle earlier in the week, Finke stayed firmly among the top three for the entirety of the mile-long swim to complete the distance double.
In all, Team USA won 11 gold medals in swimming competitions.
Five of those belong to Dressel, who joins an elite club of just four other swimmers ever with at least five gold medals at one Games: Americans Michael Phelps, Mark Spitz and Matt Biondi and East German Kristin Otto. (Phelps, of course, did it three times).
Australia's Emma McKeon, who won four gold and three bronze medals, became the first female swimmer to win seven medals at a single Games. The only men to do it are Phelps, Spitz and Biondi.