It was the finger wag seen round the world.
When Russian swimmer Yulia Efimova was controversially allowed to compete in the Olympic Games even after testing positive for doping, there was no room for sportsmanship. And after the disgraced competitor beat Lilly King of the U.S. in the 100-meter breaststroke semifinal on Sunday night, her finger wagging celebration did not sit well.
King, watching Efimova on a TV monitor, raised her finger, too, and shot it right back.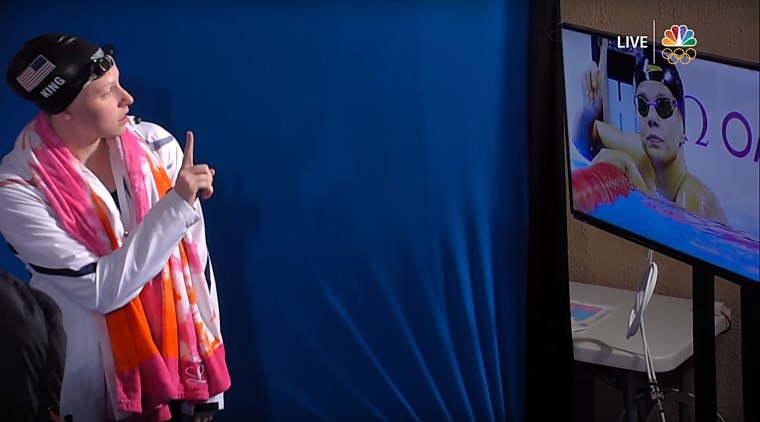 "You're shaking your finger No. 1 and you've been caught for drug cheating—I'm just not a fan," King told NBC's Michele Tafoya in a post-race interview.
And after King smoked her for the gold in the final competition Monday night, she flipped the finger once again.
King is one of several Olympic athletes engaging in very public spats against competitors who have been accused of taking performance enhancing drugs; a damning report that found evidence of a Russian state-sponsored doping program. While doping scandals are not new to the Olympics, the outspokenness and brashness from the athletes in Rio is.
Related: What to Watch on Game Day 5
"We haven't seen this [outspokenness] quite so publicly before," said David Wallechinsky, president of the International Society of Olympic Historians.
Wallechinsky said the allegations against the Russians were so extreme that "if you're an athlete and you see this going on, it's going to be frustrating for you if you're not taking drugs, if you're clean."
"The level of frustration among athletes is at an all time high," said U.S. Anti-Doping Agency CEO Travis Tygart. Because of the scale of the corruption of the Russian government, "athletes are finding their voice to say 'enough is enough,'" he added.
That was the sentiment American swimming star Michael Phelps expressed this week.
Related: Michael Phelps Is the GOAT, But Don't Poke the Bear
"It's kind of sad that today in sports in general, not just swimming, there are people who are testing positive and are allowed back in the sport—and multiple times," Phelps said at a press conference Monday evening after the 200 fly semifinals. "I think it just breaks what the sport is meant to be and that pisses me off," he added.
Doping allegations have benched the entire Russian track and field and weightlifting teams, in addition to some swimmers, rowers and cyclists, not to mention all of the Russian Paralympic team. But with 271 out of the country's 389 Olympic athletes allowed to compete, spectators booed Russian athletes at several events, including the lauded, non-competitive opening ceremony. It was a striking departure from the good-vibes unity that often permeates the opening and closing ceremonies.
It's not just the Russians who are taking heat. A separate war of words has erupted between Australian swimmer Mack Horton and China's Sun Yang.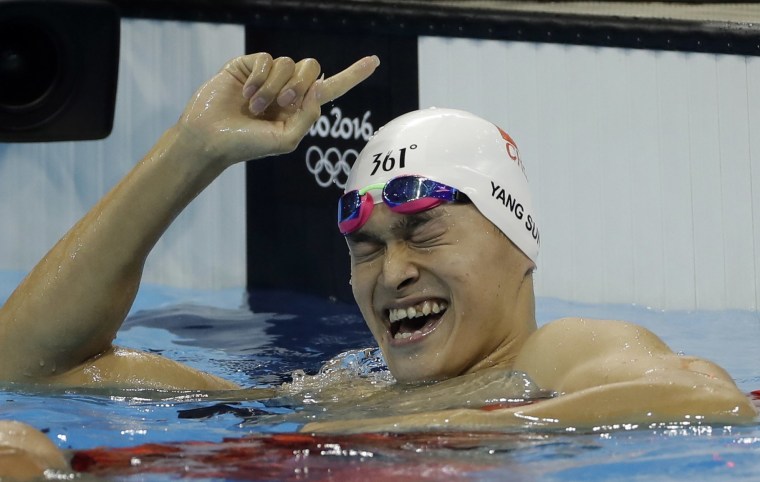 Before beating Yang by 0.16 seconds in the 400-meter freestyle, Horton called Yang, who had been sidelined for three months after testing positive in 2014 for a banned substance, a "drug cheat." That resulted in Chinese fans going after Horton on social media accounts using the hashtag #apologizetosunyang. China has also demanded an apology with state media going as far to call Australia a "country at the fringes of civilization."
Some observers applaud the outspokenness of anti-doping reformers, suggesting that such talk can bring about real change. Others, however, lament that a global sporting event meant to bring all of humanity together in friendly competition is no place for taunting.
"I have not really seen it played out in public this way, with athletes wagging their fingers or trash talking or causing a public stir," said Steven Ungerleider, a sports psychologist and consultant to the United States Olympic Committee who authored "Faust's Gold: Inside the East German Doping Machine."
Related: Basketball Stars Support U.S. Swimmers in Rio
"We're an Olympic family. There are 203 nations here. Yes we have serious doping problems, yes Michael Phelps was right he wants to be on a clean platform with a level playing field. We all feel that way," Ungerleider said. "But once the decisions have been made, go to work, get in the pool and compete with honor and respect and don't be trash talking. It's demeaning to the integrity of the Olympics family."
For her part, Efimova—who was banned twice for doping but allowed to compete after she appealed and was reinstated by the Court of Arbitration for Sport—told Russia's Tass agency, "All athletes should be above politics but they just watch TV and believe everything they read. I always thought the Cold War was long in the past. Why start it again, by using sport?"