TOKYO — One of the United States' best hopes for track and field gold was forced out of the Olympics on Thursday as Covid-19 spread chaos through the athletes' ranks just as events were about to get underway.
Word that Sam Kendricks, the two-time reigning world pole vault champion, had tested positive briefly sent the Australian team into isolation — an unwelcome reminder of the virus's threat and the upheaval it can bring that continues to loom over the Games on the eve of the start of track and field.
Approximately 2,000 athletes are listed in the track lineup as the largest sporting event on the sprawling Olympic program begins fully Friday.
Download the NBC News app for breaking news and politics
It also came as Tokyo Metropolitan Government officials reported a record 3,865 new confirmed Covid cases, shattering the previous records of 3,177 set Wednesday and 2,848 Tuesday.
A spokesman for the International Olympic Committee tried to reassure a nervous Japanese public that the pandemic was not spreading out of the Olympic Village.
"As far as I'm aware, there's not a single case of infection spreading to the Tokyo population from the athletes or Olympic movement," IOC spokesman Mark Adams said.
But an additional 24 people accredited for the Tokyo Games tested positive for Covid on Thursday, bringing the total number of accreditation holders infected to 193, Olympic organizers said.
The first word that Kendricks had tested positive was posted on Instagram by the 2016 Olympic bronze medalist's father and co-coach, Scott Kendricks.
"Today in Tokyo, officials informed Sam that his daily test for Cov 19 was positive, So he is out of the competition. He feels fine and has no symptoms. Love you son. See you soon. #rancho_olympia #polevaulting"
Scott Kendricks' post was removed not long after being shared.
But alarmed by the report, the Australian track and field team immediately confined its entire 54-person team to isolation and subjected it to testing after three athletes reported having casual contact with Kendricks.
The trio later tested negative and all but those three were cleared to return to normal activities.
Among them was Australian vaulter Kurtis Marschall, who had been training with Kendricks, along with Marshall's coach Paul Burgess and another pole vaulter, Nina Kennedy.
The U.S. Olympic and Paralympic Committee confirmed Kendricks' positive test in a series of posts on Twitter. "Sam is an incredible and accomplished member of Team USA and his presence will be missed," it said.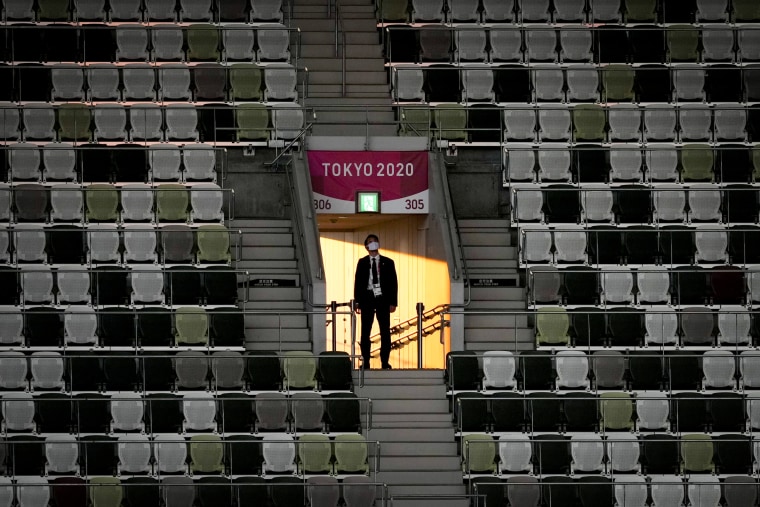 A native of Oxford, Mississippi, 28-year-old Kendricks is a first lieutenant in the U.S. Army Reserve. He is the two-time reigning world pole vault champion and was considered a gold medal contender.
Matt Ludwig, who placed fourth at U.S. Trials, is the team's alternate in the event. It wasn't immediately clear he'd be able to successfully join them in Tokyo in time for the men's pole vault qualifying competition, which begins Saturday morning in Japan, or 8:40 p.m. ET Friday.
Despite Japan's medal success, polls have showed that the Japanese public continues to be leery of holding the Olympic Games during a pandemic.
In recent days, record numbers of new Covid cases have been reported in Tokyo, which has been under a state of emergency resulting in all fans being banned from the watching the athletes compete at the Olympic venues.
Japanese Prime Minister Yoshihide Suga has been insisting the Games are "safe and secure" and that he's "not worried" about the spike in new Covid cases.
But Dr. Shigeru Omi, who is Japan's equivalent of Dr. Anthony Fauci, told the country's parliament Thursday "we are currently facing the most critical moment within this past year and a half in dealing with Covid."
"I urge the government to improve the way they deliver their messages to the public more than ever in terms of risk communication," he said.
Asked what new steps can be taken to slow the spread, Omi answered: "Right now, there's nothing out there that would lower the current rate of infection."
Toshio Nakagawa, president of the Japan Medical Association, said that could be disastrous.
"If the infection continues to spread at the current speed, I believe the health care delivery system will collapse," he said.