TOKYO — Gymnastics superstar Simone Biles fought back her fears and returned to competition Tuesday but fell short in her quest for Olympic gold in the balance beam competition, and instead brought in a bronze medal.
The star finished behind Guan Chenchen and Tang Xijing, both of China. Guan took the gold with a score of 14.633, ahead of Tang 14.233.
Widely considered the world's best gymnast, Biles, 24, moved smoothly and precisely through her routine barely wobbling, and smiled broadly as she landed on the mat when it concluded. She waved and blew a kiss at photographers and the crowd, and hugged teammates and competitors alike.
Biles now ties the record for the most Olympic medals won by a U.S. gymnast, Team USA tweeted shortly after she bagged the bronze. She scored 14.000.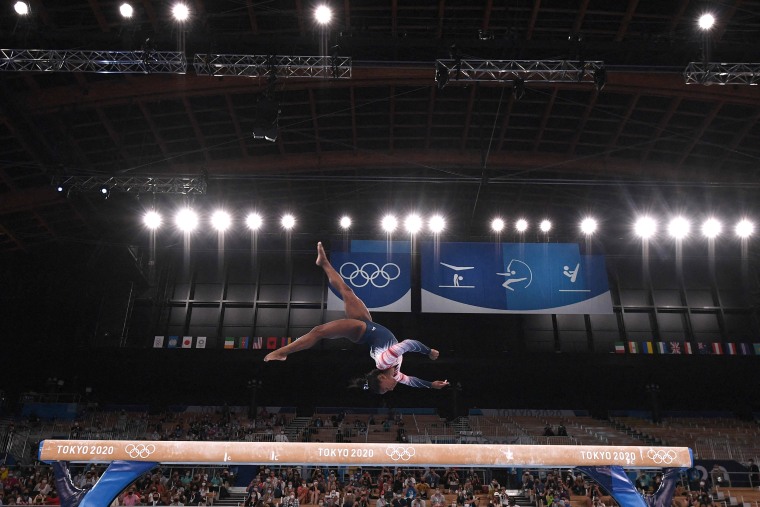 "It's been a very long week, it's been a very long five years," Biles said speaking in the gymnastics center after the event. "I didn't expect a medal today. I just wanted to go out there and do this for me, and that's exactly what I did."
She stunned spectators last week by withdrawing during the team gymnastics final. She said the emotional toll of the Tokyo Games, not a physical injury, prompted her to withdraw.
Speaking Tuesday, Biles said she had been evaluated by medical professionals daily. She also had two sessions with a sports psychologist while in Tokyo, which she said had helped ease her mind.
"Then just focusing on beam since I don't twist and all that really helped," she said.
Biles said that she had found out her aunt had recently passed away unexpectedly, and that it had been really hard.
Earlier, she had revealed she was still suffering from "the twisties" and "literally cannot tell up from down." But there was no sign of any such anxiety as she performed Tuesday.
Download the NBC News app for breaking news and politics
Asked how the bronze compared to past medals, she said that it was "definitely sweeter."
"I'll cherish this a lot more," she said. "I would like to dedicate it to all Team USA for helping me and reaching out and supporting me. It's just meant the world."
Her teammate Suni Lee, 18, wobbled on the beam but managed ultimately to maintain her balance, scoring 13.866.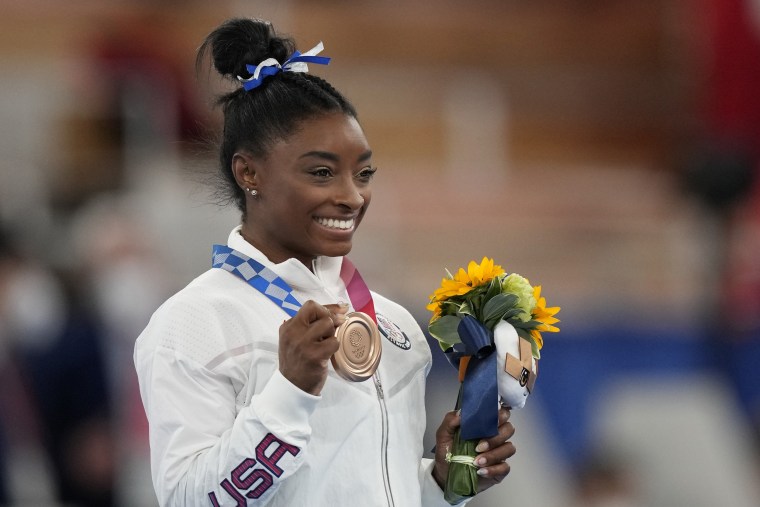 "Confidence, Suni, you've got it," Biles said to Lee before the younger gymnast took to the floor.
Lee will return home with three medals in her Olympics debut, having won gold in the individual all-around, bronze in the uneven bars, and silver in the U.S. women's team gymnastics finals.
There were hugs all around in the Ariake Gymnastics Centre in Tokyo as competitors from different nations supported each other's triumphs.
After withdrawing during the team gymnastics final, Biles pulled out of other events including the individual all-around and uneven bars finals, raising fears that she was through with the Games.
Her announcement Monday that she was returning to competition was celebrated by fans the world over.
The Tokyo Olympics were meant to be a showcase for the four-time gold medalist. Instead, Biles found herself thrust into the conversation around mental health and sports.
"For anyone saying I quit, I didn't quit, my mind and body are simply not in sync as you can see here," Biles wrote Friday in an Instagram post. "I don't think you realize how dangerous this is on hard/competition surface. Nor do I have to explain why I put health first. Physical health is mental health."
Corky Siemaszko reported from Tokyo. Saphora Smith from London.