TOKYO — The U.S. swim team ended the daylong drought Sunday after the Americans failed to medal on the first day of Olympic competition for the first time in almost 50 years.
Chase Kalisz took the first gold medal for the U.S. and Jay Litherland snagged the first silver Sunday as they finished one-two in the 400-meter individual medley.
"U-S-A! U-S-A!" a small group of their jubilant teammates chanted at the Tokyo Aquatics Centre, which was nearly empty because the Covid-19 state of emergency bars fans from the stands.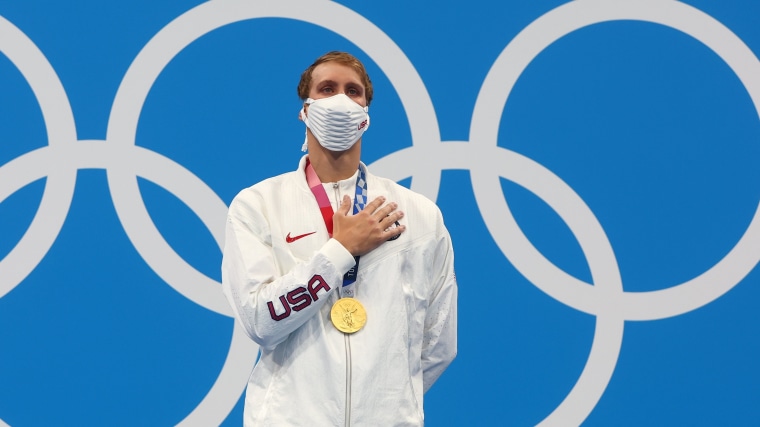 Asked what was sweeter, winning his first gold medal or winning the first medal in these Olympics for the U.S., Kalisz said, "Both are awesome!"
"We're Team USA, and at the end of the day, USA Swimming has a strong history of getting it done when it counts," Kalisz said. "And that's something that we really pride ourselves on and something that we have consistently done since."
U.S. swimmers Emma Weyant and Hali Flickinger added to the U.S. medal count by winning silver and bronze in the 400-meter individual relay.
By late afternoon local time, the U.S. was second in the medal table, with 10, behind China, with 11, after swimmer Kieran Smith won the bronze in the 400-meter freestyle, the U.S. women swimmers won the bronze in the 100-meter freestyle relay, and William Shaner won the second U.S. gold in the 10-meter air rifle competition.
Jagger Eaton also took bronze in the men's street skateboarding competition.
The hardware haul came a day after the U.S., for the first time in almost half-a-century, failed to medal on the first day of Summer Olympics competition.
Download the NBC News app for breaking news and politics
"Last happened at the Summer Olympics in 1972 at Munich," Olympics historian Bill Mallon tweeted Saturday.
Team USA also failed to win a medal on Day 1 of the 2018 Winter Games in South Korea.
America's best hope of medaling Saturday had been thought to be the archers, but they came up empty.
"I'm still a little shocked," Brady Ellison, who won silver and bronze medals at the Rio Olympics in 2016, told USA Today. "We got in that stadium, and I shot left."
In recent years, the U.S. has dominated the Summer Games. At the 2016 Rio Olympics, Team USA won a world-best 121 medals.
The U.S. has tallied the most medals, including the most gold medals, in each of the last six Summer Olympics going back to 1996.