Jumping to an early lead that they never lost, Canada's women's hockey team defeated the U.S. 3-2 for the gold medal at the Beijing Games on Thursday.
Canada scored three unanswered goals that the U.S. was not able to overcome, despite a furious final effort, and got revenge for the defeat handed to them by the Americans four years ago.
The U.S. women will go home with the silver after the loss.
Canada scored three unanswered points in the first and second periods to take the lead — the first by Sarah Nurse, followed by two scored by Marie-Philip Poulin.
U.S. forward Hilary Knight answered back in the second to get the American team on the board. Teammate Amanda Kessel scored the second U.S. goal with a handful of seconds left in the third period to make it 3-2, but the Canadians were able to fend off the American team to win gold.
"It was a group effort," Poulin said after the game. "It was line after line, put pressure, and we put it in when it was the right time."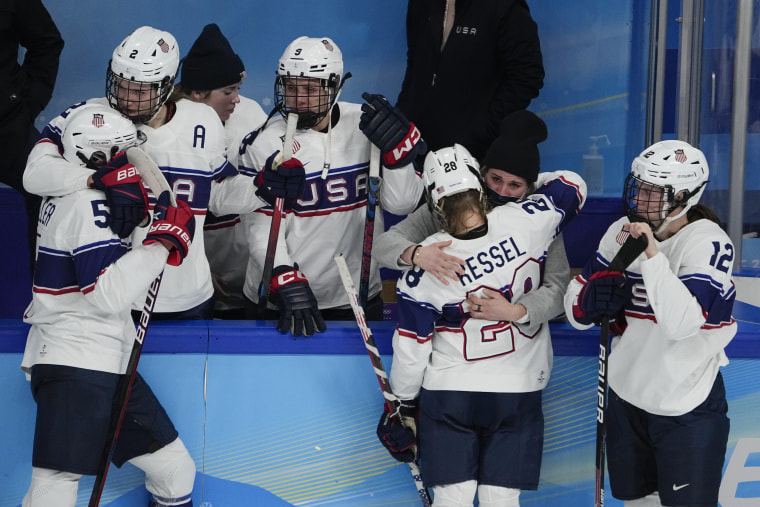 The rivalry between the U.S. and Canada is one of the biggest of the Winter Olympics.
The U.S. and Canada have faced off in the gold medal game at six of the seven Olympics held since the women's competition was introduced at the 1998 Nagano Games.
Thursday's win is the fifth Olympic gold for Canada, and its fourth victory over the U.S. in a final game.
The U.S. beat Canada for the gold in 1998 and again in a shootout at the 2018 PyeongChang Games, but Canada won at every other Olympics.
The U.S. beat Finland 4-1 Monday in Beijing to advance to the gold-medal game. Canada earlier that day routed Switzerland 10-3 to go on to the secure their spot.
"I think it's wonderful hockey. It's the most beautiful rivalry in sports," Knight said Monday after the semi-final win over Finland. "It gets the best and the worst out of both of us at the same time. And it's just a wonderful game."
The only time the two teams have not met in the final match was at in 2006 at Torino, Italy, when the U.S. lost in the semi-finals and beat Finland for a bronze. Canada won the gold against Sweden that year.
After Thursday's final at the Beijing Games, a U.S. women's team has won two golds, four silvers and a bronze in the Olympics.
Canada has won five Olympic golds and two silvers.
Finland won the bronze at the Beijing Games with a 4-0 win over Switzerland.
In the men's competition, the U.S. team was eliminated in Wednesday's quarterfinal, losing 2-3 to Slovakia in a shootout.