BEIJING – Television singing contests have been curtailed by Chinese censors who claim the country has too many of the American Idol-style shows.
The country's state broadcasting regulator issued a new policy Friday banning satellite channels from producing any more singing contests.
It echoes the enforced demise of "Super Girl," a singing contest for female contestants which became a phenomenon in China in 2004.
That was blamed by commentators on official discomfort at Western-style audience voting.
On its official website, the State Administration of Radio, Film and Television (SARFT) posted a notice saying shows that had already been produced but not yet aired should be "postponed".
Produced by Hunan Satellite Television, it was eventually ordered off air in 2011 by SARFT, which claimed the program was over-running its time slot too frequently - an accusation that did not add up for most Chinese viewers.
Instead, popular rumors surmised that the state's own Chinese Central Television (CCTV) was angered by the show's huge ratings. At its 2005 peak, "Super Girl" delivered 400 million viewers to Hunan.
It also attracted up to nine million telephone votes from audience members for their favorite singers – an exercise in democracy that is sharply at odds with the China's Communist political system.
Economic Observer, a Beijing newspaper, commented at the time of Super Girl's demise that audience voting could be the government's main concern, The Economist noted.
Friday's SARFT announcement said: "No more new singing contest shows should be produced by any satellite TV stations.
"Programs which have been produced but not broadcast should be postponed to avoid the summer high season, and those which are already airing should reschedule their broadcasting times to avoid similar programs showing at the same time."
The policy targets the huge number of audience-voting talent shows starting up this summer.
Currently, there are nine similar series on air and three more are scheduled to be broadcast in the next two months. On Sunday, 11 programs are broadcasting on the same day, including reruns of previous episodes.
Most are based on US or UK formats. "Chinese Idol" is based on "American Idol", "Voice China" is the Chinese version of "The Voice", and "Chinese Duets" originates from "The Duets".
While some Chinese web commentators agreed that singing contests had come to dominate the schedules, many are cynical about SARFT's motivation.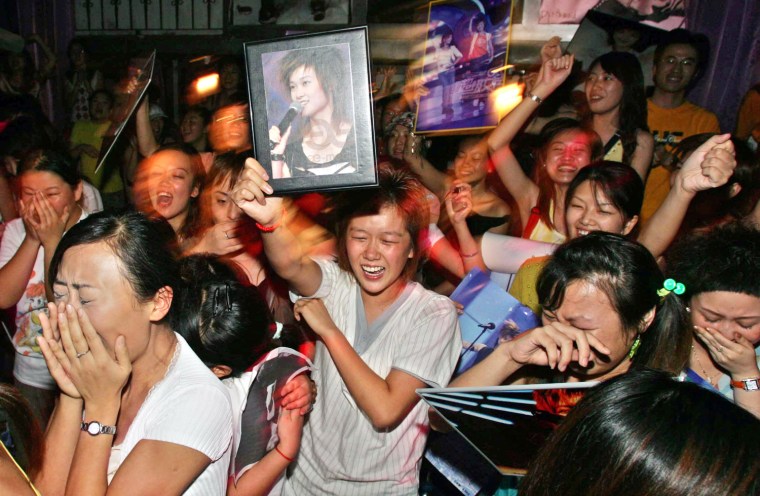 Blogger Wang Rui wrote: "SARFT is always manipulating when it see a local station that has higher rating than Central China Television. I miss Super Girl".
Nalan, a popular blogger who has 254,000 followers, pointed out that all China's TV stations broadcast the same news program for half an hour, starting at 7pm.
He asked: "To avoid similar programs at the same time, does that mean they are going to change 7pm CCTV news?"
Long Minfei, a columnist with Life News, appeared to speak for many in China when he wrote: "SARFT extends its hands too far. Just leave the control to the public. The public will switch their remote controls if the program is not good."
Despite the SARFT announcement, TV stations have not been given instructions directly.
Zhejiang satellite TV, which produces a show called "Voice China", said it had no plans to change its schedule.
"I do not know about other stations but I can say the new policy is not going to affect Voice China," said a chief editor who gave only his family name, Bao, as is customary when interviewed by foreign media.
Hunan Satellite Television made a statement on its website that the schedule of its singing contest program will remain the same.
Hans Steinmuller, a China anthropologist at the London School of Economics, said the popularity of talent shows and their contestants may have irked officials.
"Most of the Communist party hierarchy doesn't really have any culture to speak of, so it is logical that they would seek to limit popular culture," he said.
"Voting on these programs is very popular, just like all social media. On the train you constantly hear the ping and vibration of phone alerts.
"It was said at the time that voting was the reason why Super Girl ended, but I don't know if that is the government's real concern. It allows democratic voting – although only at the lowest, village, level."
Madeline Earp a research fellow at Freedom House, an independent civil liberties watchdog, said SARFT had often targeted popular entertainment shows in the past.
"In 2012 it was Korean and Japanese dramas that were extremely popular. They say that they want to increase diversity of programming, to improve the moral tone. But I think they've identified that since satellite TV has become more popular in China, the media has become more diverse. This is a real threat to the state media and CCTV, so they are trying to manipulate what is available during prime-time programming…. So it's a control mechanism."
She added that banning programs had backfired in the past.
"There has been a very critical response to these measures, but even in news outlets that are affiliated with the state," she said.
"It makes (the party) look bad. It makes them look out of touch. The more they do this type of thing the more people will realize quite how far reaching state control of information is and the more likely they are to look for ways around it."
NBC News' Li Tian, Alastair Jamieson and Henry Austin contributed to this story.