DETROIT, Mich. — The air on Heidelberg Street reeked of smoke one recent morning. Char and ash darkened the snowy sidewalks. But the color remained: shocks of red and yellow and blue that polka-dot this blighted east side neighborhood, making it one of the city's leading tourist attractions.
For 27 years, The Heidelberg Project, founded by artist and Detroit native Tyree Guyton, has arranged found objects — tires, televisions, toys — with artful grandeur, transforming vacant homes and lots along more than two blocks into an outdoor art museum unlike any other. "It's true to the city," said executive director Jenenne Whitfield. "Detroit is a city of originality."
But The Heidelberg Project is under attack.
Eight arsons since May — the most recent on December 8 — resulted in four of the seven main Heidelberg houses being burned to the ground. One of them, known as the War Room House, was the former home of Motown legend Wilson Pickett. There is a $30,000 reward for information that leads to the conviction of anyone responsible for the fires, but to date, there are no suspects.
The Heidelberg staff is mystified as to why they are targeted. Lisa Rodriguez, chief curator, takes a philosophical look: "Throughout history, art has always had that impact: Someone has to remove it, steal it, vandalize it. So while the fires are a horrifying and terrifying thing…that art was burned down because of how powerful it is. That's a big statement."
Rodriguez added that while her first concerns are for public safety and for the culprit to take responsibility, she feels empathy for whatever pain may be behind the fires. "I mean, you can throw a rock through a window and make your statement. But to burn it flat, you must be really hurt."
While the Heidelberg Project transforms vacant houses and lots into teeming art, the neighborhood is also peopled by a handful of residents in ordinary homes. One resident, who lives in a small home encompassed by the installation, fastened a poster to a chain-link fence with a message for the arsonist: "Are you above the law … only in Detroit."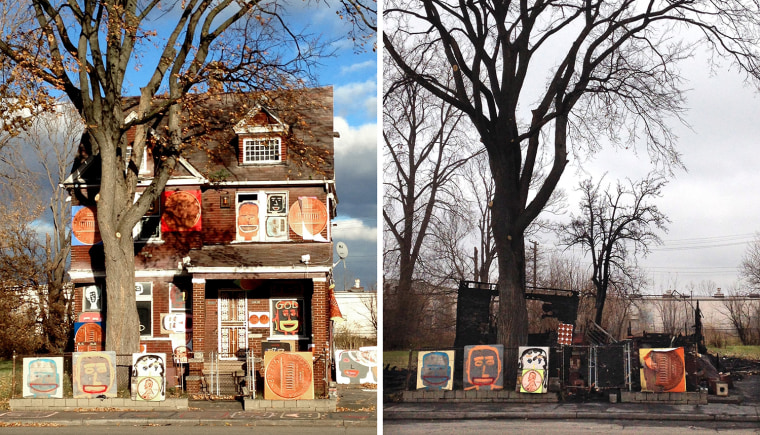 Rodriguez said that many residents have known Guyton since he was a child running along Heidelberg Street, and they watched him build the installation for nearly three decades. Their first response to the fires, Rodriguez said, is "to feel so sorry for Tyree Guyton because they know how much work he put into it. … Whether they like (his art) or not, they feel something has been taken violently from them."
Meanwhile, the remains of burned houses linger: blackened foundations, steps that lead nowhere, and ominous circles of yellow police tape.
"We have what we believe is a new canvas. It requires a new vision," said Whitfield.
It also requires help: The arsons are an ongoing threat. Detroit, which is in the midst of America's largest-ever municipal bankruptcy, struggles to protect its citizens. Fire is one of the most infamous hazards, as chronicled in the new documentary Burn; even a four-minute response time from firefighters wasn't enough to save the most recent Heidelberg house that was set alight.
This leaves the community to fight for itself, and to protect this symbol of community resilience. The Heidelberg Project, which is managed as a nonprofit with 12 staff members and an expansive corps of volunteers, has resorted to crowdfunding on IndieGoGo for complete security of the neighborhood in a campaign called "Art from the Ashes." The security system, involving improved patrolling, lighting and surveillance cameras, will cost a little over $50,000.
Money raised beyond that will help repair the home of a neighbor that was damaged by the second fire. Even further funds will help replace the House of Soul, one of Heidelberg's famed art pieces. It was a two-story house with more than 2,000 records attached to it. When it burned, melted and cracked discs were strewn across the block.
The Heidelberg Project is Detroit's third most popular tourist destination, behind the Detroit Institute of Arts and the Charles H. Wright Museum of African American History. Visitors come from 140 countries and 49 states, as well as from across the city, according to guest book records kept by the Heidelberg Project.
"We're an art project in the heart of a war zone, so to speak, and people are coming from all over world," said Whitfield.

But while the Heidelberg Project says it has generated $3.4 million in tourism dollars for Detroit, the city is hard-pressed to support it in return. Facing $18.5 billion in debts and unfunded liabilities, the city is moving through Chapter 9 bankruptcy negotiations, guided by an emergency manager who was appointed to intervene in Detroit's fiscal crisis.
From vacancy to crime to disinvestment, the issues that Detroit has fought have played out on Heidelberg Street. "The Heidelberg Project is like the sacrificial lamb," Whitfield said.
As Heidelberg Street fights for its future, the Detroit Fire Department is aided by the federal Bureau of Alcohol, Tobacco, Firearms and Explosives to secure the project and arrest the arsonist. BATF contributed $5,000 to the reward money, brought arson dogs to scour Heidelberg Street for evidence, and set up an anonymous tip line: 1-888-283-3473 (1-888-ATF-FIRE).
"Our chief concern is for families in the surrounding homes, and for the lives of the firefighters who respond to these fires," said Daryl McCrary, acting ATF special agent in charge, in a news release. "ATF and DFD will continue to work together toward our goal of a successful prosecution in this crime."
El Don Parham, chief of DFD's arson unit, told The Associated Press that "someone is pinpointing" the Heidelberg Project for motives that aren't yet clear. "That makes it a greater concern for us — that someone is targeting this area," he was quoted as saying.
Before the fires, Heidelberg was focusing on the question of how to invite its many visitors to stay longer in the neighborhood. The project was developing its first structure to house offices, community space and possibly a café.
With a yearly budget of $560,000 that comes largely from foundations, the Heidelberg Project pays for overhead, rent and insurance, as well as expansive programming. It recently contracted with the state's Department of Education for a three-year program focusing on African American males, a population that in Heidelberg's own neighborhood, Whitfield said, are becoming "an endangered species."
Every one of these long, dark, December nights threatens the Heidelberg Project with another fire. But as art that originally emerged as a way for Guyton to re-imagine the suffering neighborhood where he grew up, it is still able to transform terrible things into astounding ones. On the useless front steps of one burned house—still reeking of smoke through a layer of snow—objects are appearing: a painted red mushroom; a grey teddy bear; a yellow Fisher-Price skate; a keyboard; an infant's mobile with dangling plastic faces, each one smiling.
This destroyed house, then, is made into an altar. The city of Detroit, itself fighting the threat of dark streets and crime as it moves through the fire of bankruptcy, might learn something from Heidelberg Street.
"Detroit is not cookie cutter," Whitfield said. "It is the best and worst of everything. What amazing contrasts from which to build." 
Related: