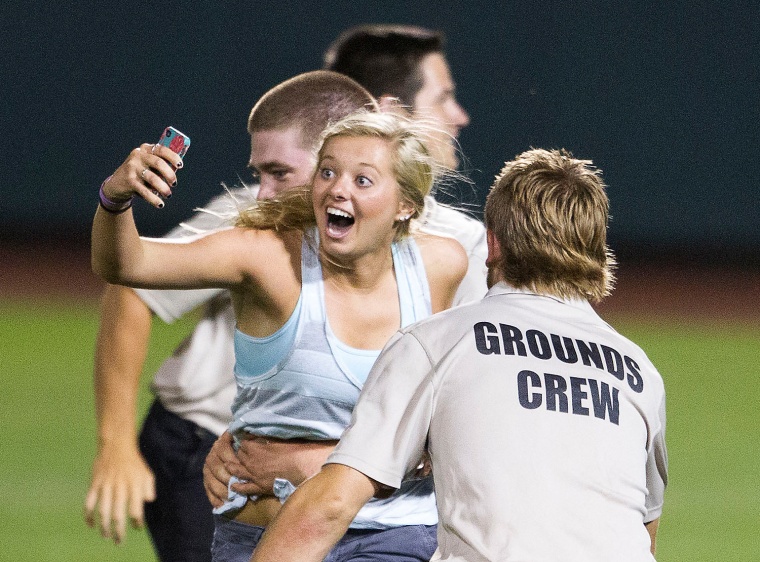 The Oxford Dictionaries Online defines the selfie as "a photograph that one has taken of oneself, typically one taken with a smartphone or webcam and uploaded to a social media website." 
Even though it's noteworthy that the Oxford people even acknowledge the word, a user-submitted definition on the crowd-sourced Urban Dictionary is more blunt: "The taking of a picture of yourself and posting it on Facebook because you have extremely low self-esteem and you need people to comment to tell you how hot or pretty you look."
More: The selfie won't die — in fact, it just got its own social network
Whichever definition you prefer, there are as many types and combinations of the ever-evolving selfie as there are news stories deconstructing them. Whether you're an old hand at cellphone self-portraiture or just dipping your texting finger into the pool, here are just a few popular selfie possibilities you can try at home — or at a funeral — if you really, really want to. (Seriously, don't.) 
The 'Mirror in the Bathroom'
Popular before the prevalence of front-facing cameras on cellphones, the "Mirror in the Bathroom" selfie — so-named (by me, just now) for the English Beat song — was born of necessity rather than preference. As Justin Beiber, the undisputed Selfie King can tell you, the most efficient way to capture yourself looking good, as well as in-frame, is with a mirror. Most people already have a more than passing relationship with their bathroom mirror, so they can trust it — plus, that's where you're going to get the brightest lighting (for better or worse).
A major fallout of using this primitive method of selfie-ing is the possibility of something — or someone — caught in the reflection, with the selfie subject too self-absorbed to notice before posting the image online. You (or, more likely your friend sitting on the commode) don't want to wind up on one of the infinite embarrassing #bathroomselfie listicles littering the Internet ... unless, of course, you're Louis CK. Check your surroundings! 

The Duckface
The female-dominated selfie phenomenon represents "the male gaze gone viral," said Ben Agger, author "Oversharing: Presentations of Self in the Internet Age," in a recent interview with Straight.com. Youth are taking their cues from the easy-to-access Internet pornography, culture critics contend. Nowhere is this more evident than in the Duckface. The pursed, extended lips and hooded eyelids (aka "bedroom eyes") — originally a clumsy affectation of sexuality among young women — is lampooned in selfie culture for its unfortunate resemblance to that of long-billed water fowl. 

The Miley Cyrus
Mouth open, erect tongue extended, and more often than not, one or both hands flashing "The Nixon" (or "Victory," "Peace," whatever), this selfie pose associated with former Disney star Miley Cyrus offers an alternative self-objectification for girls and young women hoping to avoid accusations of intentional Duckfacery.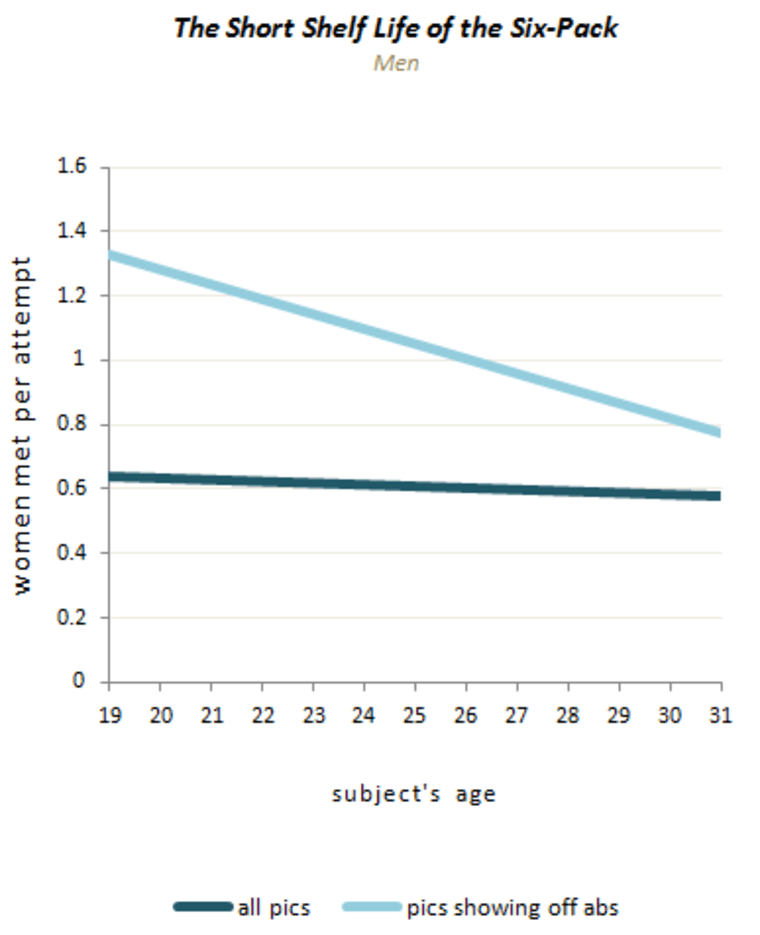 The OKCupid
Young women aren't alone in the self-objectification encouraged by porn culture, as evidenced by the prevalence of shirtless young men on dating sites such as OKCupid. This type of shot, a derivation of the classic "Mirror in the Bathroom," is indeed an "Internet cliche," as the OKCupid statistics blog noted in 2010. "But, contrary to everything you read about profile pictures, if you're a guy with a nice body, it's actually better to take off your shirt than to leave it on," OKCupid's Christian Rudder wrote.
"An interesting caveat here is that a six-pack does seem to have a short shelf life: the effectiveness of the 'abs pic' decreases sharply with age." Which brings us to our next selfie category... 

The Mid-Life Crisis
These are committed by older guys channeling their inner Vladimir Putin, sending out selfies whether we want them or not. And for those of us who don't work at TMZ, more often, it's "not."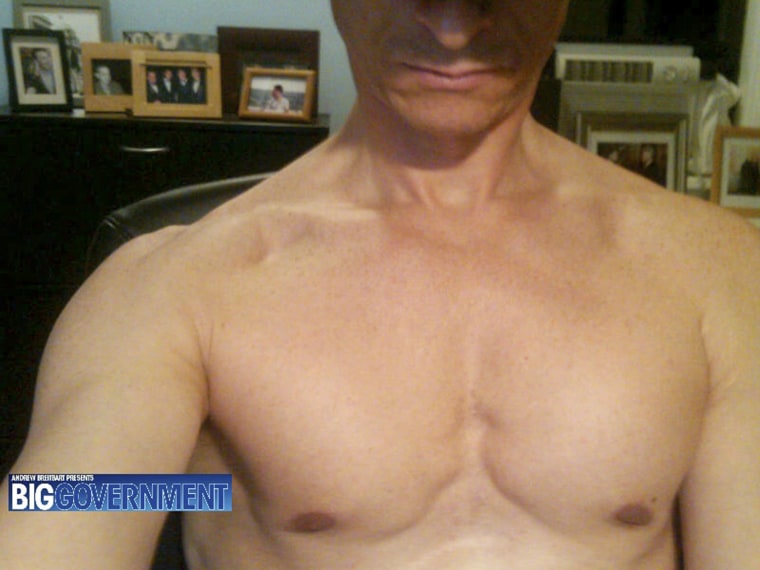 TV journalist Geraldo Rivera inflicted his nearly naked selfie on Twitter back in July, declaring "70 is the new 50." He deleted it hours later, but as Anthony Weiner (or anyone) could've told Rivera, what goes on the Internet, stays on the Internet. Weiner, the tragically named former New York congressman and mayoral candidate, tanked his political career by using his public Twitter account to tweet shirtless (and pantless) selfies to ladies who are not his wife. So did another New York politician, Congressman Christopher Lee, who resigned after his shirtless selfie — which he used it to respond to a personals ad on Craigslist — went viral. 
Yet not all inappropriate selfies come from frustrated men of a certain age...
The Arguably Inappropriate Selfie 
"Duckfaces for the Berlin Wall!" "Open Wide for Chernobyl!" "Artistic Gaze for Concentration Camps!" These are some of the sardonic titles you'll find on "Selfies at Serious Places," a Tumblr compilation of Instagram- or Twitter-posted ego snaps taken at locations where reflection on something other than your own damn self is probably more appropriate.

If the babe in a bikini holding an urn of cremated remains puts you in a funereal mood, perhaps "Selfies at Funerals" is the Tumblr for you. There you'll find cellphone pics a-plenty featuring smiling selfies in mourning, occasionally with the casketed corpse in the background, and even a duckface or two.
"Kids these days!" is an easy reaction to understand when gazing upon what may very well be a bunch of soulless, self-documenting brats (they are, mostly young people). Then again, people posing at historic locations is nothing new. And check out Momento Mori: Victorian Death Photos on Pinterest, commemorating a time when taking photos of dead folks was totally a thing. Why, anthropologists may someday declare that the convergence of cellphone cameras and social media simply showed us something that's been around since before the Brownie.
The Action Selfie
Perhaps the hardest selfie to obtain, the "Action Selfie" requires the culmination of opportunity and timing. Kayleigh Hill rose to her occasion in July when she ran on to the field during play at the College World Series on a dare, and was immediately tackled by security — the memorable seconds of which she commemorated via Vine (later deleted, but you can see it here).

Malik Whiter, meanwhile, captured plenty of action in a still selfie when the Florida high school student's pregnant teacher experienced contractions in the middle of class. Whiter promptly posted the groundbreaking narrative selfie on Twitter, where it was retweeted more than 52,000 times by lovers and haters alike.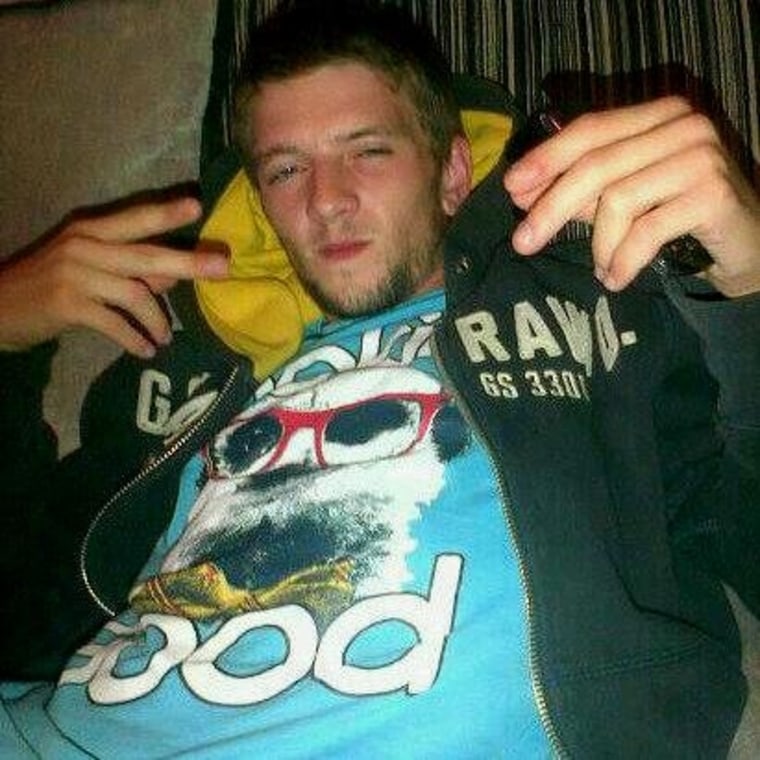 The Self-Incriminating Selfie
You can get yourself busted pretty easily posting photos of your illegal activity online, especially when you include yourself in the shot. Just last week, UK cops busted an alleged BlackBerry thief after they circulated the selfie taken by the accused uploaded his own image to Whatsapp photo-sharing app on stolen phone.
Apparently the dude never heard of Rodney Knight Jr., a burglar who was busted back in 2011 after he posted a pic of himself and stolen goods ... on the Facebook profile of his victim. #sadtrombone

The Autograph Selfie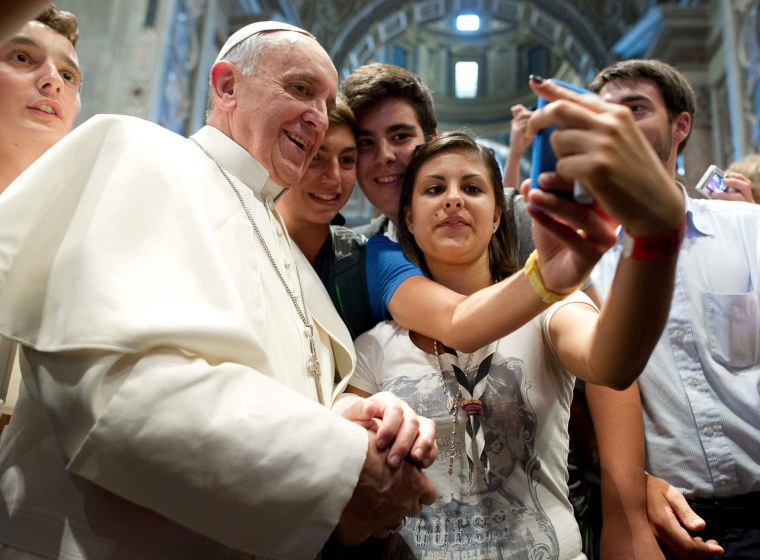 The ultimate answer to "Pic or it didn't happen!" the Autograph is the cellphone photo you take of yourself with a famous person like, say, Pope Francis. Just so we're clear, the Pope wasn't holding the cellphone when this selfie first circulated in August. But he's in it, so it counts. Same goes for a photo featuring Beyoncé and a 15-year-old Australian girl who asked the singer to pose with her at a concert last month. (That's just good Autograph Selfie etiquette.)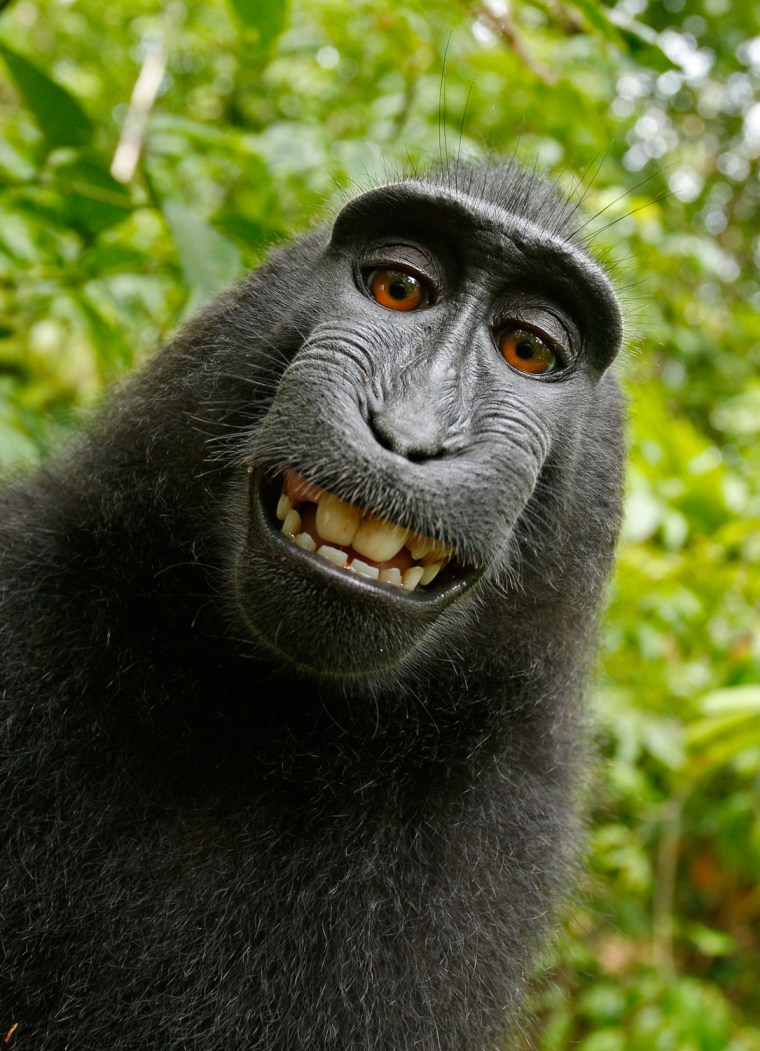 The Copyright-Contended Selfie
Selfies are generally, by copyright law, the property of the person who took them. But what if that person is a monkey, specifically a crested black macaque with a toothy grin the Internet felt compelled to share? Monkeys may share 90 percent of the same DNA as their selfie-snapping human cousins, but they likely forfeit their photo rights when they use the camera of a human, in this case, award-winning photographer David Slater. 

This and other photos were taken by macaques after Slater left his equipment unattended while at national park north of the Indonesian island of Sulawesi.
Whether she knew what she was doing remains a monkey mystery, but the photo copyright — which goes to the photographer — became a bone of contention once the image started circulating on the Internet. Slater's photo agency sent around take-down notices to the news sites publishing the photo without permission (NBC News paid to publish this photo), and while some grumbled, most complied.
This interesting case in copyright also serves as a warning — as more than a few selfies do — that what goes on the Internet, stays on the Internet. This female macaque, and the monkeys she inspired, won't have to worry about losing any job prospects because of a spur-of-the-moment selfie. But the same can't be said for most humans.
Helen A.S. Popkin goes blah blah blah about the Internet. Tell her to get a real job on Twitter and/or Facebook.