"Wild" Willie Seeley of Manahawkin, New Jersey, has one piece of advice for the winner of last week's $400 million Powerball pot in South Carolina: Run. "Just disappear," he said, speaking from hard-won experience. "Get lost while you still can."
After Seeley and 15 co-workers from Ocean County's vehicle maintenance garage shared part of an even bigger Powerball jackpot last month, $450 million, the "Ocean's 16" celebrated the win at a press conference where Seeley stole the show with a cascading beard, tinted shades and a battered straw hat. "We are very happy, happy, happy," he said to hoots and hollers from the crowd. "I'm going to continue to watch NASCAR races on Sunday. Maybe I'll be at a log cabin on multiple acres of land."
The next morning, he and his wife, Donna, appeared on NBC's TODAY, where Willie (no one calls him Seeley) pledged to fish, hunt and generally do as he pleases. "I can do what I want," he told Matt Lauer, turning warmly toward his smiling wife. "We can do what we want."
Now, however, that sense of infinite freedom has curdled into regret. In their first interview since being thrust into the national spotlight, Willie and Donna appear less like the "happy, happy, happy" recipients of a blessing than the weary parents of a problem child. "There are days I wish we were back to just getting paid every two weeks," Willie said last Friday from inside his modest, antler-adorned home. "You have to change your whole way of life, but we didn't want to change the way we lived. We liked the way we lived."
Donna goes even further, calling their winnings "the curse." And while they wouldn't go so far as to give the money back, they're more than happy to pass the spotlight to an as-yet-unidentified dupe in the Gamecock state, a man who, according to South Carolina lottery officials, pulled off the road for hotdog buns and bought the winning ticket on a lark. "He doesn't understand," Willie said. "The drama is nonstop."
And it's a drama more Americans may experience as state lotteries expand, setting records for revenue and exciting politicians desperate for cash but loathe to raise taxes. A decade ago, jackpots rarely cracked $100 million, but now, thanks to more expensive ticket prices, new games and added retailers, they routinely soar to three times that princely sum.
In the last eighteen months alone, states have awarded the five biggest lottery prizes of all time, all of them north of a quarter-billion dollars, and those purses are likely to grow still larger as states experiment with allowing people to buy tickets with smartphones and credit cards, the hoped-for tools of perpetual gaming.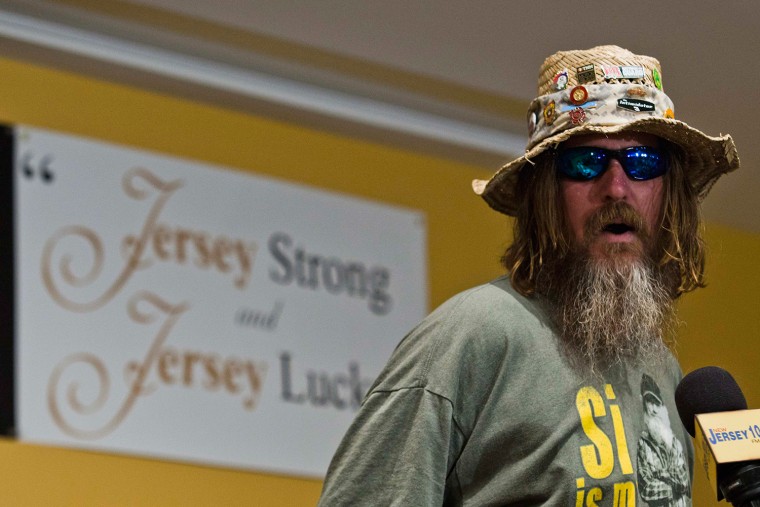 "There are a lot of zeros in this money," said Paula Harper Bethea, executive director of the South Carolina Education Lottery, at a press conference announcing her state's winner last week. "It's a life-changing event."
But as Willie's story makes clear, a life-changing ticket is also a complicated windfall. Willie's share of the $450 million pot was divided by two other winning tickets, and further divided by 15 coworkers, all of whom bought a ticket through a pool at the county garage where Willie worked as a warehouse manager. After taxes he had less than $4 million to call his own, which, as he put it, "ain't sh-t in today's economy."
Still, it was enough money for Willie and Donna to leave their jobs, Willie saying sayonara to the county, Donna resigning a dangerous nursing post at a psychiatric hospital. 
She and Willie paid cash for new vehicles: a black GMC pick-up for him, a shiny purple Chrysler for her. Their neat one-story house had been battered by Hurricane Sandy, so they put a new roof on it, paid the mortgage off and made the backyard sparkle. Inside they gutted the bathroom, tossing out their old washer and dryer in the process.
Then they helped family, funding a house for one kid, a master's degree for another. Willie's father, a retired artist who gave Willie his country-peacock sense of style, has cancer — so Willie helped fund his second round of chemo, watching as his old man's prognosis improved in the process. "I do good deeds every day," he said, "just like Dale Earnhardt. And just like him I don't like bragging about it."
He also did something big for himself, making one of his press conference pledges come true by buying a cabin on 15 acres of land, about 30 minutes away. Willie plans to move there next month, full-time, a move driven as much by his hunting-and-fishing dreams as by his need to slam the door on a world of hucksters, criminals and professional show runners that opened up the day he won Powerball.
They arrived after his TODAY appearance, a cavalcade of long-lost relatives, sympathetic beggars and what felt like every reality TV producer in the country. "I pulled a .357 magnum on the last fellow who came walking up the driveway," he said. That seemed to work, but the phone won't stop ringing. National Geographic, A&E, Ryan Seacrest Productions — Seeley said he's heard from them all.
"They put me in the National Enquirer, next to Faith Hill and Tim McGraw. I mean I ain't into all that."
Not even for money? "Not for anything," Willie said. "Would you want a camera following you around all day when you finally have the time to go hunting and fishing and do all the things you wanted to do?"
Before all this happened, he and Donna had bills but at least they could be themselves, watching Duck Dynasty, a finger looped over a bottle of Moosehead Lager, friends on the way over. He says he bought a shotgun "for protection" and still can't act like a rich guy anyway. "I get cheap attacks," he said. "You never heard of a cheap attack? It's when you look at something you need, and think: Hell, I can't afford that."
"We're simple people," he said, posing for a picture next to his new truck, a shotgun in one hand, a practiced middle-finger extending from the other.
You got that world? Willie has a message for you too: Run.  
Related: