They swing the same Pulaskis, buzz the same chainsaws and face the same dangers.
But 673 of the wildland firefighters battling the ferocious blaze around Yosemite National Park have something that other hotshot crew members do not: a prison identification number.
They're part of California's conservation camp program, which takes convicts out of jail cells and puts them on the front lines of wildfires, where they earn $1 an hour cutting containment lines that keep flames from spreading.
"They are in the thick of it," said Capt. Jorge Santana of the California Department of Corrections and Rehabilitation.
The agency has sent 621 men and 52 women to tackle the so-called Rim Fire, which has engulfed nearly 300 square miles of land in 12 days. More have been deployed to 20 other fires across the state.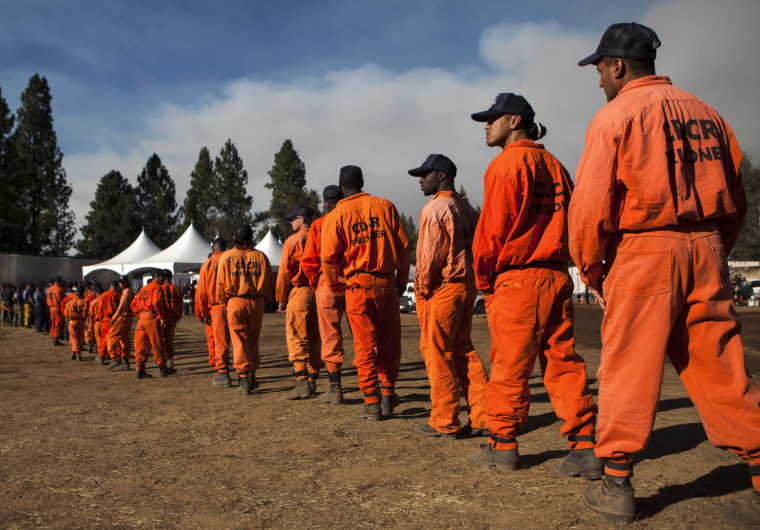 "They work 24-hour shifts," Santana said. "They sleep in tents at base camp. They work side-by-side with other firefighters.
"They risk their lives."
Other states have inmate firefighters, but California's program — with 42 minimum-security camps and more than 4,100 volunteers — is the biggest and oldest, dating to 1946.
Aaron Olguin, 30, said he heard about it soon after he was sentenced to four years and four months for a drunken-driving crash in which people were injured.
Like other applicants, he underwent two weeks of punishing fitness training: grueling hikes, 9-minute mile-long runs and a regime of military-style calisthenics. Then came two weeks of job training by the California Department of Forestry and Fire Protection.
"We hiked straight up mountains with 45 pounds on our back, carrying tools and water and other necessities," he said. 
Olguin got some time shaved off his sentence and spent almost three years in the program before being released last November. He estimates he worked up to 20 fires and recalled some "close calls" with falling rocks and trees at night.
"The time goes by much faster," he said. "The living conditions are way better."
Conservation camps are open to inmates serving between 12 months and 7.5 years who have not been convicted of arson, murder, kidnapping or a sexual offense. Violent crimes like robbery and carjacking are considered on a case-by-case basis.
The camps are not fenced in but CalFire spokesman Daniel Berlant said there are "very few" walkaways. The inmates are given dangerous tools, like saws to cut down trees and Pulaski axes to dig up roots.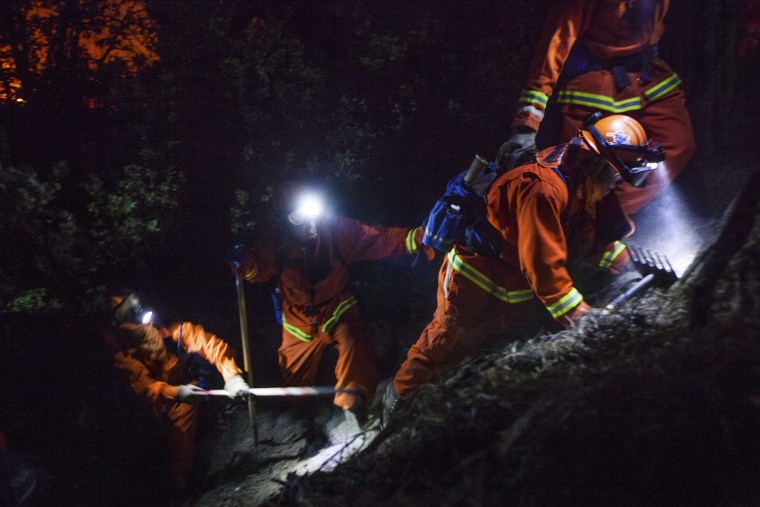 All of them are volunteers. "We can't just force them out there like a chain-gang," Santana said.
The benefits include decent pay by prison standards: $1 an hour while fighting fires and $2 a day in the off-season, when inmates do other conservation work.
Prisoners say being in the great outdoors and the community is humanizing and an antidote to the monotony of lockup. If they behave, they can request a camp closer to their family, and they can cut their sentence by half in some cases.
The program has the lowest recidivism rate in the system, though it's still a depressing 55 percent, Santana said.
The state estimates it saves taxpayers more than $80 million a year with the cheap labor, and it's been recruiting volunteers from county lockups because of a court-ordered realignment keeping non-violent felons out of overcrowded state prisons.
"They do very laborious work," Berlant said. "It frees up our firefighters to extinguish the fires using hoses and water."
When the convicts are paroled, they leave with skills that, as the Rim Fire shows, are always in demand. Officials could not provide figures but said CalFire does hire ex-prisoners from the program.
That's Olguin's dream.
Since his release, he's been doing construction work in southern California, but once he gets his driver's license back, he plans to pursue a forestry job.
He never considered himself firefighter material before his conviction, so he's grateful to the camp.
"Not only did I learn something, but I had a lot of fun doing it," he said.
"We don't get as much credit as we should, but you can't expect everything."
Related: