September marks nuptial season across part of the American military as gay and lesbian troops cash in new, Pentagon-granted leaves to tie the knot. 
Starting Tuesday, the Pentagon is allowing gay troops to take travel leaves for up to seven days — or as many 10 days for those stationed abroad — as long as those service members live 100-plus miles away from a state that allows same-sex marriages.
Scores of service members are draining their savings just to pay for airfare, hotels and rental cars — common, logistical necessities for obtaining a marriage certificate in one of the 13 states where same-sex marriage is legal, advocates say.
While many of these unions may lack champagne-soaked celebrations, they are fueled by a practical brand of urgency: gaining immediate, military-family benefits, said Stephen Peters, executive director of the American Military Partner Association (AMPA).
After the Supreme Court's decision to scrap the Defense of Marriage Act, leaders at the Department of Defense announced that same-sex spouses of military members would become eligible this month for an array of federal benefits previously offered only to heterosexual spouses, from housing to health care. At the same time, DOD authorized the special leaves for troops seeking same-sex marriages.
"This will provide accelerated access to the full range of benefits offered to married military couples throughout the Department, and help level the playing field between opposite-sex and same-sex couples seeking to be married," Lt. Cmdr. Nate Christensen, a Pentagon spokesman, said via email. "We do not have an estimate of how many people this will impact." 
A week to wed
At least three service members who work with AMPA have all hatched similar marriage plans for this month: quick trips to California to obtain licenses during their authorized leaves with festive wedding parties to follow sometime next year — or beyond.  
"For us, California is the easiest way to go," said Melissa Jones, an Army E-3 (private first class), based at Fort Hood, Texas. She and her girlfriend, Danielle Nelson, have booked a seven-day trip to San Diego later this month. "We're going to pretty much just get it done at the county courthouse. We're not going to have a ceremony out there. We'll do that back here with family and friends."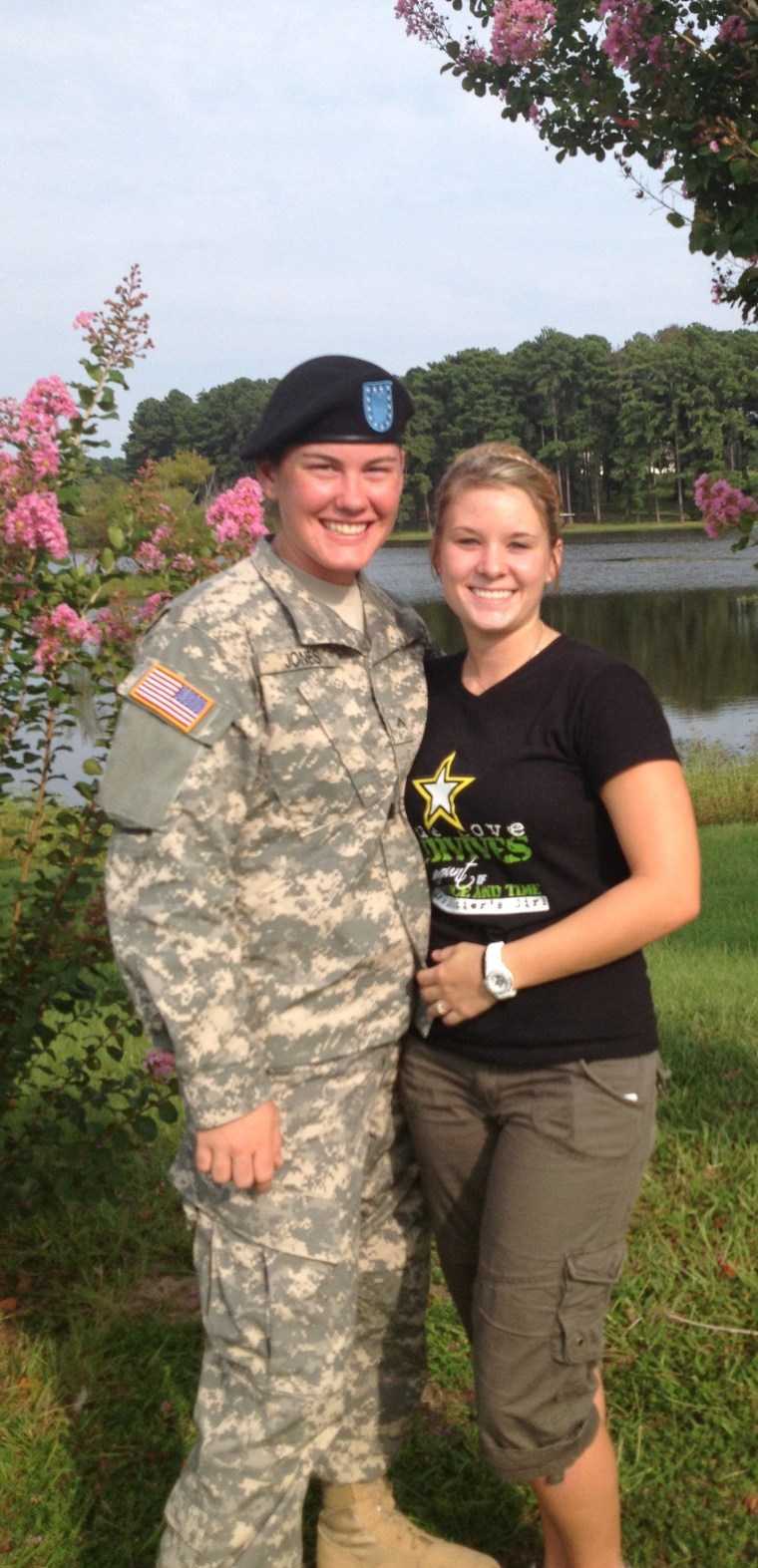 To help pay for their flight and hotel room, Jones and Nelson, both 20, cashed in their large collection of loose change plus $450 in recent bingo winnings.
"Many of our families simply can't afford the costs of traveling across the country to get married in addition to having a large, expensive ceremony," said Peters, executive director of the AMPA. "Many can barely afford to travel to a city clerk's office across the country, wait the required number of days for waiting periods, and finally take care of the paperwork, only to hope for a larger and more formal ceremony at a later date.
"This all boils down to the financial burden they face in having to travel across country — or around the world, for many — a challenge that heterosexual (military) couples are not forced to face in order to care for their family," Peters added.
'Just for the paper'
Despite the initial costs, the military benefits Jones will gain through marriage will save her thousands of dollars in the long run.
A marriage license will allow Jones to qualify for "base allowance housing," under which the military subsidizes service members' off-base apartments so long as they are legally married or are raising a child or children. That alone saves the couple about $700 per month, Jones said. And as a military spouse, Nelson's college tuition will be federally covered, instantly saving her an additional $4,000. 
If Nelson falls ill after she's married, she can receive her medical treatment at Ford Hood thanks to her new military-family identification card and the official military decal she'll receive for her car. Currently, she must pay for medications out of pocket. The couple has been together for a year and a half, meeting two months before Jones headed to basic training. 
"A lot of the urgency of this is that we're missing out on a lot of benefits," Jones said. "It's not like we're doing it for the money, but it's going to help pay for things. I'm 20 years old and I'm helping her pay for college. I also have a car loan and an apartment. We both have full-time jobs. But getting the benefits, she can stop working and can just focus on school.
"I wear (an engagement) ring. People are always asking: 'Are you married?' I'm like: 'Yes and no.' People don't understand that. So I tell them that I'm gay and I have go 1,500 miles away just to get married," Jones said. "It's not like we're not going to enjoy it while we're there. But it kind of is just for the paper."
Related: