LAGHMAN PROVINCE, Afghanistan — U.S. troops and Afghan soldiers sat together, monitoring classified information streaming in on various screens earlier this week at the Tactical Command Center on Gamberi military base here in eastern Afghanistan.
But they were being watched: Staff. Sgt Howard Linville, an official "Guardian Angel," was stationed by the door, observing the peace.
Dressed in full battle gear, the 28-year-old Iowan's mission that morning was to protect and to prevent any "Green on Blue" violence, a term used by the U.S. military to describe attacks by rogue Afghan security personal on American soldiers. The Guardian Angel program was started in March 2012 after a spike in "Green on Blue" attacks on U.S. troops.
When Linville arrived in Afghanistan last July for his first tour in Afghanistan – he'd already done three in Iraq -- he volunteered to be part of the Guardian Angel team.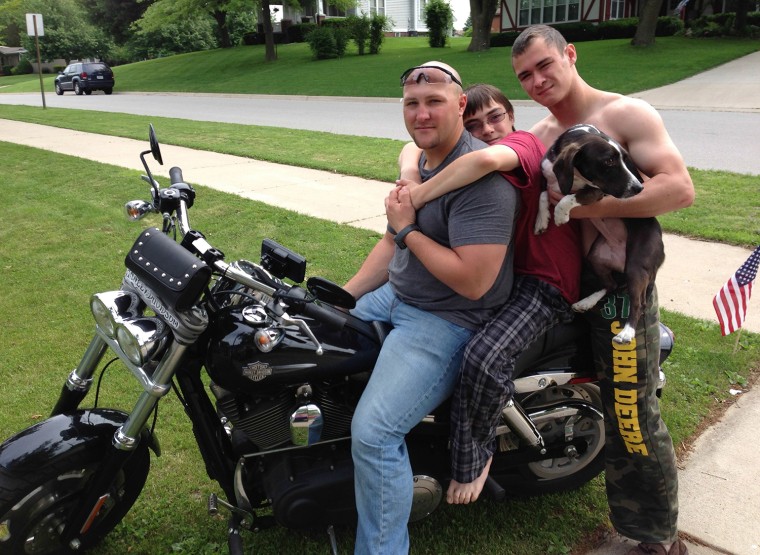 "I think it is a really good responsibility to have, to be able to keep the other guys safe out there. It is something I wanted to do," he said.  
In 2013 alone, "Green on Blue" attacks were responsible for more than 10 U.S. casualties in Afghanistan; the most recent was last month. Afghan security personnel who have contact with U.S. troops and have lost family members in U.S. airstrikes or drone attacks are targeted to become perpetrators of such attacks, a Taliban spokesman told NBC News.
In June this year, Afghan forces officially took over all security responsibilities from U.S. and international coalition forces, putting Afghan forces in the lead. For the most part, relations between Afghan and U.S. soldiers are peaceful.
"You cannot view one whole group of people based on one man's actions" Linville said, referring to rogue Afghan soldiers.
But there are still tensions. And Linville is there to help relieve them.
"He is devoted to his mission, cares about his soldiers well-being. He volunteered to deploy for this mission so he could look after them first hand," said Lt. Andrew Rouch, Linville's platoon leader. "He is very kind, but you don't want to be on his wrong side," he added.
A born soldier
Linville wanted to be a soldier since he was a little boy. He used to sit and listen to his grandfather tell stories about WWII.
"He used to show me his uniforms when he was back in the service, and ever since I saw them, I wanted to have my own. I used to stare at them all the time," he said.
His battle experience has made him a strong Guardian Angel, said Sgt. Ryan Hammer, Linville's platoon sergeant.
"He's a vet," said Hammer. "He utilizes his former combat experience to mentor soldiers within his team."
He's faced a number of close calls.
In 2004 during his first tour, Linville was almost killed in Abu Ghraib near Baghdad when he was on the receiving end of a multiple mortar attack.
"Fifteen mortars one after another, they were dropping really close to me, and I saw one of my battle body get hit, and I remember as the ground was shaking thinking I am not going to make it out of this," he said. "I just remember thinking, 'God please save me.'"
On his second tour, he and fellow soldiers miraculously escaped with minor injuries when several daisy-chained IEDs exploded by their armored Humvee in 2007 in Mosul, in northern Iraq. The explosion was so forceful, the vehicle was lifted off the ground and landed on its side. 
Linville also witnessed his best friend's death during the battle of Najaf in southern Iraq in August 2004. "He was shot in the neck and he bled to death before a medic could find him," he said, choking up.
Linville embraces his mentor role as a Guardian Angel — it comes naturally.
"It helps because I have younger brothers," he said. "I give them really good training but I constantly worry about them. I just want to make sure they are alert, they are aware."