MOSCOW -- A new law banning "homosexual propaganda" in Russia is raising concerns about the state of human rights in a country already notorious for silencing dissent.
The legislation is vague but its intent is clear: It is now "illegal to spread information about non-traditional sexual behavior" to minors (under 18), and there are hefty fines for those who disobey. Foreigners are also subject to fines and can be deported.
Anti-homosexual crackdowns are nothing new in Russia: In 1933 the Soviet regime imposed a law banning sexual relations between men – punishable by a five-year prison term. Although it was lifted after the fall of the Soviet Union, homophobia still runs deep.
Gay rights marches are routinely broken up and scenes of police detaining activists, sometimes before demonstrations even begin, are commonplace. On Wednesday, activists of the Moscow Gay Pride movement were detained in Moscow for holding an unsanctioned rally and for "promoting untraditional sexual relations." (They were later released.)
According to Nikolai Alexeyev, a prominent Russian gay rights activist who is frequently detained himself, crimes against homosexuals are also on the rise.
"Many gay people want to immigrate and they ask me to help [them] get political asylum, fearing for their safety," he said.
In May, a 23-year old man was allegedly murdered in the city of Volgograd on the Victory Day holiday. A suspect reportedly told police the victim was killed because he was gay. In June, Russian investigators said another man in Kamchatka was also murdered because he was gay.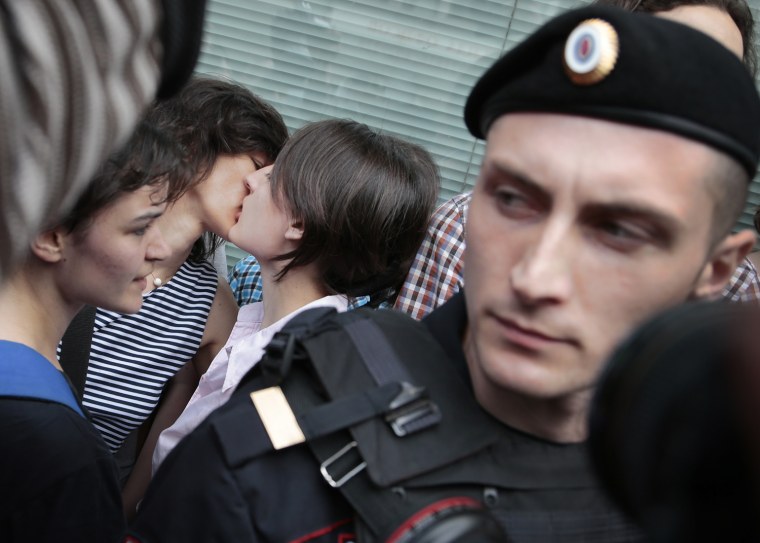 As for the new law, a whopping 88 percent of the nation supports it, even though most have never seen such "homosexual propaganda," the state-owned All Russian Center for Public Opinion reported.
According to Human Rights Watch, the crackdown is part of President Vladimir Putin's current agenda of promoting conservative values.
"These restrictions are popular with his political constituency" and can be used as a "political boost," director of the organization's European and Central Asian division Hugh Williamson told NBC News. He added that he did not believe the crackdown was provoked by the activities of the gay community.
The Russian population has been steadily falling since the early nineties. It shrank from 148.6 million in 1993 to 141.9 million in 2010, according to the Russian Federal State Statistics Service. Putin has embraced the Russian Orthodox Church, and his government has introduced various social programs to promote young couples having more children.
Just a week after the "propaganda" law was passed, Putin pushed through another law banning gay foreign couples from adopting Russian children. (All U.S. adoptions of Russian children have been banned). 
Apparently in step, the head of the Russian Orthodox Church -- Patriarch Kirill -- said Sunday that recent Western "legislation of single-sex marriages is bringing the apocalypse closer."
Overseas, the backlash has been swift.
The U.S. state department issued a travel warning for homosexuals in Russia. "Discrimination on the basis of sexual orientation is widespread in Russia, as harassment, threats, and acts of violence have been targeted at LGBT individuals. Government officials have been known to make derogatory comments about LGBT persons," the warning said.
"I am concerned with yesterday's legal ruling of the @dumagovru. Discrimination and intolerance contradict the spirit of a democratic society," U.S. Ambassador to Russia Michael McFaul tweeted in Russian after the "propaganda" law was passed.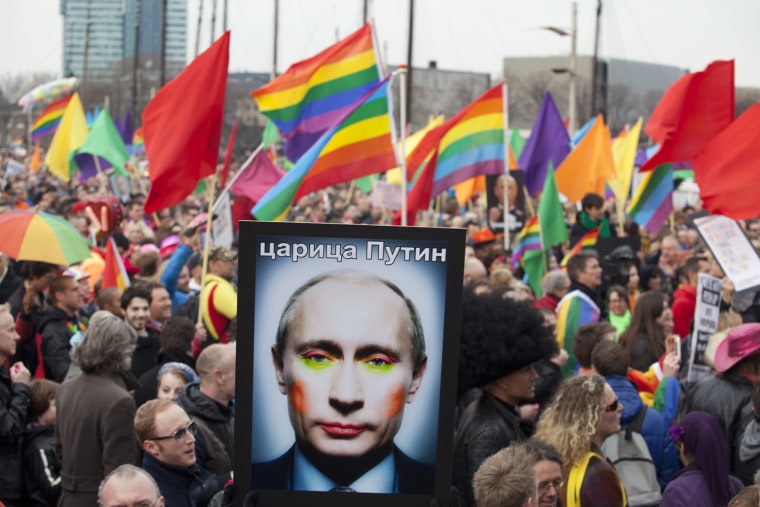 And with one year until the Sochi 2014 Winter Olympics, Human Rights Watch urged the International Olympic Committee "to send a clear signal to Russian authorities that discrimination of people based on their sexual orientation and gender identity is sharply at odds with Russia's human rights and Olympic commitments."
Human Rights Campaign, an LGBT advocacy group, sent a letter to NBC Universal, the exclusive broadcaster of the Olympics and owner of NBCNews.com, asking the network to highlight the anti-gay laws in Russia during coverage of the games. 
In a statement, the network said: "NBCUniversal strongly supports equal rights and the fair treatment for all people. The spirit of the Olympic Games is about unifying people and countries through the celebration of sport and it is our hope that spirit will prevail."
This week, four Dutch nationals were detained in the northern region of Murmansk, the Russian LGBT Network said. Kris van der Veen, the head of a Dutch gay rights community, and three friends were attending a human rights festival there. The group was allowed to leave the city and travel back to Amsterdam after a court hearing and paying fines.
It was the first case of foreign nationals being detained since the "propaganda" law was introduced.
Alexeyev, the Russian activist, believes the gay community is being used as a scapegoat for the country's ills.
"Russia doesn't want to integrate with the West," he said. "They want to show that they have an independent way of thinking."