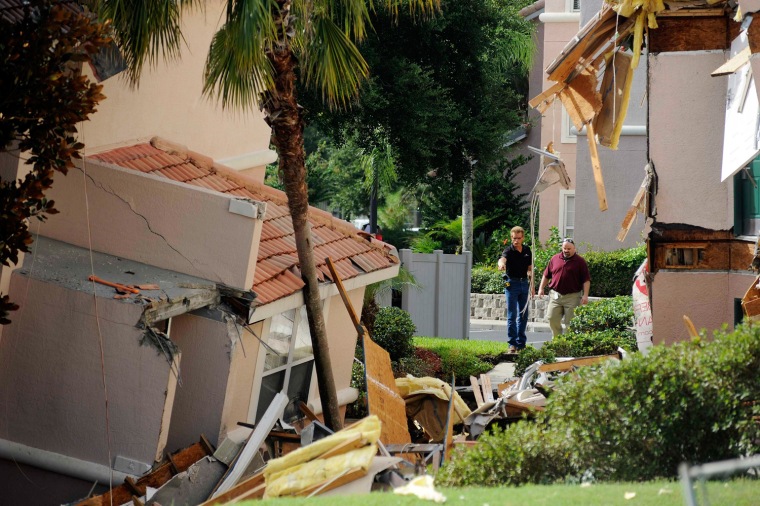 A 40-foot-wide sinkhole caused a three-story building at a Florida resort near Disney World to collapse early Monday.
Firefighters arrived at the Summer Bay Resort, near Clermont, Sunday at about 11:30 p.m. ET after people reported the building had started to shake, Lake County Fire Rescue's Battalion Chief Special Operations Tony Cuellar said.
Cuellar said the sinkhole was beneath a central elevator shaft connected by breezeways to two apartment blocks.
"The building on the west side … a portion of that structure just collapsed. It's literally breaking in half," he said at about 3:20 a.m. ET.
The elevator building was leaning over at "about 30 or 40 degrees," Cuellar said.
Thirty six guests were evacuated from the building and an adjacent structure, Cuellar said. Everyone was accounted for and no injuries were reported, according to NBC Orlando affiliate WESH.
Resort security guard Richard Shanley is credited with making sure the guests of both buildings escaped safely after someone alerted him that the building was making "glass breaking" and "popping" noises.
Shanley told WESH that he was unaware that the building would crumble within the hour, but he knocked on every door in two buildings and led guests down side stairwells and outside before emergency crews were even inside.
"I went from floor to floor, building to building, room to room, knocked on doors and got people out," Shanley told WESH on Monday.
"If I hadn't have been there and it had been later in the night, we don't know what would have happened. Somebody could be trapped in the building."
Still, he does not consider himself a hero.
"I'm just an average run-of-the-mill person … I just happened to be at the right place at the right time to get everyone out of the building and keep them safe," he said.
Resort guest Maggie Tamry told WESH she sensed trouble before the collapse.
"I was walking into the room and I heard 'bang, bang, bang' and glass breaking," Tamry said. "And I ran back to the car and I told my family, we have three toddlers with us, 'Jump in the car, I have a bad feeling.' I thought someone was getting into an altercation."
Manoj Chopra, a professor of engineering at the University of Central Florida told NBC News that sinkholes are common in Central Florida and some happen without any indication of imminent danger.
"They are very lucky in this case, that they had significant warning from the structure itself and they were able to get out," Chopra said.
Cuellar said the hole was about 10 feet deep and 40 feet in diameter.
"It's not expanding outward so we're just watching it to see if it's sinking downward," he said.
The resort — about 10 miles west of the Disney attraction — had made 50 other rooms available to the evacuees, Cuellar added.
WESH reported that the resort will allow guests back into the standing building once the surrounding ground is assessed. However, Summer Bay officials determined the building that was swallowed is a total loss.
I wouldn't send anybody to the next structure over, or anybody to the whole area for a while," because "an open sinkhole may open other sinkholes," Chopra said.
Sheila Nowak, a guest who was vacationing at Summer Bay with her family told NBC News she was worried about the safety of the ground below their unaffected building but joked, "I told the kids it's something to write home about."
Adrienne Logan came to the vacation spot for her honeymoon and said resort employees did not inform her of the incident.
It's a "beautiful resort," she said but, "we won't be coming back to here."
Summer Bay Resort president, Paul Caldwell said about 4,500 guests are currently staying at Summer Bay, which has 40,000 timeshare holders.
Related: