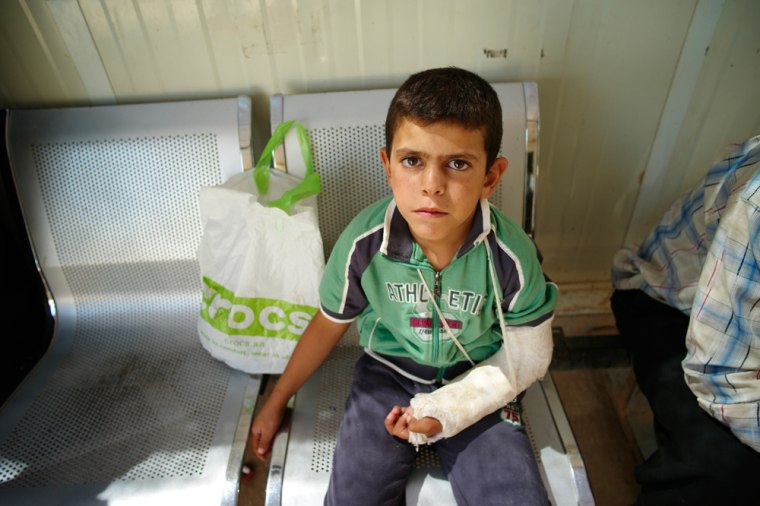 They haven't seen their father in weeks, and their mother weeps for their lost innocence and uncertain future. Their dreams are filled with the playmates who have been killed before their eyes in their southern Syrian town.
Seven-year-old Jalal and 10-year-old Gassem are among the 1 million Syrian children living in refugee camps after fleeing their war-torn homeland. For the last six weeks their home has been Jordan's Za'atari camp, where nearly 140,000 of the displaced live in makeshift shelters.
"They destroyed our home," Jalal told NBC News' Ann Curry as he and his brother adjusted to life as part of what the United Nations High Commissioner for Refugees said may soon become a "lost generation."
More than 75 percent of the children who are living in camps in Jordan, Turkey, Iraq and Lebanon are, like Jalal and Gassem, under the age of 11. Many of them are traumatized by what they saw before they fled.
"I've seen children that are speechless, with strange forms of behavior," UNHCR Antonio Guterres said last week as he announced the Syrian crisis had reached the "shameful milestone" of 1 million children forced to leave the country.
"Children who have seen their houses bombed or members of their family being killed…who have had to walk for miles to reach safety."
Life in camps such as Za'atari is safer but full of challenges, especially for their youngest residents. A U.N. report in April said children at Za'atari do not have enough to eat and are sometimes forced to work or beg.
Three out of four children who are school age do not attend — because they lack books or clothes,  because they're afraid of being harassed by other children on the way to and from classes, or because they don't see the point, the U.N. report said.
Despite the hardships, Gassem and Jalal's mother, Ni'mat, sounded grateful for the safe haven.
"We went through really hard times and I am glad that I got my children out — thank God — and that my children were returned safely," she said, crying.
"Five children were killed that day."
That day was quieter than usual in their corner of Da'ara, an ancient city in southwestern Syria, near the Jordanian border.
The kids had been cooped up inside and Ni'mat decided it was safe to venture out. Gassem and Jalal — the eldest of her four kids — were playing with cars while the neighborhood girls played house.
Less than half an hour later, a shelling and rocket attack began. The brothers saw five of their friends killed. They matter-of-factly described how one boy was wounded in the stomach, exposing his intestines; another had his legs blown off.
Jalal was hit by shrapnel and as he ran for his life, he fell and broke his arm. Gassem carried him to  their mother.
The Free Syrian Army  took Jalal to the doctor, but it was no longer safe for him and his siblings to stay in Da'ara. Her husband stayed behind to fight wth the FSA, but Ni'mat and her children were spirited across the border to Za'atari — a three-day journey on foot, with short stops at safe houses.
Six weeks later, the family has no idea how temporary a home the 1,300-acre camp, with its 27,000 shelters, will be. But Ni'mat knows that she is far from alone in her plight.
"We were all displaced," she said. "My brother, I don't know anything about him. My husband, I have heard from him only once since we got here. My mother and sisters are in Lebanon. My uncle died, a shelling hit next to him and he got a heart attack."
Gassem and Jalal have not stopped thinking about the future. Even though he is too intimidated to attend school in the crowded camp full of strangers, Gassem dreams of one day becoming a doctor.
Why?
"So I can help the people," he said.