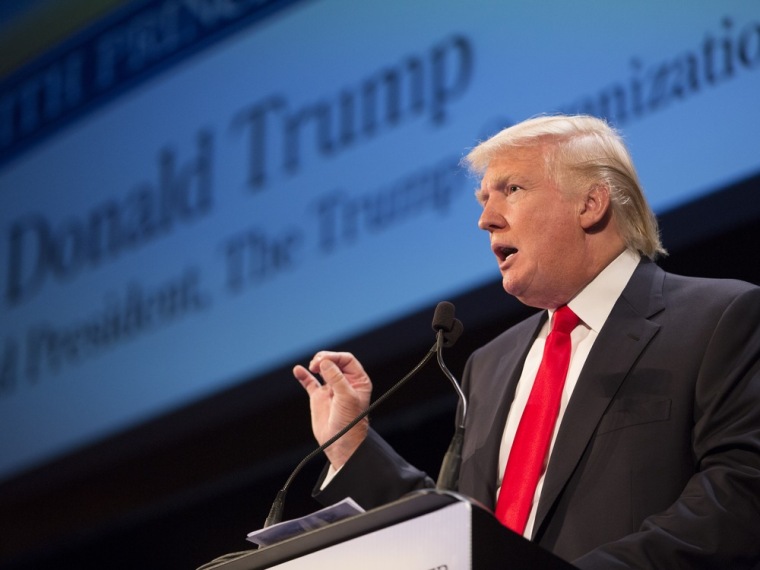 AMES, Iowa -- Donald Trump on Saturday made his first-ever political visit to Iowa, speaking to conservative Christians, stoking speculation about his political plans and labeling the United States a "laughingstock" during an interview with NBC News.
He warned the Family Leadership Summit in an evening speech that Republicans will have a "really tough" time in the 2016 presidential race if Hillary Clinton runs. He said the Senate's immigration bill "could be a death wish" for the Republican Party but insisted the GOP has to do "the right thing." And he bragged about buying the old Post Office building in Washington: "You have the White House, you have Congress and I'm building right in the middle!"
In an interview after the speech, Trump said he's focused on midterm elections for now, not the 2016 presidential race (though he declined to say which GOP Senate races or candidates he finds promising in 2014). He declined to elaborate on what immigration reform proposals he might back. And he said Sen. Rand Paul's fight with New Jersey Gov. Chris Christie over national security and civil liberties is "probably bad overall for the Republican Party." 
Summing up his view of the U.S., Trump said, "we used to be the king and the queen all put together, and now we're a laughingstock as a country."
Trump's Iowa visit comes after he toyed with running for president in 2012. He ultimately decided against it, but his brief maybe-campaign included helicoptering in and out of New Hampshire -- a scene that played out on split screens when President Barack Obama held a simultaneous press conference to release his Hawaii birth certificate. 
Trump had been pressing for Obama to release that document -- pushing a widely debunked theory that Obama wasn't born in the United States.
The real estate mogul never made it to Iowa that year. On Saturday, Trump arrived in Ames on his private plane shortly before he was scheduled to speak, addressed the crowd for about 40 minutes, then spoke with local and national media. Then he flew back to New York.
Trump's keynote address came after speeches by Sen. Ted Cruz and former Sen. Rick Santorum -- the 2012 GOP Iowa caucus winner.
After his address, Trump said summit organizer Bob Vander Plaats, an Iowa evangelical leader, asked him to make the visit. Trump insisted the Iowa trip wasn't about 2016.
"I'm looking at '14 and helping a lot of friends of mine that are running and a lot of good people that are running. It's just too far away. 2016 is very far away," he told NBC News.
Trump said that he believes the GOP has "a pretty good chance" of regaining the Senate majority in 2014, a top goal for national party leaders. But he declined to specify which races could be competitive.
"Well I think you have six or seven states - I won't mention the states cause I don't want to put pressure on anybody, but I think you have six or seven states where you could really have in a couple of cases upsets, really, and you could have some good victories for the Republicans," Trump said.
He also declined to name any GOP Senate candidates he found promising.
He did say of Republican Senate Minority Leader Mitch McConnell -- who is facing a primary challenge from a wealthy tea party candidate and a potentially stiff general election contest: "It would be a shame if he didn't win, because he has such power, it's so good for his state."
Trump also declined to elaborate on his position on immigration reform. In his address, he said Republicans need to "do the right thing" and reform the system. The Senate passed a comprehensive bill in June, but House Republican leaders have said they plan to take a piecemeal approach.
Asked which portions of the Senate's bill he would support moving forward, Trump said: "I actually think it's too early to say."
"I will say this, you have to form a very very strong barrier from people just flowing in like candy. It's no good, you can't have it. We either have a country, or we don't have a country," he said.
Asked if the border security package included in the Senate's bill -- dubbed the "border surge" -- would satisfy his concerns, Trump responded: "I don't know. I don't know."
In the interview, Trump declined to address specifics of a series of public policy issues.
He did say he opposes abortion except in cases of rape or when the health of the mother is at stake -- though he said that he wouldn't necessarily support those exceptions after 20 weeks of pregnancy. The House had passed a bill to prohibit abortions after that time unless the life of the mother is in danger.
But Trump wouldn't say if he wanted to cap student loan interest rates -- "It's very complicated but you know getting education for people in the country and helping our students is very important," he said.
Asked if he believes sexual assault cases in the military should be removed from the chain of command, as Sen. Kirsten Gillibrand, D-N.Y., has proposed, Trump said: "I'd go along with the generals."
Trump also declined to say who he thought Obama should select to chair the Federal Reserve; the president has said he'll make a choice in September about who will replace Ben Bernanke, the current chairman.
"I think they want to have the lowest interest rate economy because if interest rates went up, ah, it would be very interesting to see what would happen," Trump said.
Trump was more definitive about his own cash, saying that he would use his own money to finance a presidential bid if he did decide to run. 
And he said his money-making track record is the reason Americans should take him seriously as a presidential candidate.
"I've built a tremendous company - I've built a net worth that is a fantastic net worth. I have very little debt, I have tremendous cash," he said. "We have to create tremendous wealth so we can take care of Social Security and Medicare and all of the things that we can't afford right now. And I think I'd be very very good at doing that."
Related stories: