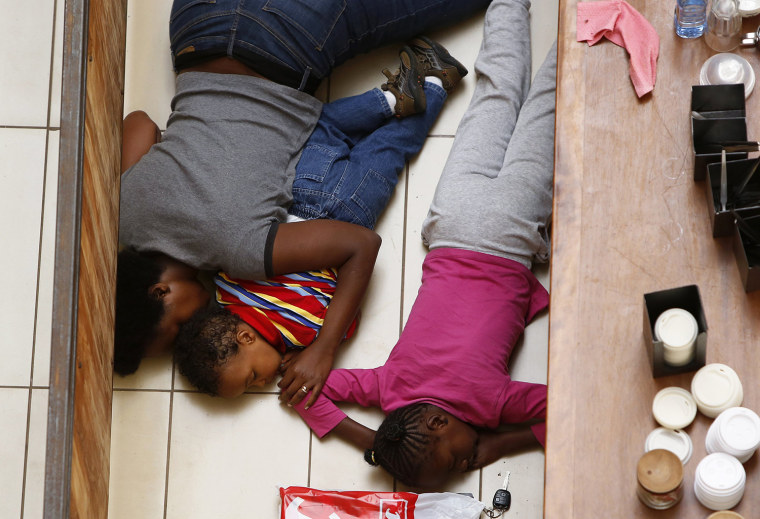 A mother and two children who played dead for hours during Kenya's Westgate mall attack said her family remains haunted by the ordeal.
Faith Wambua-Luedeling said her 9-year-old daughter still hears gunfire in her sleep and wakes up more than a week after al-Qaeda linked terrorists from Somalia-based al Shabaab raided the crowded upscale mall, killing 67 people.
"'Mama did you hear that gunshot?'" her daughter calls out at night, Wambua-Ludeling told NBC News.
And the sound of the neighbor's car door slamming shut startles the family, too.
Faith Wambua-Luedeling — whose picture, taken as she was huddled with her children, has come to symbolize the terror of the four-day siege — had gone to the mall on Saturday, Sept. 21, to shop for flowers in order to surprise her husband on their second anniversary two days later.
She parked in the basement and, with her daughter and 21-month-old son in tow, walked to the ground floor entrance where in previous trips she had noticed a floral vendor.
Her kids played on a big elephant statue as she went to ask a policeman standing by the door where the flower vendor was now located.
It turned out the flower salesman was now in the basement, so she and her kids re-entered the building.
"It was now when we walked back into the building after being frisked that we heard a very loud bang," she said. "At the time in my mind I thought the building was collapsing … I thought it was an earthquake or something … I could hear people screaming."
Her reactions led her to drop to the floor with her children in a place where debris couldn't fall on them. Not the shops, too much stuff to fall on them, she thought.
"My mind just told me that the open air was the safest place," she said.
"I didn't know where to run. I found myself in the corner near the service counter. And that's just where we laid down," she said.
"We were just lying there — there would be shooting going on, then it would stop. There were times I could hear the bullet casing dropping on the floor near us. We could smell the gunpowder and we would really be scared," she said.
She still didn't know that 10-15 terrorists were storming the mall in a coordinated act of terror. Nine were ultimately taken into custody. She thought it might be bank robbery, but wondered why the robbers weren't leaving.
Her young children, full of energy, were asking questions. "'What's happening, what's happening, did the elephant fall,'" she said her daughter asked.
She told them she didn't know but told them to stay still and not move. "Just don't look up. Don't look around," she said to them. She said she prayed, "God, please keep these children still." She said she even asked God to make here children unconscious.
During the four and a half hours the family was trapped in the mall, she said her young son was surprisingly able to fall asleep for a couple hours.
"It was amazing," she said, saying it was perhaps due to the heat and that they'd been driving in the car.
At one point her daughter asked if they should move, since debris, chipped concrete and glass, was falling around them. But even as others lying nearby started to scamper away, they stayed put.
In one harrowing moment, someone called to them, "'You, mother lying there with the children,' and then I looked up and they said 'Get up and go, it's safe.' So we got up and immediately I heard the gunshots again."
So they laid down until, finally a policeman came crawling on his elbows toward them. At first she thought it was a trick.
"But when I saw that policeman and he told us 'everything is fine' …  I knew our prayer had been answered and we were safe," she said.
"It was really overwhelming. When we got out I was crying, and my daughter was saying 'Mama why you crying?' and I said because we are safe."
And then her daughter started to cry and the little boy started to cry.
Wambua-Luedeling believes a higher power helped her and her children through the siege, and will help in the healing afterward.
"We know the same God who really helped us through that ordeal will help us even go through this mental trauma," she said. "And we know at some point this will come to an end."
This week, the officer who rescued the family reunited with them in Nairobi for the first time since the attack.
"Are you okay now?" the officer asked. "Yes, thank you," Faith Wambua-Luedeling said amid hugs all around.
Related: