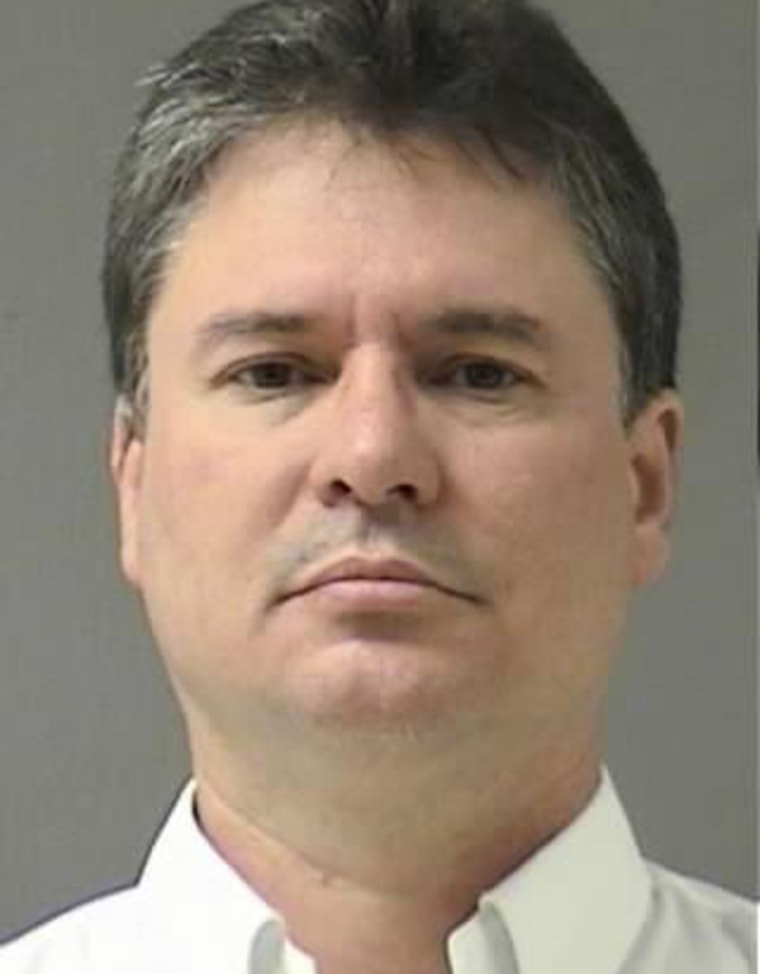 A former Montana high school teacher who has served a 30-day prison sentence for the rape of a teenage student was released from prison on Thursday morning – as the victim's mother said the teacher is "still skating" justice.
Stacey Rambold left prison after serving the sentence imposed last month for the rape of student Cherice Moralez six years ago, said Judy Beck, a spokeswoman for the Montana Department of Corrections. The 14-year-old Moralez committed suicide in 2010, and her mother Auliea Hanlon has said that she believes the rape was a contributing factor.
Along with activist groups and the Billings School superintendent, Hanlon has protested what she feels is an inadequate sentence for Rambold's actions. The teacher, 54, pleaded guilty in April to a count of sexual intercourse without consent.
"I figured he'd be fired, go to jail, and she would be vindicated, and that would be the end of it," Hanlon told the Associated Press a day before Rambold's release. "Instead, here it is six years later, still going on, and he's getting out …. He's still skating."
Now, she said, she faces the possibility of bumping into the man who raped her daughter in Billings.
"I considered going down to the jail to forgive him, but I don't know," Hanlon told the AP. "I'm still waiting for a sign from God."
More than 58,500 people had signed an online petition by Thursday that demanded that Judge G. Todd Baugh, who imposed Rambold's sentence of 15 years with all but 31 days suspended, resign his district court judge post.
The judge became the focus of criticism after he said that he believed Morales was "older than her chronological age" and "as much in control of the situation" as the teacher, according to the Billings Gazette. State law required Baugh to impose a mandatory minimum sentence of at least two years in prison, prosecutors argued, according to the AP.
Activists could not do anything to prevent Rambold's release on Thursday, said Marian Bradley, president of the Montana National Organization for Women. The group is working with the state attorney's office, she said, and her office has received phone calls from supporters across the country.
"I think we have a sentence that was wrong, the judge needs to be removed," Bradley said after Rambold's release on Thursday. "We live in this victim-blaming rape culture, and it is prevalent and it is crazy and it is driving so many young women to suicide. Cherice Moralez is not the only one."
"Baugh has engaged in the worst kind of victim shaming, while increasing the possibility that more child predators, relying on the laxity of a judge who more readily sympathizes with the abuser than the abused, will prey on other children in the future," the online petition says.
On Sept. 6, the state Supreme Court blocked a move to have Rambold resentenced after prosecutors filed an emergency petition. Baugh said he misread state law before giving his initial sentence, but prosecutors say only Montana's high court should be allowed to impose a new sentence.
Baugh said at the time that the confusion "could have been avoided altogether if I'd been more alert or if the state had pointed out to the court the correct mandatory minimum," according to NBC News station KULR in Billings.
The president of the National Organization for Women, Terry O'Neill, said in a statement on Wednesday that the group's members "stand in solidarity with the women and men fighting for justice for Cherice Moralez and all victims of sexual violence."
Rambold, who will be required to register as a sex offender, left the Montana State Prison on Thursday shortly before 10 am local time. Under a 2010 agreement with prosecutors, Rambold admitted to the single rape count, according to the AP, and kept his freedom for three years before being expelled from a sex offender treatment program.
A parole officer will determine the level of supervision Rambold will be subject to during his probation after an assessment, Chris Evans, probation and parole supervisor for the corrections department, said in an email. Rambold's probation is set to extend through August 2028, and involves more than 50 conditions, including that he not enter a bar or casino and that he submit to an annual polygraph test.
The Associated Press contributed to this report. NBC News' M. Alex Johnson, Daniel Arkin, and Elizabeth Chuck also contributed.
Related: